What does putting children first in early childhood education mean? At Petit Early Learning Journey our philosophy and beliefs state that children come first. When we put children first we're supporting children's agency and recognising them as people with valuable views and ideas.
Supporting children's agency and including them in decision-making impacts all seven quality areas of the National Quality Standards. It contributes to a child's learning and supports their development in relation to their positive self-identity, connection with community, wellbeing, confidence as learners and effectiveness as communicators.
By promoting each child's agency, we're supporting them to make choices and decisions that influence events and their world. Building relationships with children and their families is where putting children first in child care begins.
This month, we asked our team at Petit Early Learning Journey Clifton Hill to reflect on what "Putting children first" means to them and the ways they go about achieving this in everyday interactions. In particular, they highlight:
Responsive interactions and communication.
Thinking about the child's perspective.
Respecting children's choices.
Allowing children to make decisions.
Creating collaborative partnerships with families and the community.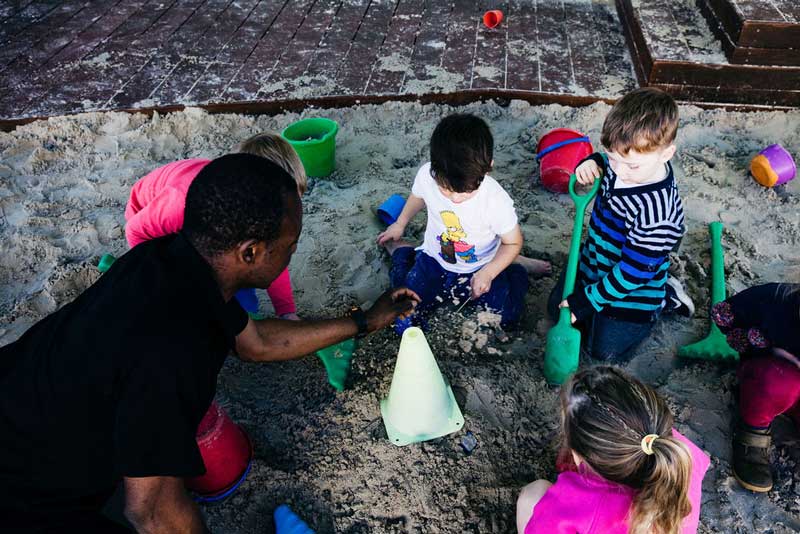 Advocating for children's rights and choices in early education and care
National Childhood Protection Week in 2020 adopted the theme of "putting children first". It offered Educators an opportunity to refresh their commitment to child safety and creating a culture where children are at the centre of everything we do.
At Petit Early Learning Journey, respecting children and upholding and advocating for their rights is embedded into our culture. The relationships we build with children through a connected community promotes a child's wellbeing and enhances our advocacy.
"My team acknowledges each child's strengths, interest and wellbeing to move with our daily routines," says Mia, Lead Educator in our Burrows Lane studio. "We are constantly talking directly with children to ask what they want to do, and we take their feedback into consideration to negotiate and adjust plans around us."
"In an early childhood setting, whatever we do or practise ultimately puts children first," says Kranthi, Educator in our Willow Way studio. "The way we communicate, behave, interact, plan experiences, and set up the room is all done from the children's perspective."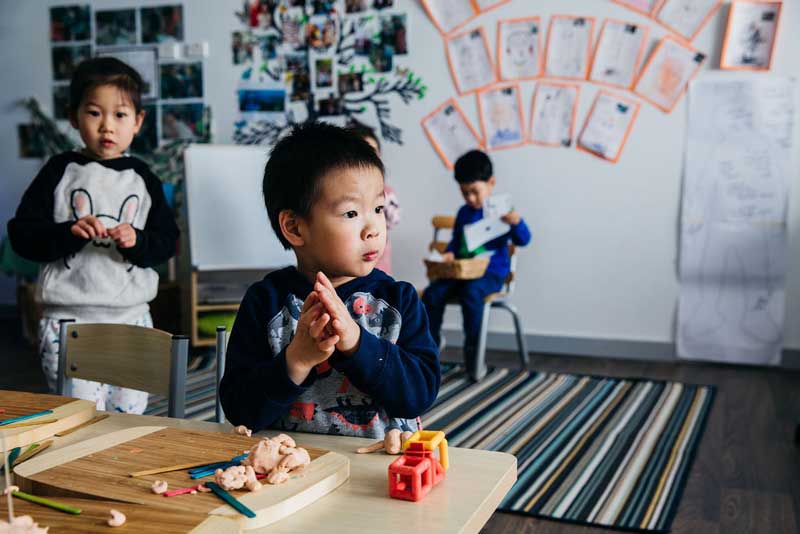 How can children come first in child care?
There are many different ways that we can put children first. Looking out for their safety is one crucial aspect of advocating for children's rights. We can also support children's agency by taking a step back and reflecting on what we are doing and how we support children to make decisions.
Here are some of the ways our Educators value children's ideas, views and choices:
"I like to give children who are not ready to go outside more time indoors," says Mia. "It's important to listen to a child's thoughts and respect their views. You can provide them with invitations to play, but you can't force them to participate."
"By giving children choices and by offering diverse materials and resources to explore and play in their own time, we're respecting their decisions. It's about acknowledging their potential and unique strengths and capability to construct their own knowledge."
"I feel it's important to learn what children want. For example, asking children to come for a nappy change and asking who they want to change their nappies if they don't want to come. Likewise, respecting if they don't want to sleep and offering quiet time activities instead."
Sue, an Educator from our Baby Boulevard studio, believes communicating with families improves children's development and wellbeing. "Children come first when we:
Stay in touch with their parents if they have concerns regarding their children.
Are there when children need comforting.
Offer to help them when they are having difficulty with something or someone.
Include them in discussions and acknowledge what they achieve.
Show them respect, care, trust, and always make them feel welcome."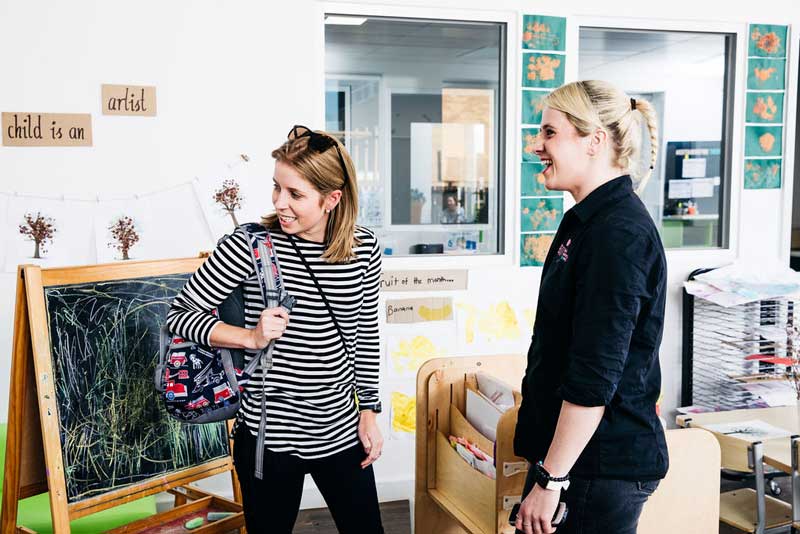 Working together to improve children's outcomes
Working together in collaborative partnerships with families improves children's outcomes. Children benefit when Educators and families communicate and share knowledge and they see us work together.
"At Petit ELJ Clifton Hill, our team has a big passion for culture and diversity," says Mia. "We have been learning a lot more about each other, our children, and our families, which brings a huge sense of being and belonging to our studio."
"With COVID-19 challenges, we've been working with parents to teach children how important it is to clean themselves by using a tissue, disposing them into the rubbish and then washing our hands properly to say goodbye to germs."
"We also role-modelled personal hygiene and washing hands properly," says Hafiza, Educator in our Willow Way studio. "This gave children the opportunity to mimic what we were doing."
"We embrace inclusion and recognise diversity," says Sue. "Our team includes all of our babies in group experiences, showing them that we are all the same and that while our backgrounds and culture may differ, we can all be treated as one."
"As Educators, we set up the studio in such a way that every child can feel a sense of belonging," says Hafiza. "We respect our children's and families' cultures and celebrate their festivities in our studio, so they feel included."
Working together also extends to making connections with our community. "We respect our indigenous and first nations people," says Hafiza. "During group time, we pay our respects and sing a song in their language."
"Putting children first is about creating an inclusive environment," says Mia. "We ensure all children are included in our observations and invite children to participate in
learning experiences."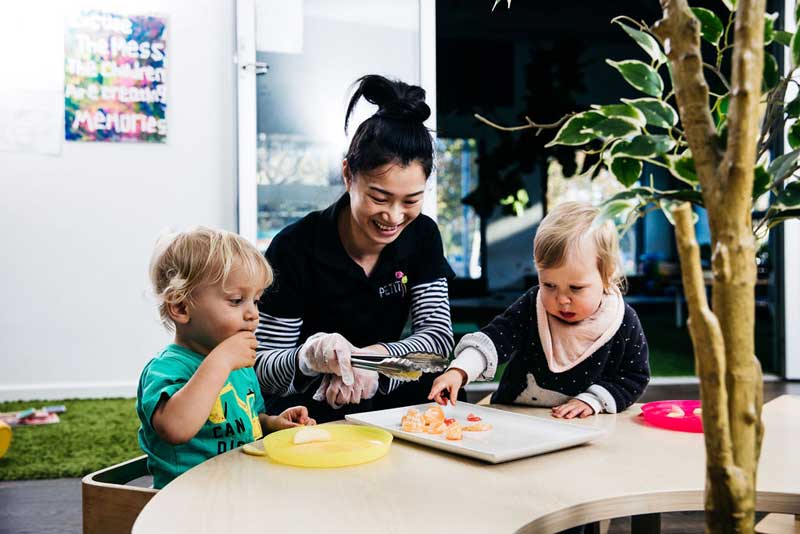 Put children first with Petit Early Learning Journey
At Petit ELJ, putting children first matters. We understand that the work of our Educators is admirably complex, creative and takes enormous skill. We believe that genuine conversations where we actively listen to a child's needs, ideas and thoughts engage children in decision making.
Our beliefs embrace inclusivity where families and children are valued and the rights of every child are upheld.
If you're a passionate advocate for children's rights and have a strong desire to work with an early childhood and education service that recognises those rights and the enthusiasm you bring, then what are you waiting for? Apply to a centre near you.