Finding healthy choices for affordable family meals after a long day's work can be challenging. Our in-house chefs contribute recipes, gardening, and nutrition tips inside our centre newsletters.
Our talented chefs prepare and serve children's healthy snacks and meals throughout the day. They design customised meal plans in partnership with the Commonwealth's Department of Health's initiative Feed Australia. They also source fresh herbs, salads, and vegetables from their centre gardens, which children have helped to grow.
This month, four centre chefs reveal why they practise their culinary skills in early childhood education and care. They provide practical advice to encourage children to eat healthy and each chef has selected one of their best healthy choice family budget meals: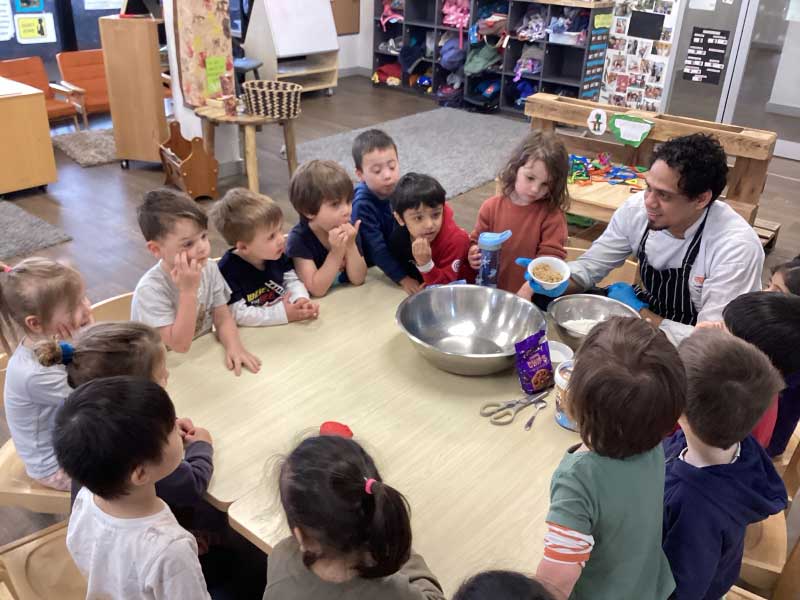 Petit ELJ Kew's Chef Terrence Weinman
"I have worked as a chef in hotels, restaurants, and pubs," says Terrence. "After having my first baby, I wanted a work-life balance where I could spend more time with my family. The hours in the early childhood sector are such a great fit. Since then, I have enjoyed cooking for children."
"Oxtail soup remains my favourite dish to date. It's made with many root vegetables, oxtail and pepper and then served with toast. Adding a couple of marrow bones makes the soup tastier and rich."
"It can be worrying when children refuse to eat their broccoli. Still, we keep introducing healthy foods as many times as possible. Involving children in cooking, using interesting colours and shapes, and inspiring them to serve their own meals can encourage healthy eating."
No-bake energy bars
Ingredients:
1 grated carrot
50g dates
100g bran oats
1 Tbsp cocoa powder
25g melted butter
100g shredded coconut
1 Tsp bicarb soda
1 Tsp cocoa powder
Salt to taste
Method
Boil the dates until they are soft.
Add the bicarb soda and rest for 5 minutes.
Drain the water.
Mix it with the grated carrot.
Add all the other ingredients.
Add a pinch of salt.
Pour the mixture into a tray.
Flatten it with a rolling pin or hands.
Cut them into slices.
Refrigerate to set before serving.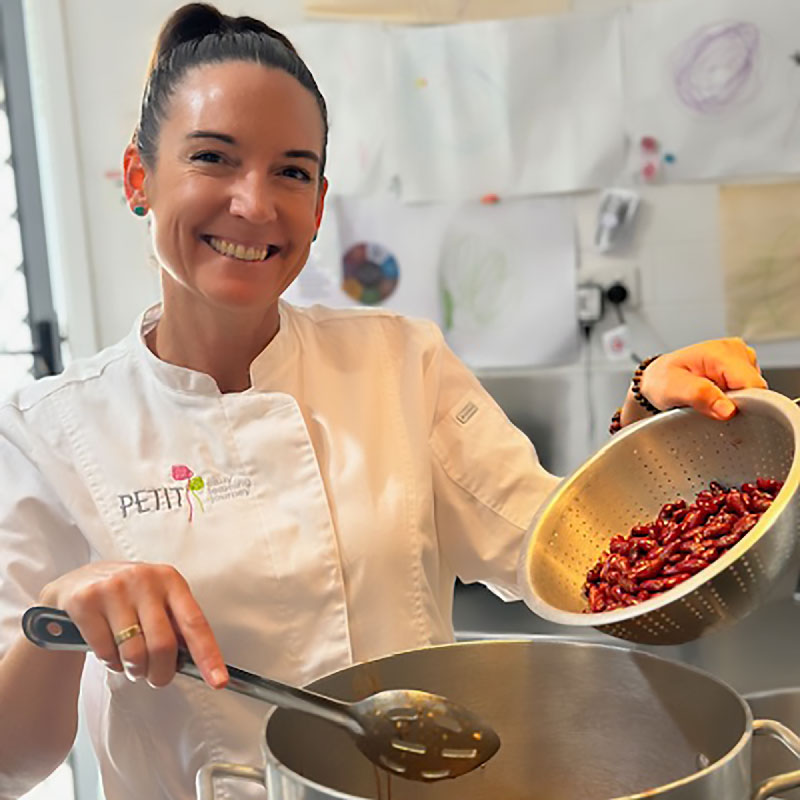 Petit ELJ Marian's Chef Sonya Sutton
"Spaghetti bolognese was my favourite meal as a child," says Sonya.
"I have always been passionate about nutrition and eating healthy. I want to use my skills and knowledge to support children to be more healthy and active in their early years."
"Creating a variety of nutritious meals that use colour and look appetising can encourage children to try new foods. We always have healthy alternatives for children who are fussy eaters or have dietary requirements."
Japanese Beef Stir Fry (serves 4)
Ingredients
160g broccoli
½ brown onion
2 tbsp minced garlic
1 tbsp fresh, peeled ginger
1 tbsp soy sauce
1 chopped zucchini
1 chopped carrot
1 chopped red capsicum
½ tin sweet corn kernels
280g brown rice
350g beef mince
Method
Slice onion, carrots, broccoli and capsicum.
Put rice in the rice cooker until ready.
Place onion, carrots, broccoli and capsicum in a fry pan until vegetables soften.
Add mince and stir until brown.
Add garlic and ginger.
Add shredded cabbage, zucchini and corn.
Cover and cook until the cabbage is tender.
Add soy.
Stir and turn off with the lid on for 10 minutes.
Serve with rice and enjoy.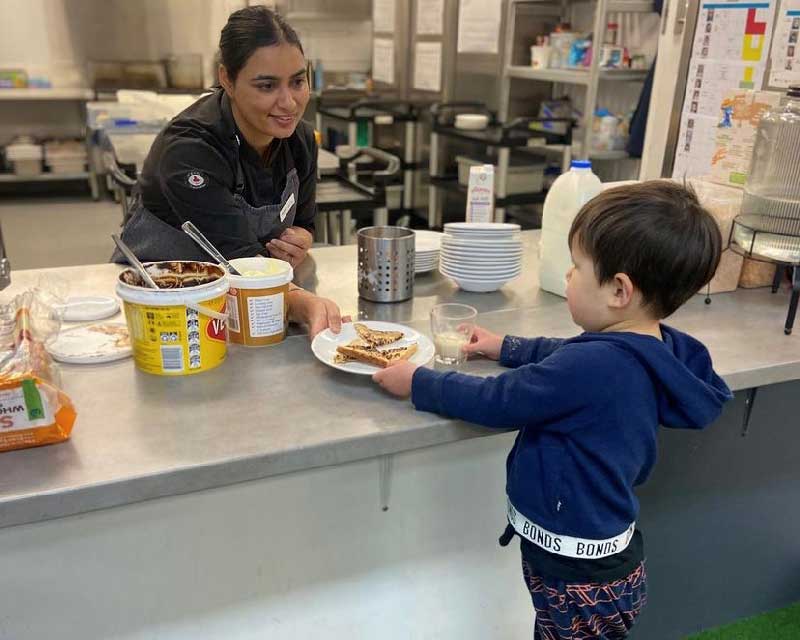 Petit ELJ Forest Hill's Chef Sandeep Kaur
"I first began my career as a cook in a university canteen," says Sandeep. "After that, I challenged myself in a restaurant, but it was not the best fit. So then, I began working in an early childhood education and care setting. It provides an incredible work-life balance, which I thoroughly enjoy."
"I have been interested in working with children for quite some time as I enjoy the happiness and excitement that children bring each day. The appeal has led me back to studying, and I am currently working towards my Certificate III in Early Childhood Education and Care."
"Once I have completed my studies, I look forward to the opportunities it can bring, such as spending more time with the children and creating further cooking experiences within the studios."
"There are many varieties of food accessible throughout the world. We all like different foods, and I have eaten and cooked many diverse cuisines as a cook."
"My favourite food as a child, and even now, is a sandwich. There are so many different options that you can make. I like trying different fillings each time. Even now, I cannot resist myself when it comes to having a sandwich."
"Allowing children to be involved in growing, choosing and preparing the food they eat can promote healthy eating. We can make it easy for children to choose healthy snacks by keeping fruits and vegetables on hand and ready for the children to select and eat."
"Other good snacks include low-fat yoghurt or whole-grain crackers and cheese. Serve lean meats and other good protein sources, such as eggs, beans and Tofu."
Vegetable Slice
Ingredients
6 eggs
120ml milk or ½ cup
60g self-raising flour or ½ cup
 ½ onion diced
50g cauliflower (riced) or ½ cup
50g broccoli (riced) or ½ cup
75g corn kernels or ½ cup
60g grated cheese or ½ cup
Salt and pepper
Method
Preheat your oven to 180 degrees Celsius (360 Fahrenheit)
Prep your tin: I cook this veggie slice in a slice tin. Mine is approximately 20cm x 30cm. I spray the container with oil, then line it with baking paper. I drape the paper over the long edges of the tin to easily lift the slice out when it is ready.
In a large mixing bowl, whisk the eggs, milk and flour. Don't worry if it's a bit lumpy. The lumps bake out.
Stir through the remaining ingredients: Cauliflower, broccoli, onion, cheese, and corn. Season with salt and pepper to taste (skip the salt if you will use this recipe for baby-led weaning).
Pour the veggie slice mix into your tin. Bake at 180 degrees for 20 minutes or until the slice has risen and the egg is cooked. The slice will be golden brown on top.
Cool, then enjoy!
"Children's mealtime experiences influence their eating and how they feel about food," says Sandeep. "When families provide a structured yet supportive feeding environment, children can learn to eat and enjoy various healthy foods at their own pace."
"Family-style meals allow children to eat according to their appetite."
"Allowing children to make their own food choices, together with the enjoyment of family time, contributes to a positive experience. Children with positive experiences with food are more likely to eat and enjoy their meals."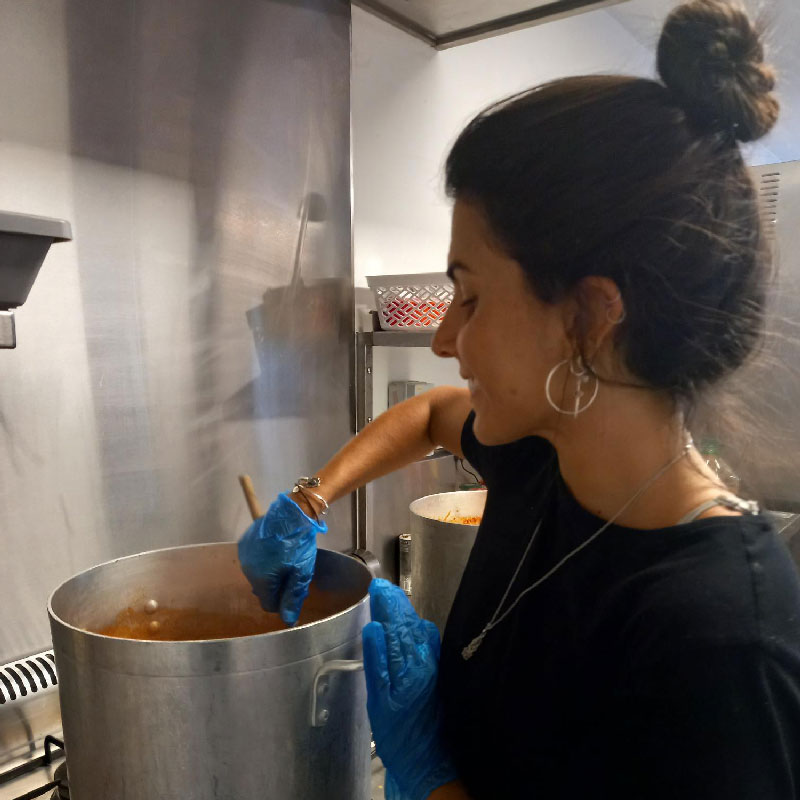 Petit ELJ Burleigh's Chef Isabela Teles
"I decided to become a chef in early childhood education and care because, after eight years in hospitality, I felt slightly burnt out,' says Isabela. "I always loved cooking and caring for others but desired a change of scenery."
"As I want to study nutrition next year, the early childhood sector will allow me to develop my knowledge and enjoy interacting with the children (my favourite part)."
"My preferred dish is chicken with a pumpkin base sauce, vegetables and rice. It is so delicious!"
"When making a savoury dish, I recommend creating a base sauce with veggies you like and mixing it with a protein (such as beef). After a while, start showing the children the little pieces of veggies in the sauce. As the children are already used to the flavour, it will encourage them to be more adventurous."
Savoury sauce with chicken
Ingredients
65g brown basmati rice
2 tsp rapeseed oil
15g ginger, peeled and cut into thin matchsticks
2 small red onions (160g), cut into wedges
160g broccoli, broken into florets, stem finely chopped
2 carrots (160g), halved lengthways, then cut into diagonal slices
1 red chilli, finely chopped (optional)
200g chicken breast, cut into thin strips
½ tsp ground cumin
1 tbsp crunchy peanut butter
1 tbsp wheat-free tamari
1 tbsp brown rice vinegar
Method
Cook the rice following pack instructions, then drain.
Heat the oil in a non-stick wok over a high heat.
Fry the ginger and red onions for 2 mins.
Add the broccoli stem, carrots and chilli (if using), and cook for 1 min.
Tip in the chicken and cumin
Stir-fry briefly.
Add the broccoli florets.
Add 3 tbsp water.
Cover and leave to steam for 3-4 mins, or until the broccoli florets are tender and the chicken is cooked through.
Meanwhile, mix the peanut butter with the tamari and vinegar.
Stir the sauce into the veggies and chicken
Serve over the cooked rice.
"To inspire children to eat healthy," says Isabela, "encourage them to eat fruit daily, so it's part of their routine."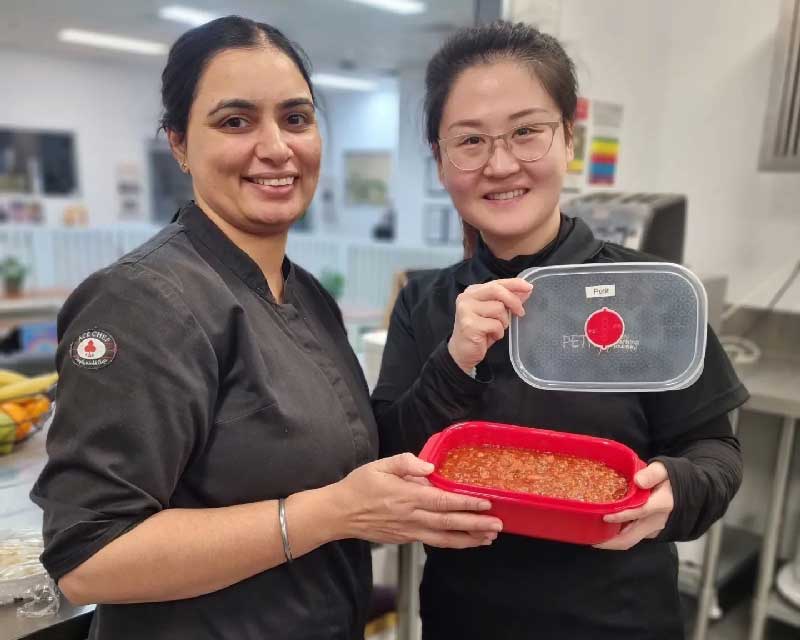 Make healthy choices with Petit Early Learning Journey
At Petit ELJ our chefs are part of a team of like-minded individuals who are passionate about caring and educating children. Our chefs are more than cooks in a kitchen with a broader range of skills in nutrition and healthy eating, gardening, sustainability and who share their passion with children's cooking experiences.
If you're a chef or educator seeking a career change to a sector where you can have that work-life balance and spend more time with family and friends during week nights and weekends, then what are you waiting for? Start making healthier choices for your career.