Words wield an enormous amount of power. Whether written or spoken, the power of words can detract, humble, honour, encourage and empower. Using professional language in early childhood education and care (ECEC) is a choice to support and respect our ECEC sector and its Educators.
Over the last several months, Petit Early Learning Journey has purposefully shifted the terminology we use towards professional language that positively represents our Educators and our sector. It is important that we choose our words carefully as it also shows our thoughtful and considerate regard for our children, families and the service we provide our communities.
In this month's culture article, we discuss the use of professional language with Natalie Gadsby, Centre Director at Petit ELJ Wooloowin, Mathew Furbank, People and Culture Operations Manager, and share insightful observation and documentation on professional language from our Petit Education & Practice team.
We reflect on:
Why language matters.
How we use professional language.
Why words matter for our recruitment process.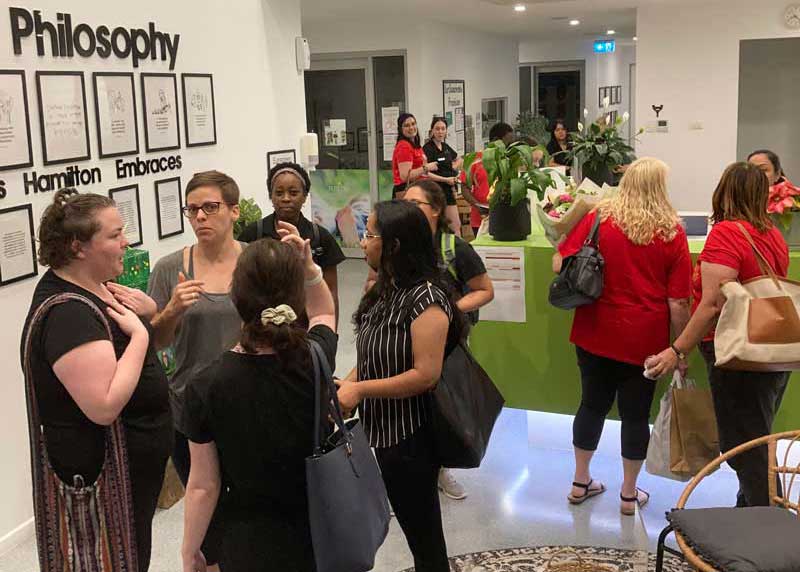 Language matters at Petit Early Learning Journey
"At Petit ELJ, our philosophy and approach to early childhood education and care views young children, their families, and our Educator teams with respect for who they are, while also acknowledging the complexity and importance of learning, development, and wellbeing in the early years," says Tanya Burr, Petit ELJ's Education & Practice Advisor.
"A key element of our philosophy and approach is to ensure we utilise, role model and advocate for respectful language at all times, from our everyday interactions with children, families, and colleagues, to how we share and celebrate our early learning centres in our local communities, and through our website and social media platforms."
"The importance of language is also advocated for by Early Childhood Australia. At Petit ELJ, we are always striving to use and promote this respectful language about children, and also about our early childhood educators and teachers."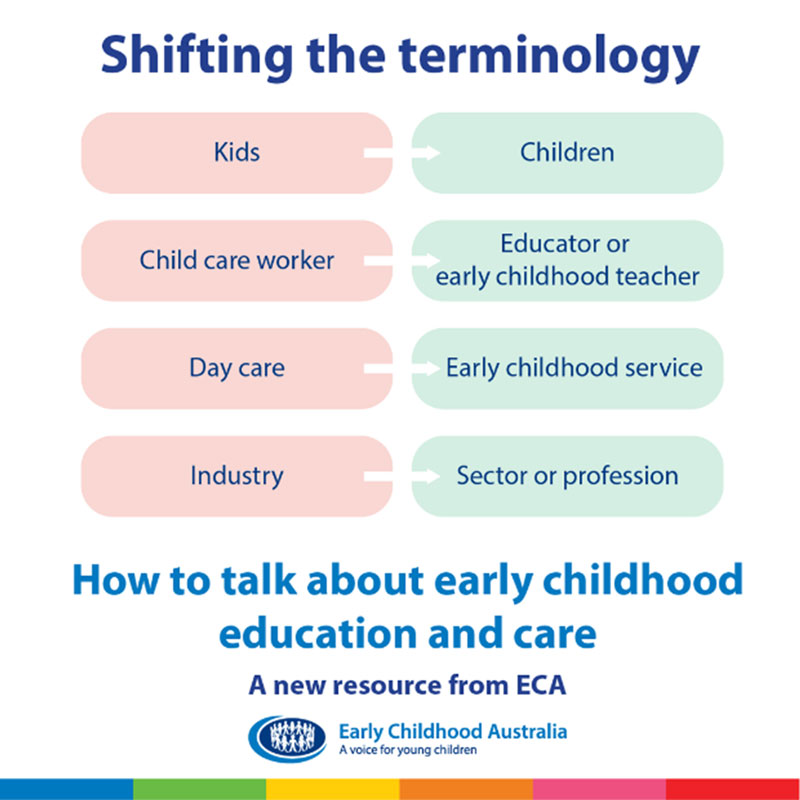 Why words are powerful
"We do not use the terms childcare worker or day care to describe our people or settings," says Tanya. "This does not do justice to the knowledge, skills, and dedication our Educators and teachers possess, nor do we believe it is respectful to our youngest children's incredible capacity for learning and development."
"Care is an essential aspect of our settings, but we always acknowledge that it is education and care that children (and their Educators) are engaged in every day."
"We refer to ourselves within the wider Early Childhood Sector or Profession. This again acknowledges that young children and their learning matter."
"The learning experiences and environments we provide are based upon research, and involve continuous training and knowledge building to engage in ethical teaching practices."
"We do not use the term childcare industry to describe our early childhood sector, as an industry by definition is something that produces duplicate products. We do not see children or their learning as a duplicate product, to do so does not value the complexity and importance of children's learning, nor the knowledge and professional skills our Educators bring to their role."
"The language we use at Petit Early Learning Journey is just one of many practices we engage in every day to create respectful, meaningful, and engaging learning experiences and environments for your child."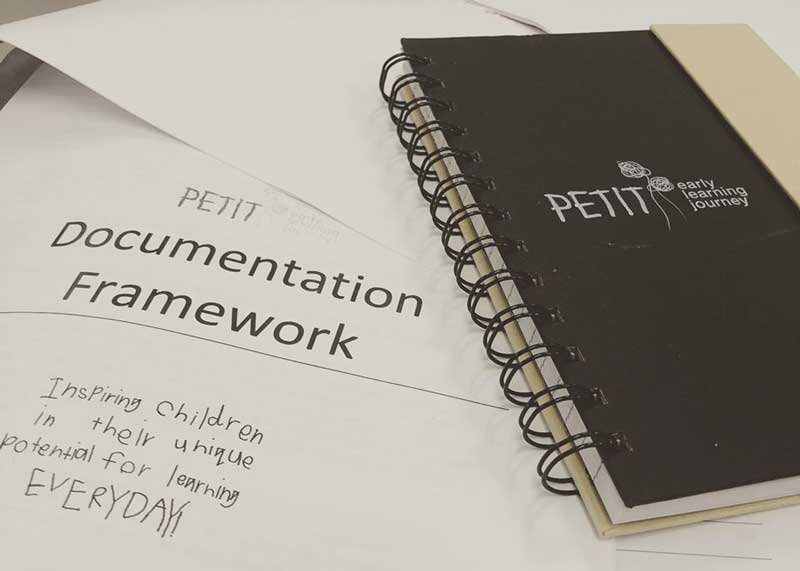 How we use professional language
"At Petit ELJ, we are focused on creating a positive affirming environment for our team," says Natalie.
"We use professional language daily to acknowledge the quality of care we provide, achieving a more collaborative, supportive team atmosphere and boosting team morale."
"We recognise that it is very easy to accidentally use words that don't value the importance of what we do. As early childhood professionals, we collaborate as a team, reflect on our practices and word choices and support each other to use respectful language that supports us, our sector and children's learning and development."
Last year, Early Childhood Australia (ECA) launched the resource, "How to talk about early childhood education and care." Here ECA provides clear and concise reminders of correct and respectful language.
"Our Educators are educating children as active citizens today and in the future,"  says Mathew. "So, it is important to be professional in our language but also to respect children and set them up for the best life and give them the best opportunities. Using professional language increases awareness about our sector and the critically important work our Educators do each day in educating our children."
"Professional language permeates everything we do including how we greet a new family, the way we talk to children, how we communicate with families on Storypark and social media, plus our documentation and participation within our local and broader communities," says Natalie.
"It is really important to pause and reflect on the power of words we choose and how they can either reflect negatively on what we do or how they can add value and respect our profession and the sector as a whole."
"I definitely recommend reading ECA's resource," says Mathew. "It shows words that we should not use and words that you can replace."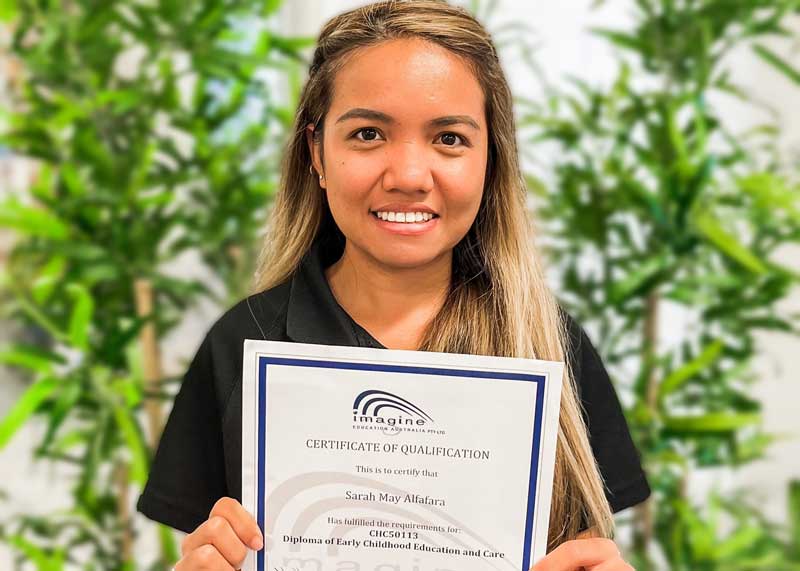 Why words matter for our recruitment process.
"We go through a really thorough recruitment process here at Petit ELJ," says Mathew. "It starts with reading someone's resume, then through to phone screening and then face to face interviews."
"And what we really look for is how they refer to the sector and the importance of their role. And how they speak about children, have they been Educators in the past and what is important to them in their next job. We listen to how professionally they speak about their past experiences and opportunities for the future as well."
"There are several ways Educators can focus on shifting the terminology," says Mathew. "Speaking to other Educators and managers and having these conversations at early childhood education and care services is important as well."
"There are many other resources such as those on ACECQA or ECA websites, and I do believe if you are actively studying or participating in professional development that can help as well.
So, if you're studying your Certificate III in Early Childhood Education and Care, or your Diploma of Early Childhood Education and Care, talk with your trainers and mentors about the importance of professional language."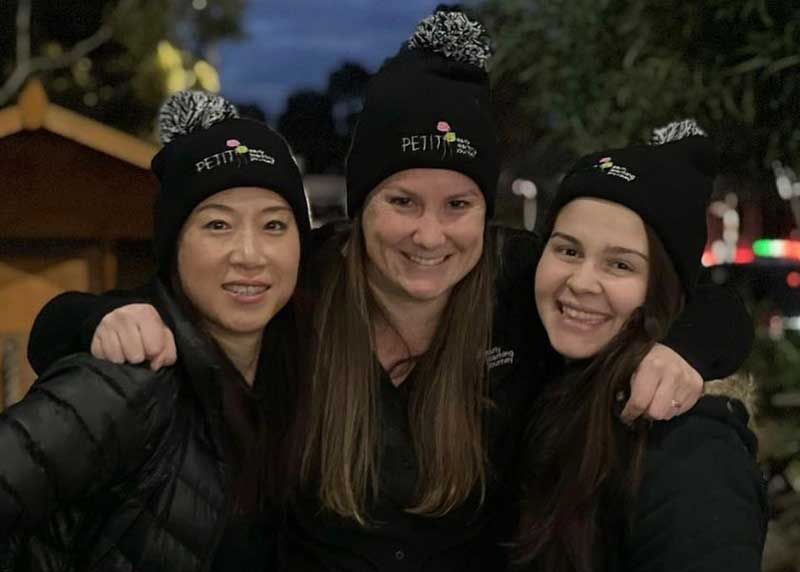 Inspire professional language with Petit Early Learning Journey
At Petit ELJ, we seek educational professionals who are not only passionate about caring for children but who use professional language and advocate for children's rights including the right to holistic education.
We are focused on making Petit ELJ a really great place to work. We bring our teams together for professional learning and a collaborative approach to pedagogy so they can share their experiences, knowledge and discuss contemporary practices.
Our early childhood education and care service offer a personalised environment where you will feel at home.
Are you ready to join the Petit ELJ family?