Extracurricular activities or experiences are an important aspect of our children's learning programs. Petit Early Learning Journey builds on children's interests by making available additional child-centred experiences for children to enjoy.
In the past, extracurricular activity participation was associated with older school children. Now, high school students all the way down to toddlers and babies reap the benefits of extracurricular programs.
Extracurricular experiences have many advantages. They can boost young children's confidence, create a sense of belonging and identity, extend their interests and learning, promote development, engage their curiosity and create social connections.
At Petit ELJ, we recognise that quality care and education are essential. A well-rounded curriculum includes extracurricular experiences. We partner with families to choose experiences that align with children's ideas and interests.
In this article, we explore:
The many extracurricular activities available to families with young children.
The experiences our centres offer.
The benefits of extracurricular programs.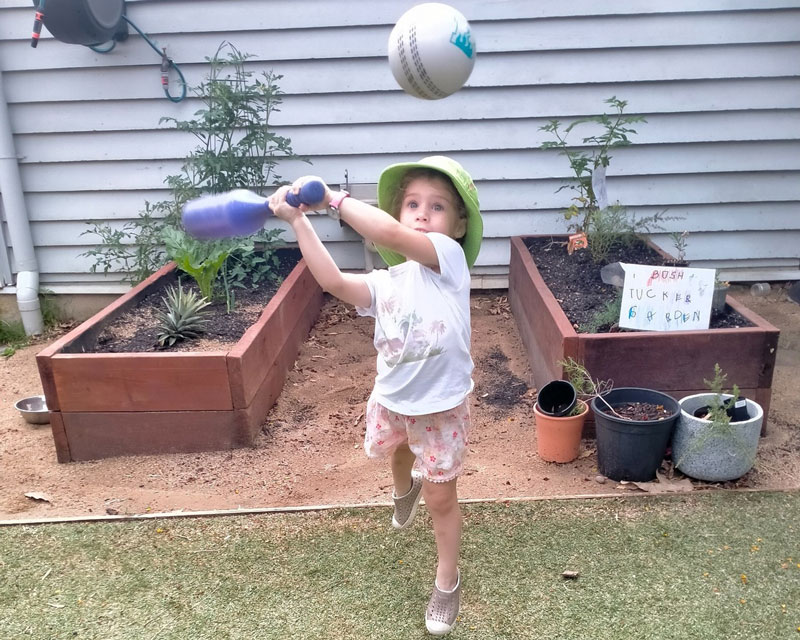 The many different types of extracurricular activities
When seeking extracurricular participation for your child outside of your education and care service, the first step is to consider what learning and recreational activities might engage your child. We recommend discussing their interests with them and what sort of activities they may be interested in trying.
Our communities are full of rich extracurricular programs for children of all ages. When our Educators choose new experiences they start with the children's interests and ideas. By having conversations with our families and children we learn what is important to them.
Depending on your child's age, sports teams and cultural clubs may welcome their involvement in activities. Other places and experiences to consider include:
Playgroups focused on singing, art and craft, outdoor play and reading.
Young children's sports clubs for children 3 years and up.
Dancing lessons for toddlers and preschoolers.
Instrumental music lessons, social music and movement groups and choirs.
Yoga and meditation classes for children.
Photography classes.
Swimming lessons and clubs.
Martial arts classes and clubs.
Art and craft classes.
Book clubs.
Theatre and drama classes.
Pottery classes.
STEAM, STEM and Coding classes.
Cultural activities.
Horse riding.
Cooking experiences.
Woodworking classes.
Educational clubs.
Community service.
Informal educational programs such as Scouts or Guides.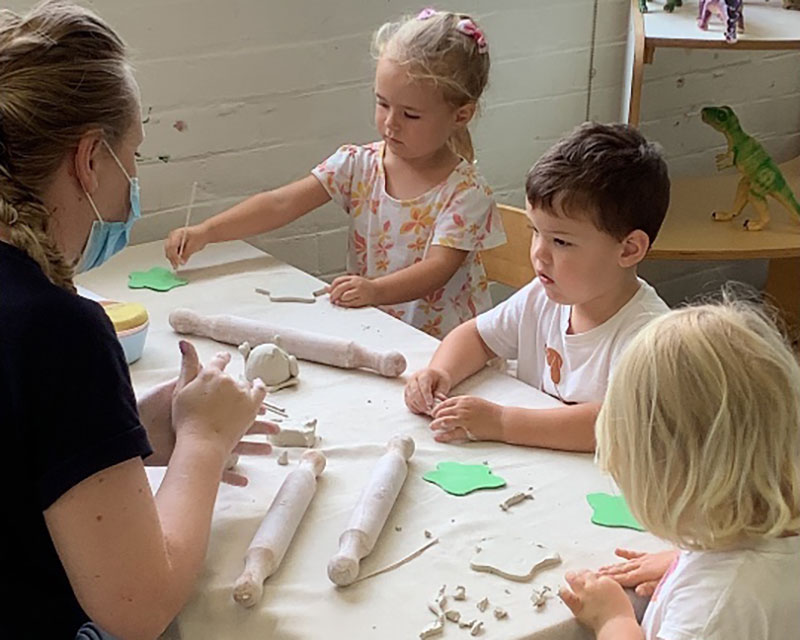 Extracurricular programs available at Petit Early Learning Journey Wooloowin
At Petit ELJ, all of our centres form strong partnerships with families and the local community to bring extracurricular experiences into our rooms. This month, we spoke to Natalie Gadsby, Centre Director at Petit ELJ Wooloowin about their exciting extracurricular programs.
"We offer numerous additional programs which are included in the daily fee of our service, so there is no extra cost," says Natalie. "These extracurricular experiences include children's yoga, pottery, a range of rotating sports, physical literacy, learning Italian and exploring music."
Pottery classes for toddlers and preschoolers
On Mondays, Jaymi comes into the service to provide pottery classes.
"I like Jaymi, she lets me roll, and shows me how to make things and then we can PAINT like my turtle!"
"The pottery classes are also included in the daily price for children over 15 months. The children create whatever they feel like wherever their interest takes them."
"Jaymi takes into account any special occasions that we celebrate around the year and plans her incursions to fit into our event program."
Sports program
"On Tuesdays, Mini Monstars, who provide extracurricular physical activities, sends out a sports coach to facilitate experiences. They rotate a range of sports including:
Basketball.
Soccer.
AFL.
Rugby."
Sports programs provide a path for children to learn physical literacy skills. Although at Petit ELJ, we promote physical literacy through our everyday curriculum and learning program to inspire a lifelong journey of wellbeing.
"Because our sports program is included within our daily service fee, all children over 15 months can access the program if they choose."
"Every Tuesday afternoon Hugh comes home and runs out to the yard and shows us what he has learnt by kicking the ball around."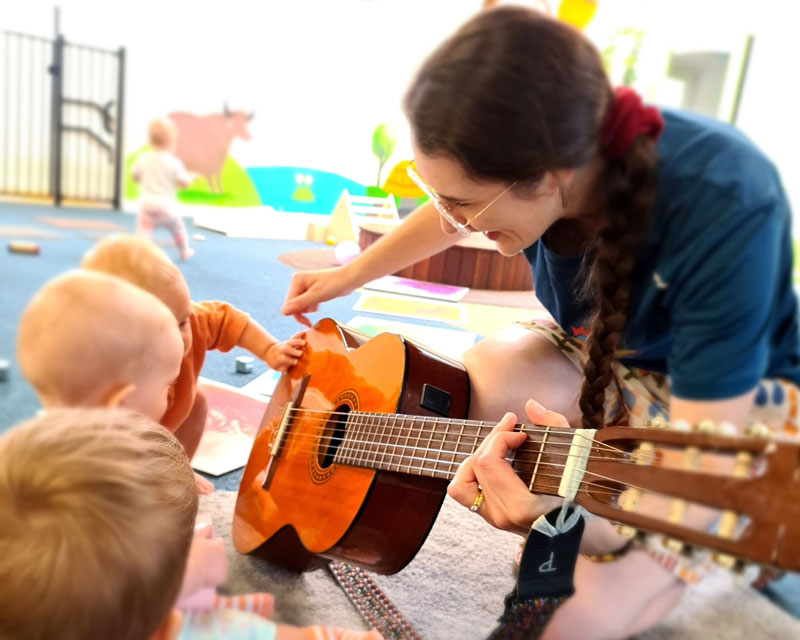 Music program for babies
"Once a week on Wednesday, Katherine runs the music program with our babies along with her guitar and different musical instruments. The children are always eager to participate in her experiences and become extra excited every time they see her coming."
"Using the guitar she sings songs while using puppets and other objects to intrigue the children and continues to claim their focus. The music classes are also included in the daily price for all our nursery children."
"Our exploring music program is only for children from birth to 18 months while all other incursions are offered to children over 15 months of age."
Learning the Italian language for kindergarteners
Buongiorno!
"On Mondays, Tuesdays and Fridays, one of our Educators, Veronica, works closely with our kindergarten age group to promote the Italian language."
"Learning a different language at a young age promotes new ideas and cultural and social understanding. At Petit ELJ Wooloowin, Italian is our focus language."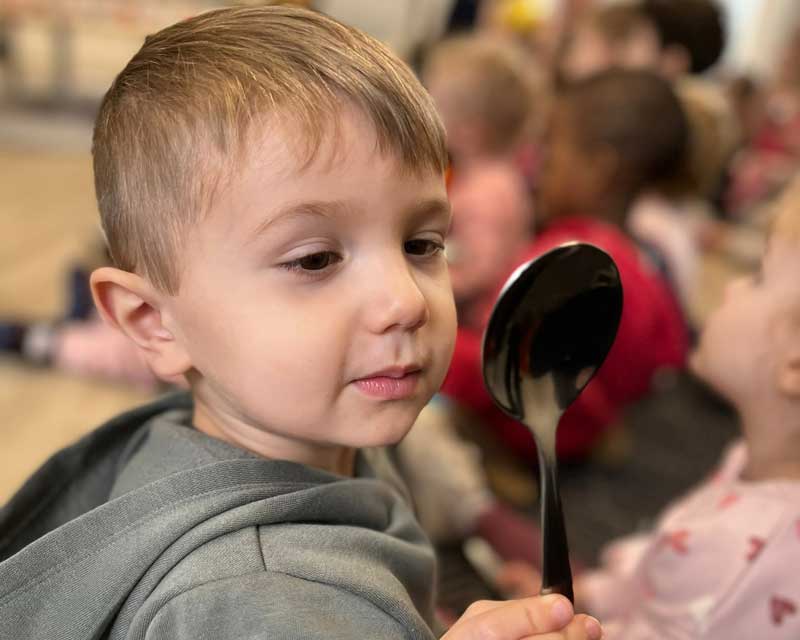 Additional programs offered at other centres
All of our 18 centres partner with families to offer engaging extracurricular experiences, incursions and excursions to children. Our teams partner with local services who can make regular visits as well as one-off incursions to build-on children's ideas and inquiries.
At Petit ELJ Forest Hill our children benefit from a weekly sports incursion with Little Sports Heroes. The program runs on Thursday mornings all year round. It promotes movement and repetition to help retain skills.
Over at Petit ELJ Elderslie, our Burrows Lane and Haven Place studios are enjoying a 10 week STEM learning experience with Beyond The Beanstalk. These STEM storytime workshops use imagination and creativity to engage children in science, technology, engineering and math concepts.
Our team at Petit ELJ Pimpama have a community partnership with Rackley Swimming Pimpama. Our Educators chaperone children to daytime swimming lessons on days children are signed in at our service. This community partnership supports families who have paid and booked swimming lessons for their 3 to 5-year-old children at the swim school.
Petit ELJ Hamilton also welcomes the expertise of Little Monstars. Like Petit ELJ Wooloowin, they have pottery, sports and music experiences, as well as mindfulness meditation.
The children at Petit ELJ Springfield Central also enjoy their weekly pottery sessions with Little Potters. The children engage in hands-on projects to create unique art projects.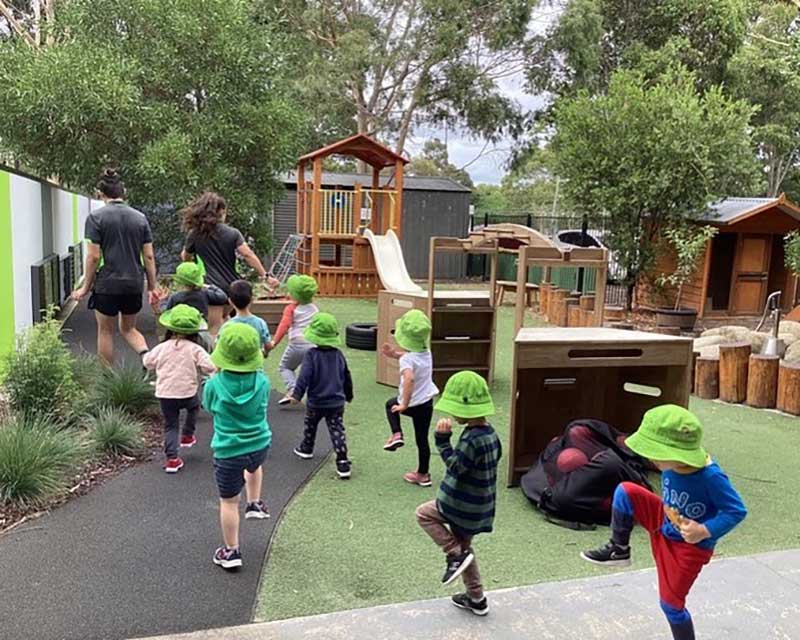 Benefits of extracurricular activities for young children
"Sports, dance and movement programs contain fun decision-making games for children," says Natalie. "They enhance basic skill fundamentals and motor skill development in a structured environment."
Programs that embrace physical literacy provide children with the opportunity to develop balance, coordination, gross motor skills and confidence. They provide our children with the knowledge, experience, skills and inspiration to lead healthier lives.
"We aim to help children improve their overall health and well-being while striving to have the children develop a healthy relationship with exercise, their bodies, and the world around them."
Extracurricular involvement including that in non-sporting activities can also foster:
Language development.
Communication skills.
Social skills.
Teamwork and cooperation.
Creative skills.
Emotional intelligence.
An understanding of abstract concepts like connecting the mind and body.
Understanding sounds and the meaning of words.
A lifelong appreciation for music, language and culture.
Problem-solving skills.
Fine and gross motor skills.
Coordination such as singing with hand gestures.
Body awareness.
Stress management.
A positive self-image.
An appreciation for different cultures.
Engagement in new interests.
Wellbeing, personal safety and self-care.
Life skills.
A sense of identity and belonging to a wider community.
Athletic activities have traditionally been the focus of extracurricular and recreational activity participation. However, many young children also enjoy non-sporting activities including those that develop academic skills like chess, which often provide as many benefits.
When children have access to additional physical or non-sporting activities it expands their skill set, experience and social circle. It creates a positive and inspiring way to expand their interests and support lifelong recreational and educational outcomes.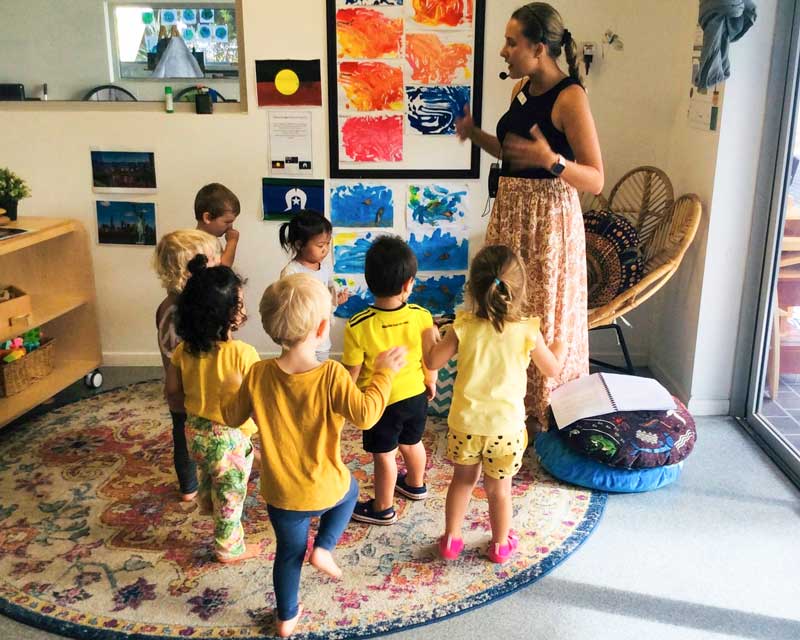 Create lifelong experiences with Petit Early Learning Journey
At Petit ELJ we offer a holistic approach to education and care with structured and play-based learning opportunities that benefit all children. We provide a variety of child-centred extracurricular experiences, including incursions and excursions. Our partnerships with families and local community services support and strengthen our children's learning program.
To find out more about our curriculum and what we offer including the opportunity for children to engage in our extracurricular experiences, book a tour at your nearest Petit ELJ centre.