Alison's update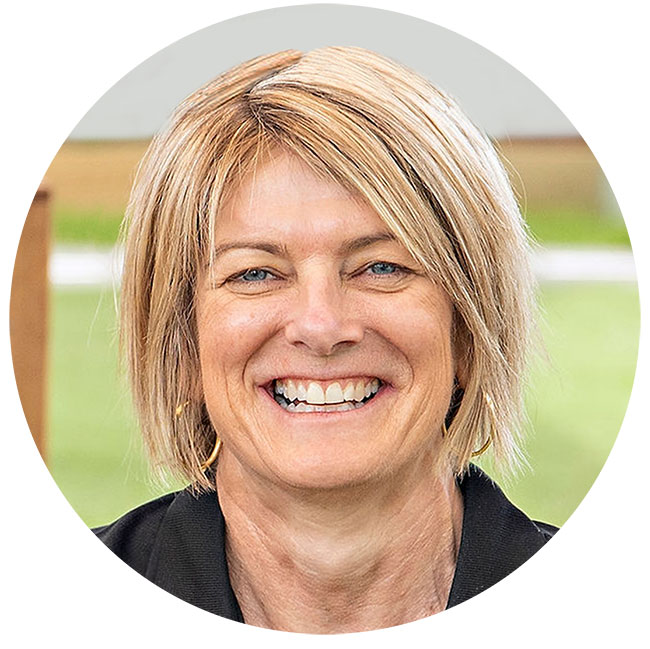 Chief Operating Officer
Hello and welcome to our new-look March family newsletter. In our January newsletter, we highlighted a noticeable shift in our November family survey from a focus on staffing to our learning program. While the retention and engagement of our team remains a priority, in response to this outcome we have been reviewing the delivery of our Educational Program initially developed in 2020 to ensure that our Educators are knowledgeable about how young children learn and are guided to support and celebrate each child's individual learning journey.
Throughout your child's time at Petit ELJ you will hear about learning dispositions which are a key aspect of our practice that support Educators in recognising each child as a holistic learner. They see the whole child and the interconnectedness of their growth and learning experiences.
In the past, set developmental milestones have traditionally framed the understanding of young children's learning, but this pre-determined disconnected focus can often restrict people's view of a child's potential for learning. Children are creative and complex learners and deserve opportunities to be challenged and shine!
In following the National Early Years Learning Framework (EYLF) our Educators incorporate more of a focus on learning dispositions into their planning and assessment of learning to authentically celebrate children's achievements and provide a picture of the whole child as they progress in their learning journey.
The EYLF defines learning dispositions as:
"Enduring habits of mind and actions, and tendencies to respond in characteristic ways to situations, for example, maintaining an optimistic outlook, being willing to preserve, approaching new experiences with confidence."
When adults focus on a child's emerging learning dispositions, children develop an awareness of the ways they learn, and positive attitudes to learning – essential for successful life outcomes!
For many of our families and communities, the significant rain event during February and March has created substantial hardships. Our service at Petit ELJ Murwillumbah in the northern rivers region of New South Wales has made an extraordinary effort to collect and source vital supplies for those impacted within their community. We extend a special thank you to our families, community members and teams in this area in particular for their exceptional kindness and thoughtful donations.
You can learn more about our Educational Program by talking to your Centre Director. We are always here to help.
---
Exceptional team member for March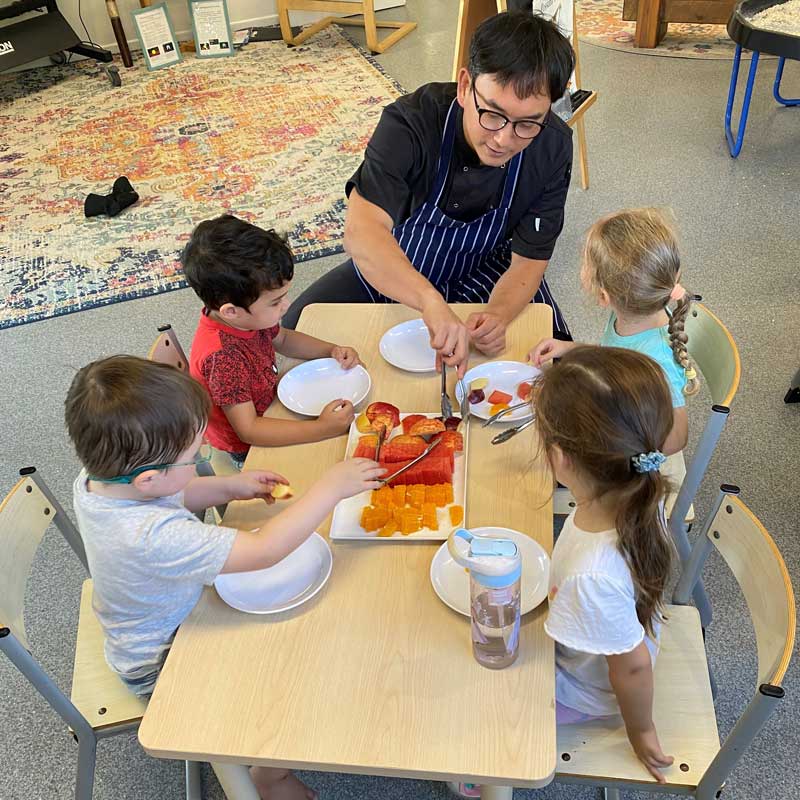 Chef David Kim from Petit Early Learning Journey Hamilton
Our exceptional team member for March is David Kim, our Chef at Petit Early Journey Hamilton. This month we celebrate David for everything he does for our children, Educators and families through cooking delicious and nutritious meals, spending time in the studios teaching children about healthy eating choices and helping build their confidence through different cooking experiences. David also shares his love for food and nutrition in our centre's family newsletter. Thank you, David!
What do you like most about working as a chef for Petit Early Learning Journey Hamilton? 
Working as a chef in the early childhood sector is very different to what I was doing as a chef before when I worked at one of the venues in the Brisbane International Airport. It is a challenging role, and the Petit ELJ Hamilton has a calming and supportive environment. All the staff are friendly and encouraging.
What's your favourite recipe to make for the children?
At Petit ELJ, we work with the Australian Government's feedAustralia platform designed for children's nutrition. Most of the children here like the noodle and pasta dishes. My favourite ones are the san choy bao or the chicken stir fry with rice noodles. All the Educators say the children love this dish every time I cook it.
Earlier this year, one of the children came into the centre with his father, and he was telling his dad about the dishes I made. His father was very curious about how we made it because his son really enjoyed the meals.
What healthy quick-snack suggestion do you have for families that they can make with their children at home?
I would recommend the cucumber boat or the celery caterpillar. We use the cucumber, deseed it, add some hummus in the middle. Then, we make a sail shape with the cumber or slice of orange. We are looking to do that as a cooking experience tomorrow. I love doing the cooking experiences with the children, as it is great to see them so involved and motivated.
Describe your most memorable experience with Petit ELJ so far?
I enjoy the time I spend with the children whenever I am doing a cooking experience. But the most memorable experience so far was last year's Christmas party at the centre. Even though I was cooking all day and there were quite a few dishes that I had to make, we received excellent feedback from the families. It was great to see everyone enjoying the food I made.
---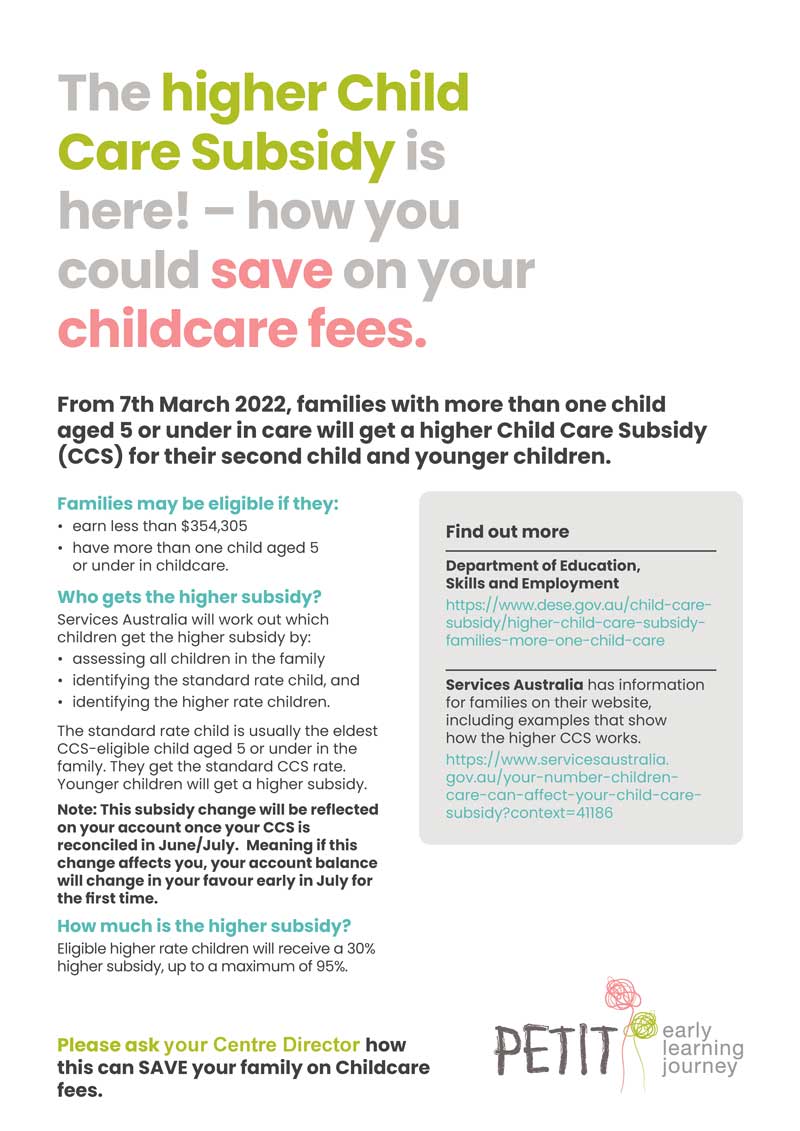 ---
Featured educational program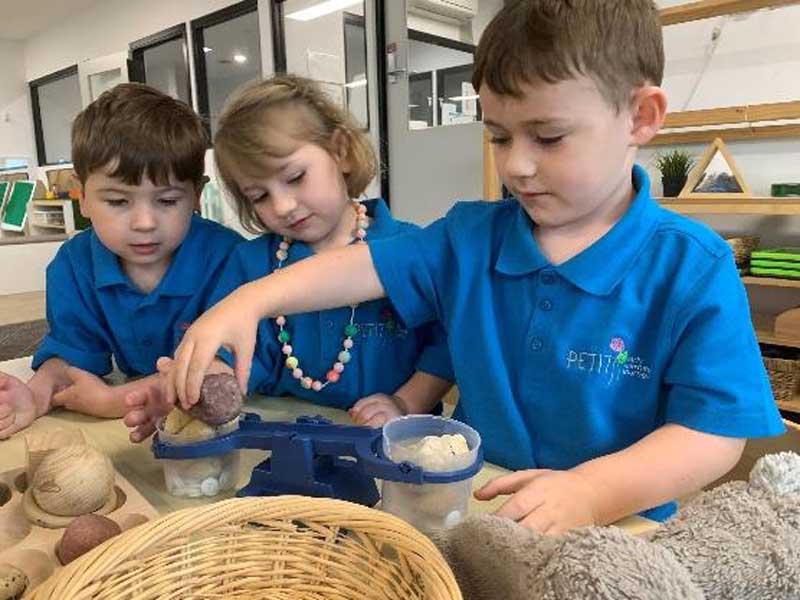 Diving into learning dispositions with Petit Early Learning Journey Elderslie
Report from Reagen Mckean, the Educational Leader at Petit Early Learning Journey Elderslie.
Reagen discusses learning dispositions, what they are, how they are central to your child's learning and wellbeing, and how they are embedded into their program.
Throughout February, we dove deeper into the world of learning dispositions. Learning dispositions refer to the way children engage in and relate to the learning process. Some learning dispositions that help us through hard times, such as those we are facing right now, are:
Resilience.
Bravery.
Flexibility.
Optimism
Perseverance.
They are life-long attributes that support children through their schooling and into adulthood. At Petit ELJ Elderslie, we encourage these dispositions every day through our education program, routines and rituals.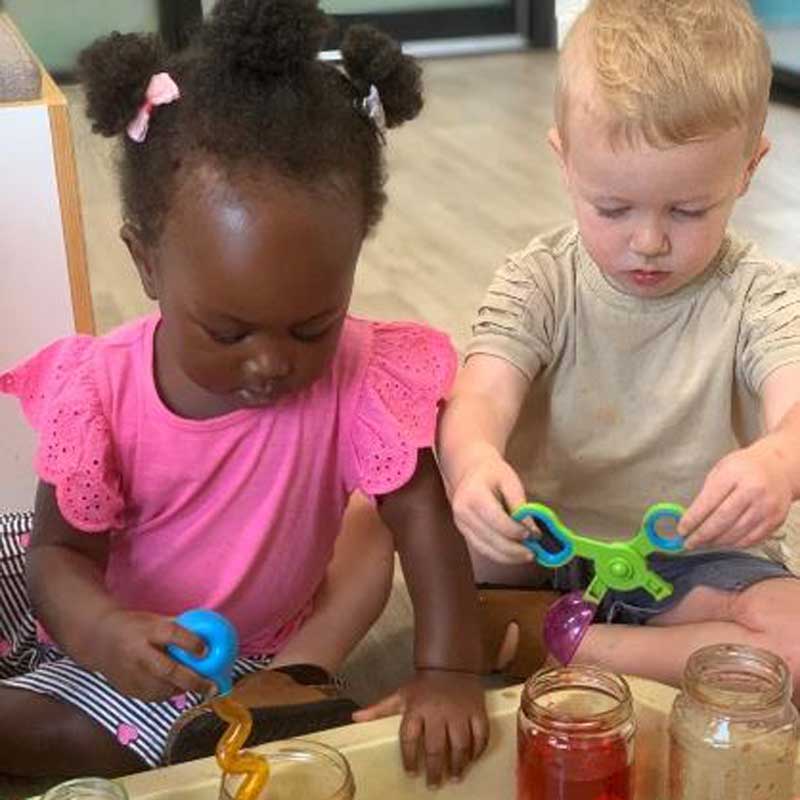 Other learning dispositions that the children have been exploring include:
Patience: the ability to stay calm and develop strategies to overcome frustration and build tolerance. Patience helps children enjoy difficult tasks, take turns and resist impulsiveness. The children in our Burrows Lane studio were able to remain calm when practising a new skill to pick up coloured water with eye droppers and place it in a jar.
Curiosity: a strong desire to learn something. Children are naturally curious and will seek out the answers to questions about their world. In our Baby Boulevard studio, the children have been seeking out new sensory experiences with coloured pasta experiences.
Playfulness: the ability to engage with light-heartedness and let go of everyday routines to be fully in the moment and to enjoy a spontaneous moment of happiness and joy. The children at Petit ELJ Elderslie have been enjoying the feel of rain and playing in it with their friends.
Observant: the ability to watch and notice how the world around them interacts. Our Haven Place children utilised a new medium, clay and were observant and curious about how it changed when water was added.
Throughout February in our Darling Drive studio, we have been establishing our daily routines and rituals and providing the children with a sense of comfort and belonging. Each day we do an Acknowledgment of Country which shows the children how we can pay our respects to Indigenous Australians and demonstrates a sense of relatedness, another learning disposition. We have also been learning a song called "You're Wonderful" which incorporates sign language for the children to learn inclusiveness and acceptance for all.
Please talk to your Centre Director or Lead Educator to discover more about learning dispositions and experiences in your child's studio.
---
Community connections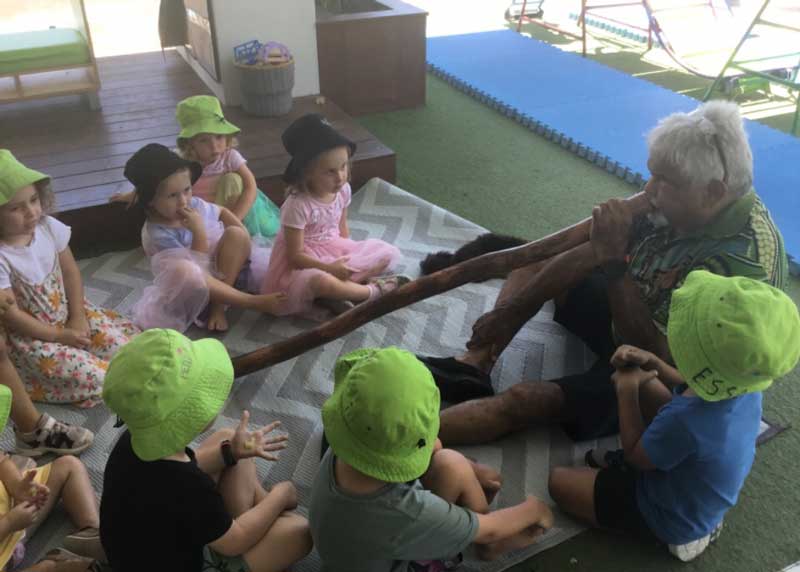 Petit Early Learning Journey Burleigh strengthens natural connections with the land
Report from Briony Winters, Centre Director, Shannon Stacy, Assistant Centre Director and the Petit ELJ Burleigh team.
Our ongoing community project links in with our Centre Curriculum Goal: Connecting holistically with our natural land links and community. We are strengthening our connection to the land where our centre is placed, with Traditional Custodians the Kombumerri people of the Yugambeh language group.
Uncle Allan is our local Indigenous Elder, who visits the service each month. He helps our children develop a further connection and understanding of the Australian Indigenous culture, land and scaffolds hands-on learning opportunities.
The focus of his visits are on the children's interests through exploration, learning about the land, local flora and fauna, and bush tucker locations and samples. Further learning is supported to develop an understanding during Yarning circles through a range of music, Dreamtime journeys and cultural conversations.
We will be travelling to Tallebudgera Creek in Jellurgal (Burleigh Headland), which is local to Uncle Allan's tribes and ancestry, where our excursions will explore the native flora, fauna and significant sacred places.
Through parent and children's voices we have implemented a community library and a garden to link our centre with their home environments and values. The idea for our community connection project came about through the participation, feedback and suggestions from our families, Educators and local Indigenous Elders.
The children also care for our community gardens and engage in educational experiences which support and grow their understanding of community and local wildlife. Our Educators have implemented sustainable practices in our outdoor environments.
Most recently the children planted native flowers linked with the Indigenous land for our native bees located at the centre. The native flowers enrich the bees' environment, and this idea was created through conversations with Uncle Allan and with our children.
In reviewing the recent flooding and its impact upon our local wildlife, we have begun a relationship with the local Fleay's Wildlife Park and the Animal Welfare League QLD to help raise funds to support their hard work with supporting stray and abandoned animals within the community. Our children have come up with ideas on how we can raise awareness and fundraise by holding a Koala Cupcake and Lemonade stand day.
Our families get involved in our community project by participating in our fundraisers and they also partner with us to provide direction and vital information on how to further develop our connections to the land and Country as we continue our journey to link our service with the community.
Please talk to Briony, Shannon or your studio's Lead Educator If you would like to be involved in our community connection projects at Petit ELJ Burleigh.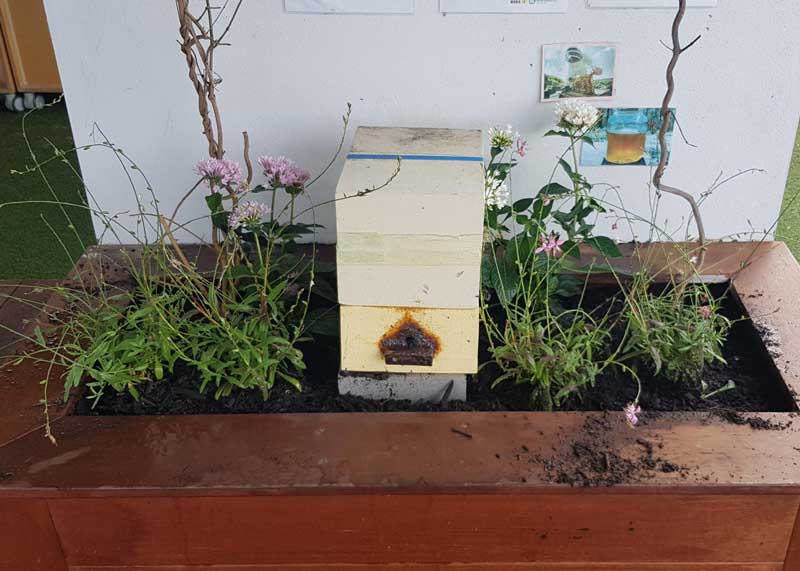 ---
Experiences from around our services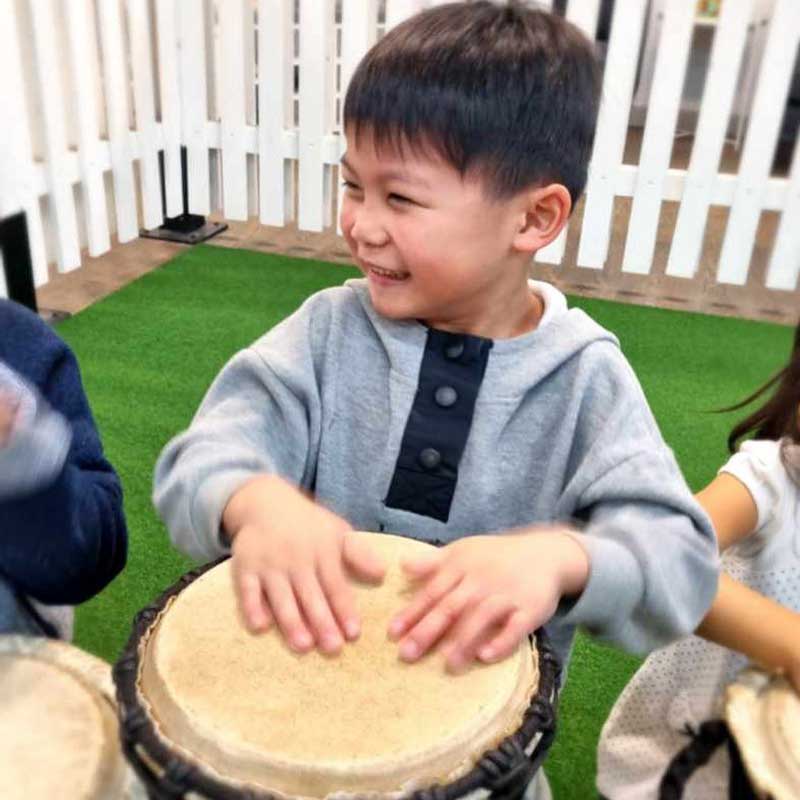 Petit Early Learning Journey Forest Hill gets into the rhythm of African drumming
Children from Petit ELJ Forest Hill used traditional African djembe drums to create sounds and music from the continent during an incursion.
---
33 Nature play ideas: A guide for parents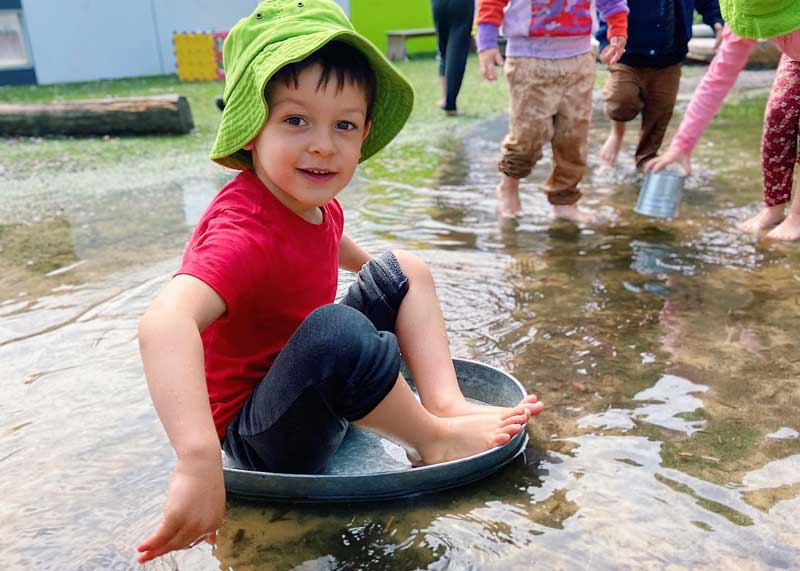 Nature play is a simple, fun and extraordinary life experience for children. Do you recall the days when you would freely explore the outdoors? For many children, nothing is more enjoyable than getting messy and playing in nature…
---
Latest parent review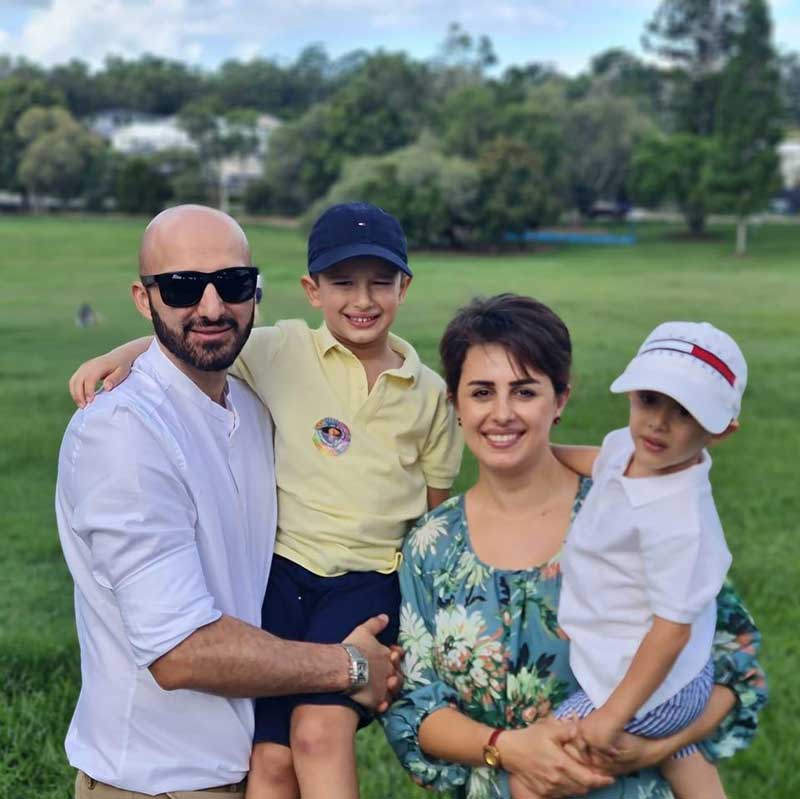 Springfield Central
"Kids absolutely love this centre and the educators and we are really happy with the program. I recommended Pettit to my friends and they are really happy for changing their kids' child care."
– Yasaman Arab
---
The differences between kindergarten and preschool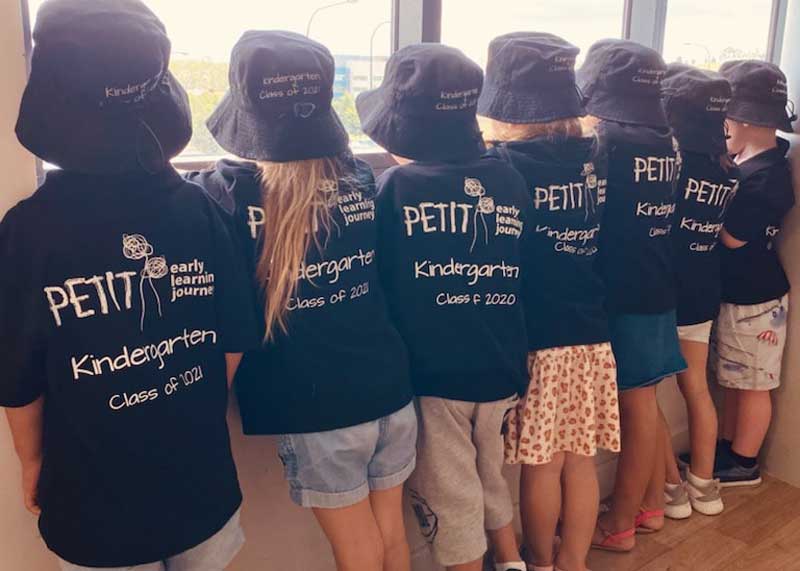 Parents often wonder what the difference between kindergarten and preschool is. The answer to this question largely depends on where you live…
---
Our culture: The Power of words: Using professional language in early childhood education and care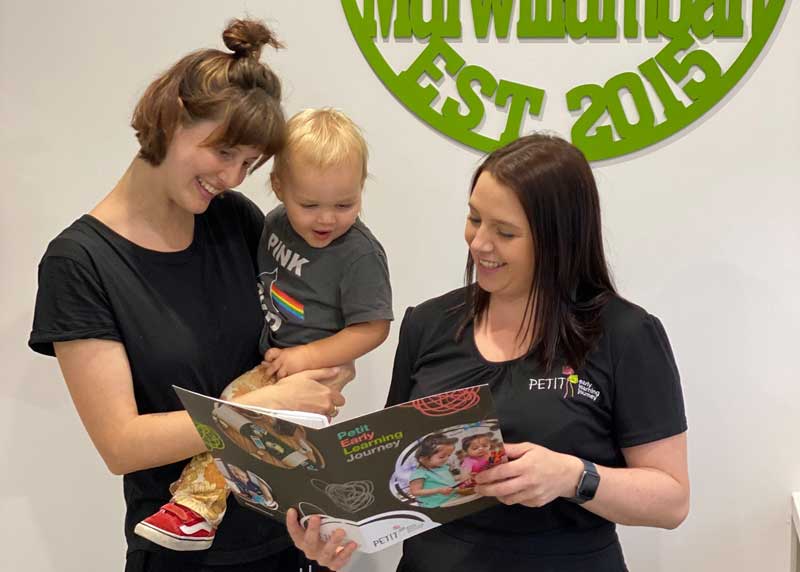 Words wield an enormous amount of power. Whether written or spoken, the power of words can detract, humble, honour, encourage and empower. Using professional language in early childhood education and care (ECEC) is a choice to support and respect our ECEC sector and its Educators…
---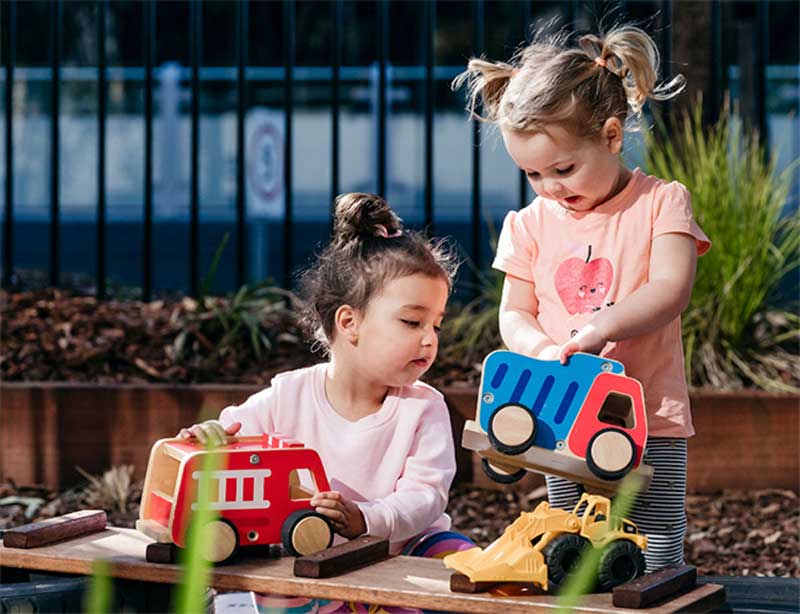 Socialise with us!
👍 Like our Facebook page to follow our early learning journey.