Sustainability in early childhood education influences every corner of a service's practice. The National Quality Standard embeds environmental responsibility into Petit Early Learning Journey's operations, everyday curriculum and the children's learning program.
In an article on The Spoke (May 2019), Dr Sue Elliot, an expert on early childhood education and sustainability, describes the topic as complex. Often thought of as "green issues", Elliot emphasises how global climate change makes us think deeper about the four dimensions of sustainability which UNESCO illustrates as economic, natural, social and political.
In "Ways of thinking, acting and relating about sustainability" (Research in Practice Series Volume 21 Number 3 2014), Tracy Young and Dr Sue Elliott encourage Educators to reflect deeply on the complexity of sustainability in early childhood education and what it means.
Our Petit ELJ centre teams partner with their families, children and communities to embed locally relevant sustainable practices into their services. For some, this may be a recycling station where families drop off recyclable items, while for others it includes a garden to the plate project or a community garden.
To help us understand how environmental responsibility impacts early childhood education, we invited Petit ELJ Caloundra and Petit ELJ Wooloowin to reflect on sustainability and openly share what it means to them. Our teams also discuss:
Teaching sustainability in early childhood education and care.
The responsibility and goals of environmental education.
Sustainability learning for children through everyday experiences.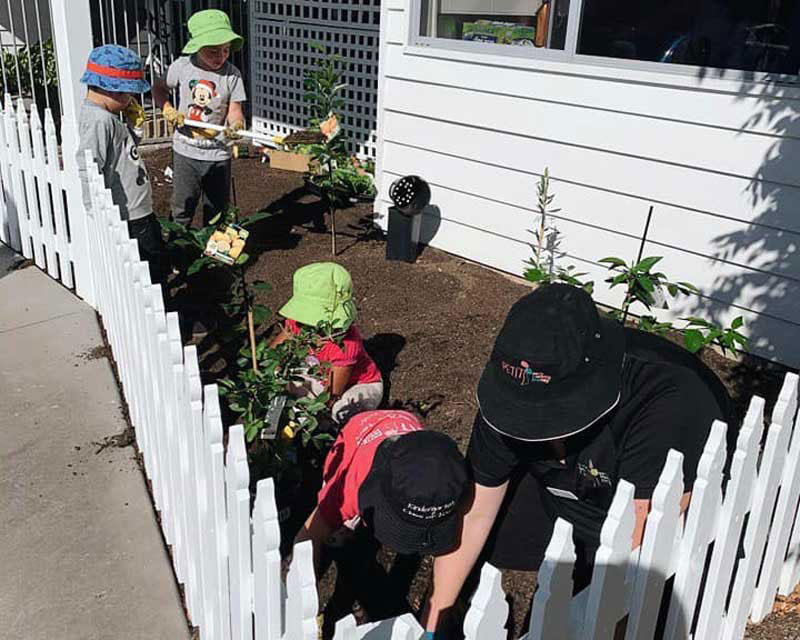 What does sustainability in early childhood education and care mean?
Becoming environmentally responsible can be a complex and confusing topic. It's recommended that the first step towards a sustainable culture is to discover where you are with your understanding of sustainability in early childhood education and care.
At Petit ELJ some of our services have a designated Sustainability Leader, like Rebecca at Petit ELJ Caloundra. Rebecca is also the Chef, and she researches, develops an understanding, shares ideas and mentors other team members on sustainable practices.
"As each year passes, we make more discoveries about the effect we have on our environment," says Rebecca. "New information is constantly being brought to our attention around the impact of global warming, the importance of real food, water preservation and drought, utilising whatever we have on hand, recycling, and sourcing locally farmed ingredients among many other sustainability practices."
"I think teaching children the importance of these ways of life and the impact complacency has had on our planet over the last 50-100 years is super important for their future, our planet and for all of our future generations to live a healthy and happy life."
"The sooner we begin teaching sustainability in early childhood the more understanding and importance children will place on it when growing up and when it comes to them making the right decisions."
"I don't doubt that everyone with children, when they think about their child's future, wishes nothing but the best, healthiest and happiest life that they can have. Families and Educators need to encourage children how to achieve this by looking after the planet."
At Petit ELJ Wooloowin, Centre Co-Director Nat describes sustainability in early childhood education and care as repurposing items, using open-ended resources, creating play through recycled materials and educating children with life skills such as caring for the environment.
Petit ELJ Wooloowin's Co-Director Amber says that sustainability means exploring and investigating the world around us and learning how to preserve it for many years ahead. "All my favourite provocation displays are sourced from the garden or local areas."
"Sustainability in early childhood education means educating children, families and communities whilst embedding sustainable practices into our practices, inclusions and educational programs to ensure a holistic and embedded approach to change."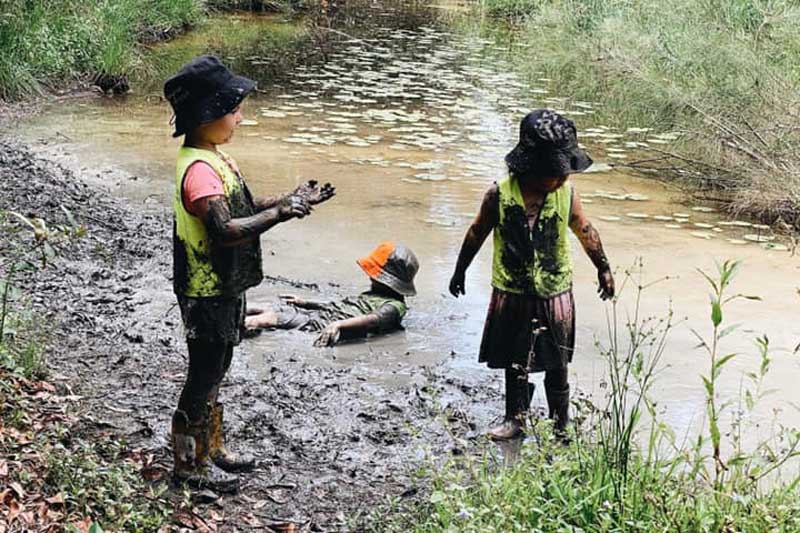 Teaching sustainability in early childhood
"It is never too early to teach children about the environment," says Sarah, Lead Educator in the kindergarten at Petit ELJ Caloundra. "I like to teach children about sustainability through role modelling and by creating an environment dedicated to sustainable practices."
"Teaching sustainability may look like children exploring and forming links with nature. So, it is important to provide children with the opportunity to create those connections with their environment, to learn their place within the world and their ability to influence things."
"This kinship with nature is evident in our Bush Kindy sessions. What the children feel and learn in that environment reflects at the centre."
"Children learn through doing, so we give our children the responsibility of caring for their environment. For example, they water the garden, plant seeds and pull weeds. We also harvest and use foods we have grown to eat in our recipes."
"Children need to see the entire cycle of growing food. It gives them an appreciation for sustainability and nurturing their environment."
"Our children are very proactive in recycling. We have visited the recycling centre to educate children on the importance of recycling and where our waste ends up."
"We regularly contribute to community clean-ups and environmental days. We have implemented recycling into our daily practices, and the children are aware of which bin is for what waste."
"It is also essential that we role model energy and water conservation practices. As a result, children are aware of the importance of conserving energy and water. We turn lights and fans off when we are not using the room, and we reuse water during water play experiences. For example, we collect buckets of water to use in the garden."
"We also educate the children about sustainability through books, puzzles, discussions and practices."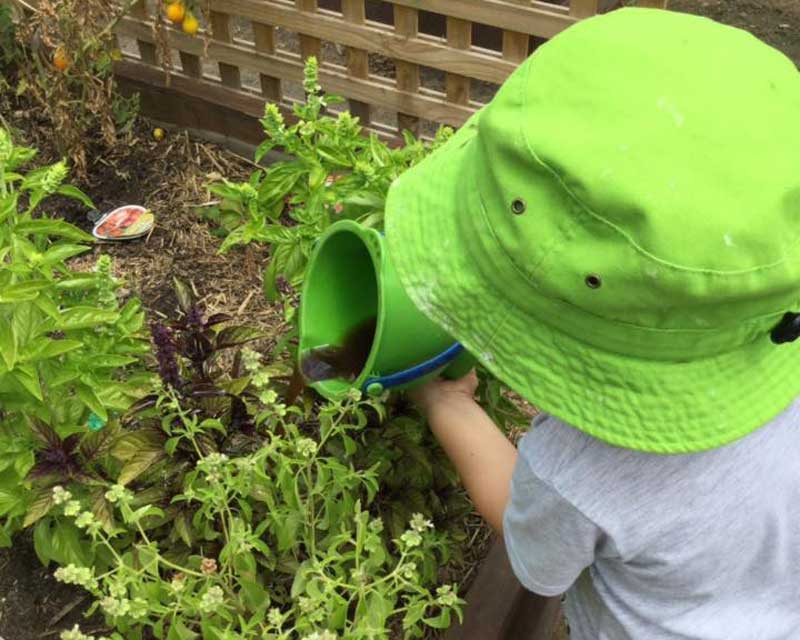 Sustainability for children through everyday experiences
"We embed sustainability into our daily practices at Petit ELJ Wooloowin," says Amber. "From utilising recycled materials to caring for our gardens to learning about healthy eating and cooking and harvesting our own ingredients. We put our food scraps in our compost which in turn feeds our gardens which then helps us grow our ingredients."
"Chef Riki takes gardening and cooking lessons with the children each week as part of our Garden to the Table program in a continued effort to embed sustainable practices into the service."
"Recently, we acquired some native bees into our kindergarten studio – the introduction of native bees has opened the pathway for conversations about why bees are so important and how important they are in pollinating our plants."
"We have explored: 'What do bees do for our plants and flowers?' and 'What would happen if we had no more bees?' with our children. We aim to provide opportunities for children to be curious and learn through having a genuine connection to their environment."
"As a team, we often critically reflect on how we prepare children's learning environments and the most common 'go to' project is to create something or make inquiries using what we find in the Garden. For example:
If exploring science: What can our Garden teach us?
If exploring textures: What can we find in our yard and how does it feel?"
"Using what we have in our community and natural environments reinforces that we have an abundance of resources and things to explore without spending money on resources that add to landfill."
"We also invite our families to provide loose parts from their businesses and homes. Finally, we encourage children to make conscious decisions about the materials they use and how they use them in play."
"In the baby studio at Petit ELJ Caloundra," says Chloe, Lead Educator, "we model sustainability through our daily routines and practices. We create natural environments and provide natural materials such as things found in the garden or outdoor community."
"We also encourage and educate children on water saving, such as turning the taps off after they have washed their hands. In addition, we love to re-use materials such as cardboard boxes creating sustainable learning environments."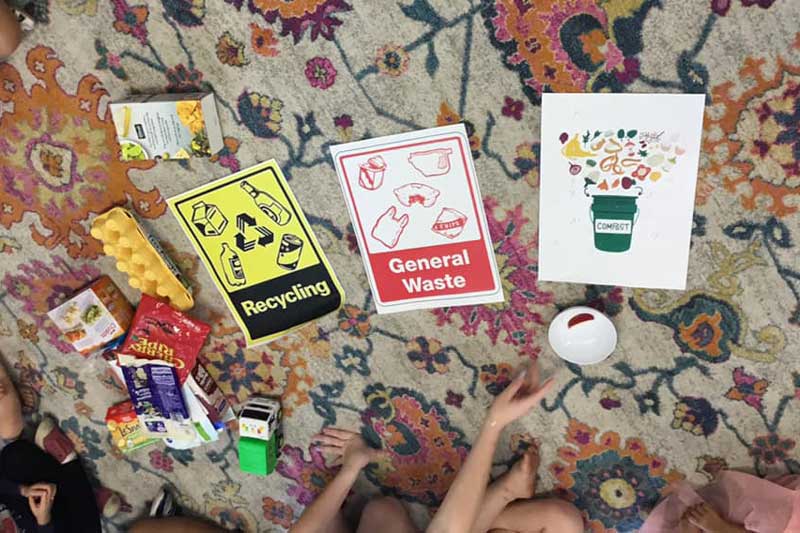 The responsibility and goals of environmental education
"In our service, we approached sustainability from the inside using the Model of the 3 Rs (reduce, recycle and reuse)," says Elena, Educational Leader at Petit ELJ Caloundra. "We started by changing some of the behaviours that we had so that we could lead with examples to our families."
"We researched the area and recycling depots that were available for our community to use; we discovered that there were not many available. Therefore, we decided to create a recycling depot for things that the council bins could not recycle, which the community accessed."
"We opened our recycling depot to families and the broader community. Everybody can now recycle batteries, coffee capsules, toner and ink cartridges, bottles, bottles caps and stationery."
"As we were introducing our recycling depot, some of the parents talked about clothes, so we had the idea of also starting an exchange clothing program. This initiative allows families to reuse clothing, minimising the waste in the environment."
"With our children, families and Educators living in high-density areas, our service has taken purposeful steps to encourage sustainable choices at home," says Amber. "For example, our kindergarten children provide our families with 'banana water' each week to feed and encourage home gardening."
"We also provide menu cards with healthy options for our families and regular opportunities for participation and home involvement. We want to preserve and encourage the natural surrounds of Brisbane."
"Petit Wooloowin's Sustainability Officer, Sophie, is dedicated to minimising our environmental damage and ensuring that our sustainable practice is not only embedded but focussed on making real change in our community."
"Our service receives fruit and veg from local suppliers, and wherever possible, we source resources locally. We are conscious of our carbon footprint and continuously explore new ways to be more sustainable every day."
"We continue to challenge our thoughts on sustainable practice, and we collaborate with our children, families, educators and community to make meaningful, sustainable change to our world."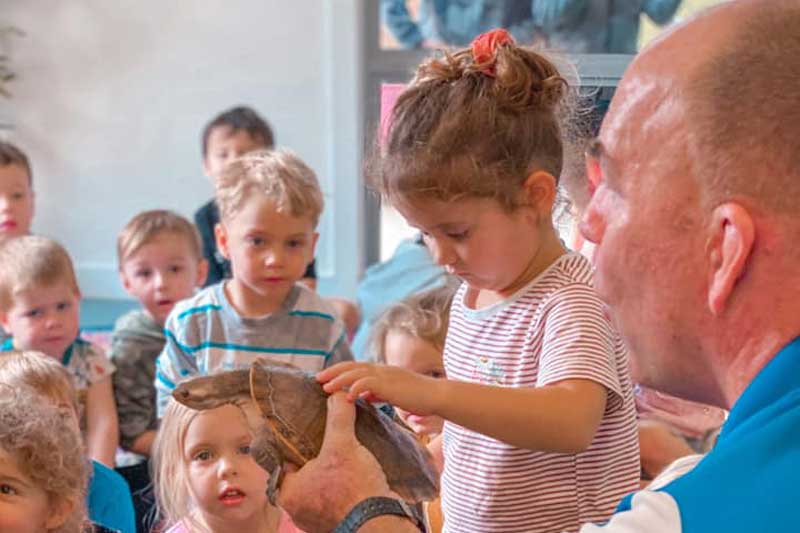 Sustainability in early childhood education and care
Sustainability in early childhood suggests a way of thinking and being towards our environment. It covers many different aspects from gardening to recycling as well as the things we use daily in our environments like introducing natural fibres.
The goals of environmental education provide children, families, Educators and our local communities with opportunities to change and obtain knowledge, skills, new ways of thinking and a commitment to look after our environment.
Our efforts towards sustainability in early childhood learning are inclusive showing respect for and consideration of local Indigenous knowledge and ways of understanding. We collaborate with our local community to achieve sustainable practices.
At Petit ELJ, our centre teams use a holistic approach to learning about the environment. They work with their children, families and local communities to form partnerships and create change within and outside their services.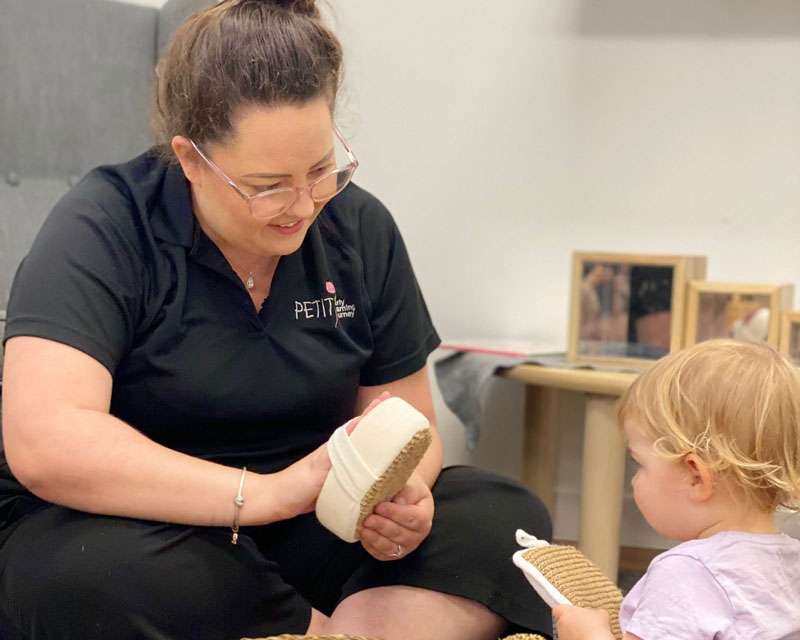 Create a sustainable future with Petit Early Learning Journey
We take our duty for looking after the environment to heart at Petit ELJ. Our Educators are passionate and dedicated to progressing sustainability within their services and supporting children to become environmentally responsible.
At Petit ELJ, our Educators collaborate with each other to share knowledge and learn new skills. If you have a passion for sustainability and the environment and love caring for young children and inspiring them to learn, then what are you waiting for?