Bush Kindy is an emergent environment for learning. Learning environments are a key element of the Early Years Learning Framework (EYLF). They are integral to supporting other aspects, such as creating a sense of belonging, being, learning through play, and developing a sense of independence and autonomy.
At Petit Early Learning Journey, we intentionally design our environments to provoke children's curiosity, spark imaginations and inspire investigation. Our Educators regularly review our indoor and outdoor centre spaces and how they are used to provide different but equally valuable learning experiences.
As well, the EYLF emphasises the importance of nature and outdoor learning spaces as a feature of Australian learning environments. It guides us to reflect on where children can develop an appreciation for their natural environment.
Australian Children's Education and Care Quality Authority (ACECQA) also reminds us that environments need to be flexible to support children's learning and development and construction of knowledge. It showcases the value for outdoor education and extending learning beyond the centre's outdoor areas to local nature strips.
In this article, we reached out to Doug Arnold, Early Childhood Teacher at Petit ELJ Caloundra to discuss their extended outdoor environment for learning, Bush Kindy. Read on to learn more about:
Bush Kindy as an active learning process.
The benefits of our bush kindy program.
Bringing learning experiences back to the centre.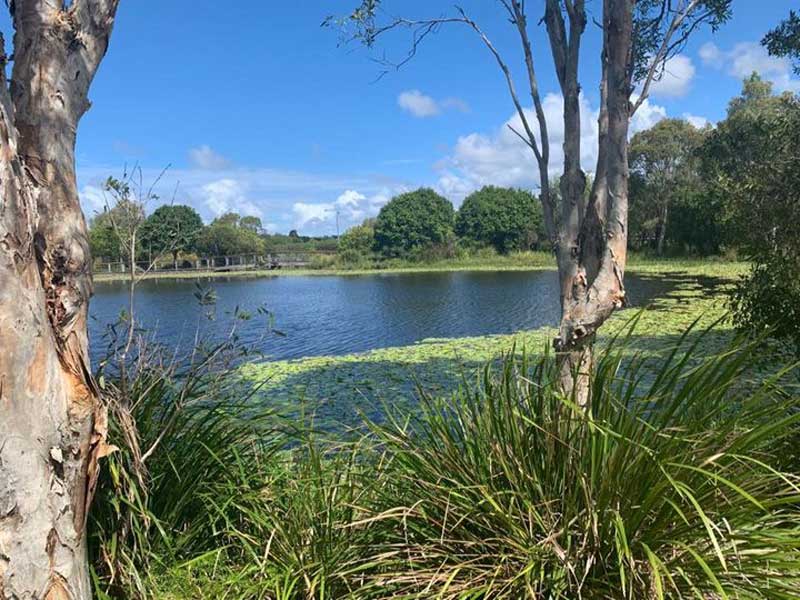 Outdoor learning in nature with children
Educators, families and children at Petit ELJ Caloundra are fortunate to be inspired by the centre's beautiful backyard view of nature. With children playing outside every day, the view ignited their interest in having a Bush Kindy program. They officially started Bush Kindy on Outdoor Classroom Day 2019.
The launch of the Bush Kindy program followed an extensive planning process involving consultation and communication with families and children. It built on the ideas and interests of children who were eager to explore the nature strip beyond the fence line.
"We considered several potential locations in the area", says Doug, "but decided on this specific site due to its close proximity to the centre which reduced the need to use transport and allowed more time to be spent at the site."
"The site is a natural environment that showcases the local wildlife and plant species and has the added bonus of being close to a creek that leads into a small lake area that provides great opportunities for exploration and learning to take place."
"To ensure all the children have the opportunity to attend, we take the children out on a Tuesday and Thursday morning. The groups are named the Wildflowers and the Kookaburras. The main area we use is referred to as the base camp."
"The site is away from the main public path in the park and allows the children to feel like they are in their own private space. The kindergarten children who live in the local area often visit the site with their families throughout the week and on weekends to share their experiences with them."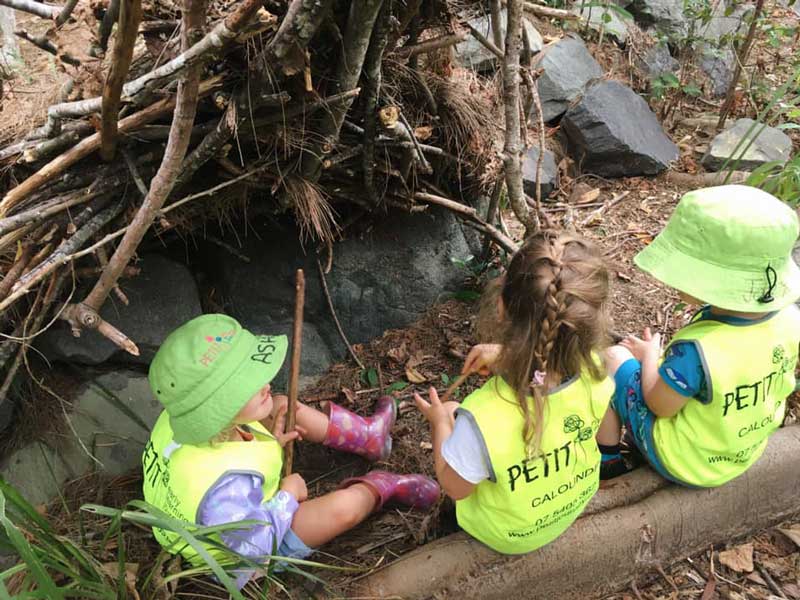 The Bush Kindy program as an active learning process
Petit ELJ Caloundra's outdoor centre environment already has a significant focus on nature with trees, shrubs, bark, dirt and natural materials. Children run in the rain, jump in puddles and make a lot of mud, and they also have a kitchen sandpit and a community garden.
The Bush Kindy program, however, takes their outdoor environment to a new level, creating an active learning process where children become directly involved in their surroundings. Nature inspires children to become explorers, expressing wonder and excitement at navigating new challenges, discovering new things, building resilience and contributing to their learning.
"The initial sessions," says Doug, "were facilitated by Educators to show the children a variety of ideas and themes of play that they could access. As time passed, the Bush Kindy sessions became more directed by the children and the experiences they wished to revisit, delve into deeper or modify and adapt for their specific interests."
"At the end of each session we gather the children together to reflect on their morning and moments they have enjoyed, they have opportunities to ask questions, follow lines of enquiry and put in requests of specific resources they would like to bring along next time."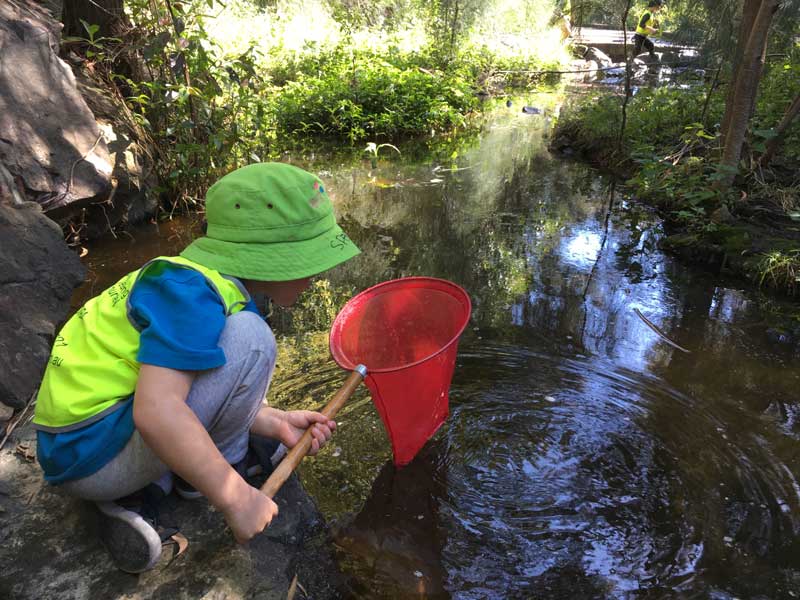 What are the benefits of Bush Kindy
"Bush Kindy presents many wonderful opportunities for children to explore the natural environments around them. Our program is largely emergent, child-directed and play-based."
"The children have the freedom to explore, play, build, create, imagine, learn and use their senses to experience the outdoor environment and engage with one another when and how they choose."
"It allows learners the time and space to develop their interests, skills and understanding through practical hands-on experiences. There is a strong emphasis on Educators observing, learning with and teaching students in the context of the environment."
"Bush Kindy enhances the children's (and Educators) physical and mental health. It teaches the children to care for and respect the environment and provides many opportunities for curious and creative learning experiences to take place."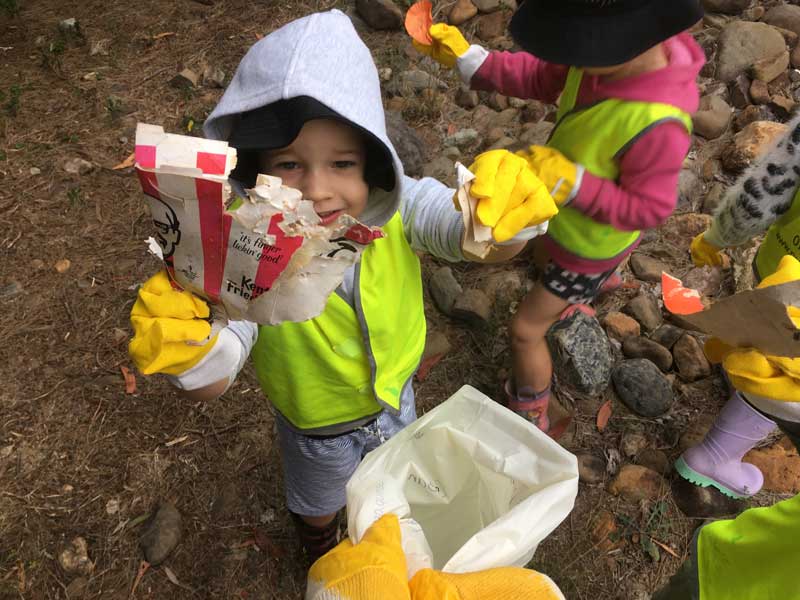 How does nature play in the bush create active learners?
"One of the children's latest interests is to go on nature walks close to our base camp to see what they can discover. One of our mottos is 'Look up, look down, look all around'. The children have discovered Ibises, a Royal Spoonbill, Cane toads, St. Andrew's Cross spiders, Cicada exoskeletons, and so much more."
Doug also listed other Bush Kindy experiences:
Welcome to / Acknowledgement of country ceremonies
"At the beginning of each session, we all join in with an Acknowledgement of Country to support the children in showing respect to the traditional owners of the land. We tie the acknowledgement in with how we use our Bush Kindy site, in that we leave no trace that we visited the space."
"The children have been respectful when using the area and have been involved in clean-ups of the surrounding areas with the Caloundra Lions Club."
Science and nature learning in Bush Kindy
"To complement the Bush Kindy program we offer, we hire the services of a reptile expert with a science and nature learning background."
"Over the past year, he has formed great bonds with the children and is always on hand to answer their questions or provide provocations for thought and discussion."
An effective learning experience
"We incorporated our use of tools at Bush Kindy to create a Father's Day present, that involved drilling holes and hammering nails. Another gift we created with the tools was a hanging mobile for our Baby Boulevard studio that involved the use of hand drills and whittling knives."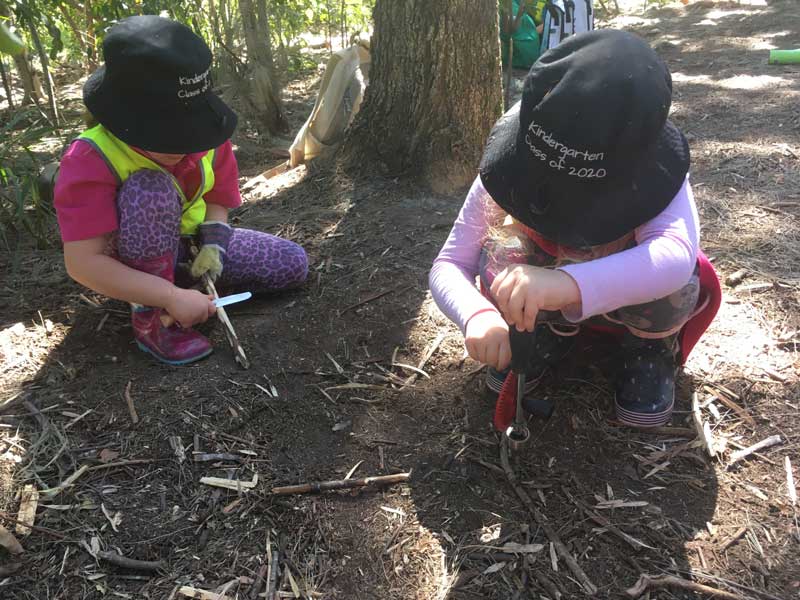 How do you bring outdoor learning experiences back to the centre?
"Recently, we joined the Nature Play QLD BioBlitz project, and we have been documenting the different things we discover at Bush Kindy that we would like to find out more about."
"Back at the centre, we support the children in researching information about the items that have been identified through our iNaturalist account. Other elements often involve art and craft experiences, such as creating flower pressed pictures."
"Children also collect open-ended natural materials and loose-parts during their excursions to incorporate into their play and learning at the centre."
"Our Educators in the Bush Kindy program are dedicated to gaining new knowledge and experiences about teaching in the outdoor environment."
Recently, Treasure Cove Educators, Doug and Sarah attended an "Introduction to Fire and Bush Cooking Workshop" through Wildlings Forest School. They learnt how to teach and inspire children through the safe use of fire and explored fire safety tools that could be incorporated into our Bush Kindy program.
The workshop also covered embedding indigenous perspectives and embedding sustainability through fire.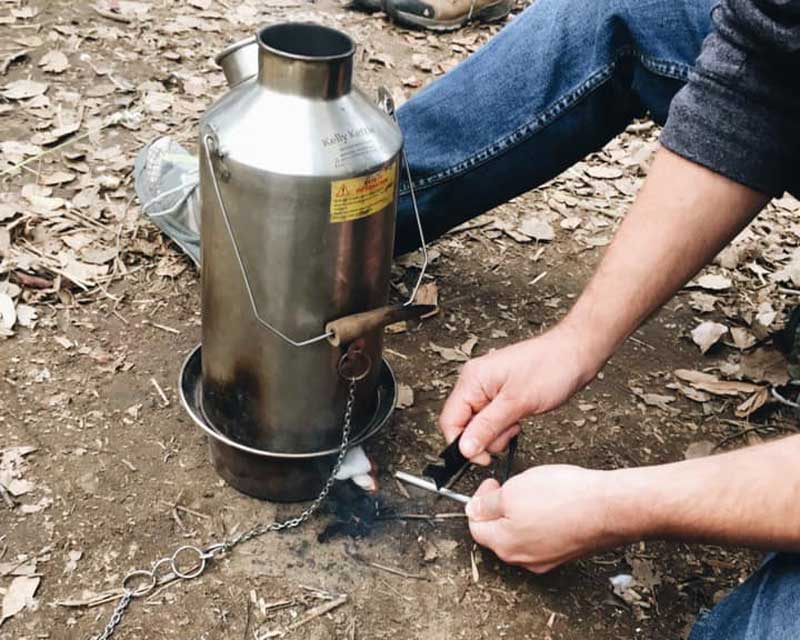 Acquire new skills and strengths with Petit Early Learning Journey
At Petit ELJ, our teaching teams draw from a wide range of backgrounds and qualifications. We believe in working collaboratively together to share knowledge, experiences and engage in reflection on contemporary pedagogy as part of our professional learning.
As a diverse bunch of people, we draw strength from our community connections. Each of our centres, while guided by our philosophy, beliefs and practises, also reflect the diversity of their locations and the unique differences and interests of their families and children.
Our focus is always to place children first. If you are interested in a career in early childhood education and care and have a genuine passion for building safe, secure and welcoming environments, then we want to hear from you.