When families engage with meaningful community connections, they feel a sense of belonging. In addition, building community connections for families creates strong support networks, promotes respect and brings children and their families together.
Research shows that children who connect with their communities develop a strong sense of belonging and identity. When we support community connections for families, a child's world grows.
So, what do community connections, an important part of Quality Area 6 under the National Quality Standard, look like at Petit Early Learning Journey?
Community involvement in child care covers a broad range of child-led experiences. It includes incursions and excursions, where children:
Go on library outings and learn how to navigate public services.
Visit local parks for walks and new cultural experiences.
Explore local businesses (E.G. Coles or Woolworths).
Learn about different animals from local wildlife experts.
Create unique experiences, such as travelling by bus, train and tram.
Develop a broader understanding of Aboriginal and Torres Strait Islander culture.
Meet local heroes, such as the fire brigade, doctors, nurses or police.
Connect with specialist support professionals for their health and wellbeing.
It's been a busy six months at both Petit ELJ Murwillumbah and Petit ELJ Port Douglas with local initiatives. As a result, both centres are building community connections for families that foster a strong sense of belonging.
We invited both centres to share a few exciting examples of community participation as they reach out to their families and communities to collaborate with service providers.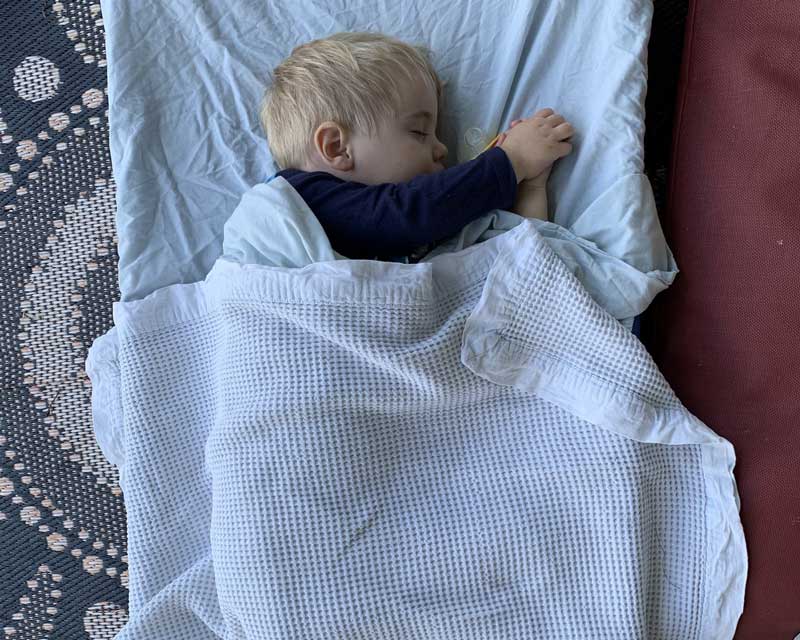 Examples of early childhood partnerships at Petit ELJ Murwillumbah
Antenatal and parenting education
"At Petit ELJ Murwillumbah, we have many different ways to connect our children and families with community services," says Shanyn Pelling, Centre Director at Murwillumbah. "As part of our professional development, our Educator's participate in Safe Sleep Space."
"Safe Sleep Space run expert antenatal and parenting education on sleep and settling of young children. The programs, Nourish Baby and Sleep Smart, are aimed at helping both parents and early childhood professionals."
"We provide vouchers to our families for Nourish Baby, which has different courses for children 0-12 months and 1-3 years. Families can use the vouchers available in our foyer to access one of these free courses."
Eyesight screening for children
"We also have a local eyesight screening service that visits the centre. They come once a year, around June, to test the children's eyesight in our Treasure Cove studio who are off to school next year."
"The testing is done at the centre, and it is available for children 4 years and up. The children really enjoy it. It's like a great treat for them because they get to wear a special pair of sunglasses."
"Some children do the eye test on their own, or the eye specialists will take them to do it in groups of three. And they sit there, having fun, pointing at letters and all the while, they don't actually know they're being tested."
"Before they do the testing, we give the families an envelope with information to complete. Then, once the test is finished, the findings are put inside the envelope and it goes home with their child at the end of the day."
"The findings might say a child has issues identifying letters with one of their eyes. The family would then be encouraged to see a local optometrist as their child might have underlying issues. It's a free service, and we're fortunate to offer it."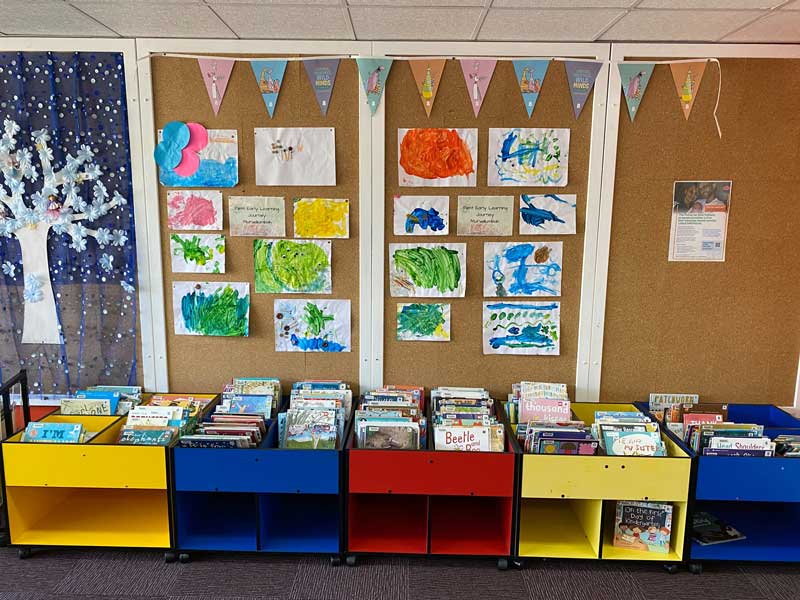 Building community connections for families and cultural services
Earlier this year, the children had an opportunity to have some of their creative masterpieces on display at our local Richmond Tweed Library in Murwillumbah. The display encouraged families to connect with the library service and made their child's creativity and learning visible.
Then, two of the librarians came to see the children at the centre. They treated the children in the Treasure Cove studio with several readings of their favourite stories. They came to the centre to share the stories and the children were delighted by their visit.
Uncle Boomerang (Paul Burragun) from Barragun Aboriginal Cultural Services also came to share Dreamtime stories and provide children with a broader understanding of Aboriginal and Torres Strait Islander history and culture.
Connecting families with additional support services
"We also collaborate closely with a local occupational therapist from Murwillumbah. She already consults with a few children and their families who attend our centre. We can call her if we have any concerns, and she provides us with advice and support."
"We're currently organising for our Educators to learn sign language with our local children's occupational therapist. This skill will provide incredible support for children who have hearing difficulties and their families."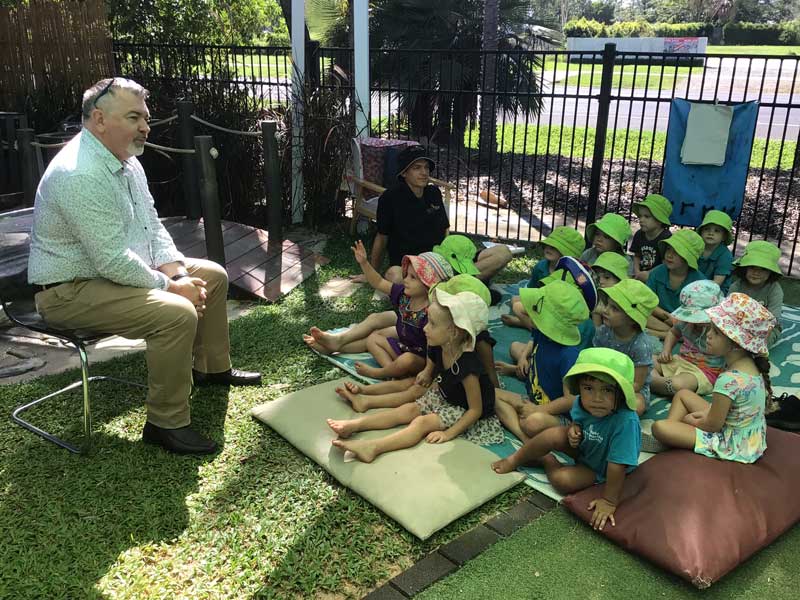 How one community incursion led to a giant collaboration at Petit ELJ Port Douglas
"At Petit ELJ Port Douglas, we genuinely value partnerships with families and communities. We have a deep understanding of the benefits of community connections for families and what they bring to children's learning," says Genny Frazer, an Early Childhood Teacher in our Treasure Cove studio.
"We have been empowering our children to understand they are active citizens within the community and the importance of inclusion, respect, equity, justice and responsibility."
"Port Douglas is a small regional town in North Queensland. We wanted the children to understand that they are citizens of a global world, so we invited the Mayor for a cup of tea to set the ball in motion. The children and parents were excited to hear he was visiting."
"We prepared a nice brew and baked biscuits. Then, the children gathered around to listen to him speak about our local community, our local crops, the history and future plans. He discussed the eco-environment and what was important to our local natural rainforest."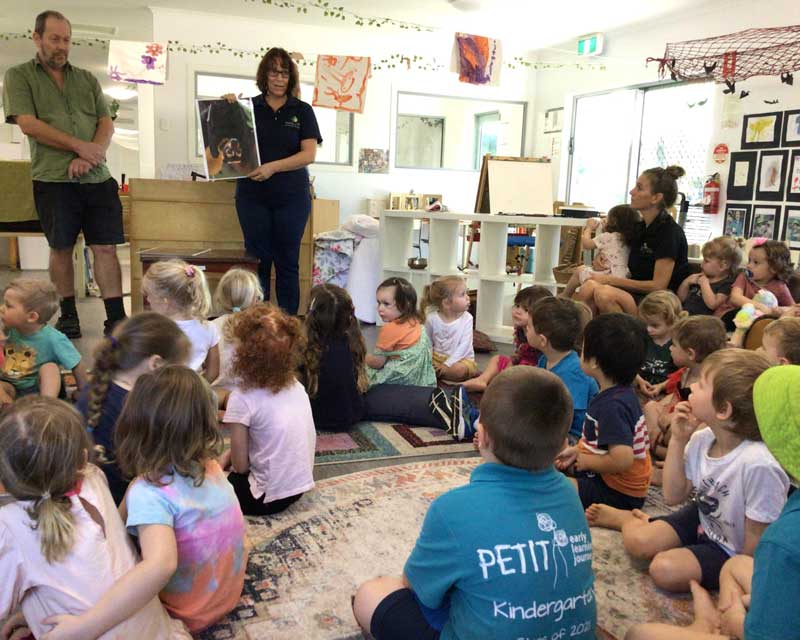 Next came the flying foxes: Promoting community engagement in early childhood education
"With this information on board and a bat colony within hearing distance, we decided to invite the local bat society to the centre by hosting a bat information session with the children."
"The wildlife carers brought out a flying fox (bat) for children to engage with from a distance. They discussed why bats are not safe to touch, extending our learning into echolocation and nocturnal mammals."
"The local council received word along the grapevine that the children at our Treasure Cove studio were learning about the environment and sustainability. So they called us to see if they could come and meet the children."
"The council also learned that the local bat carers had visited.  They were keen to 'outdo' the bats! So, we set them a challenge. At this stage, we realised the community was talking, and we had no families from the studio working at the council."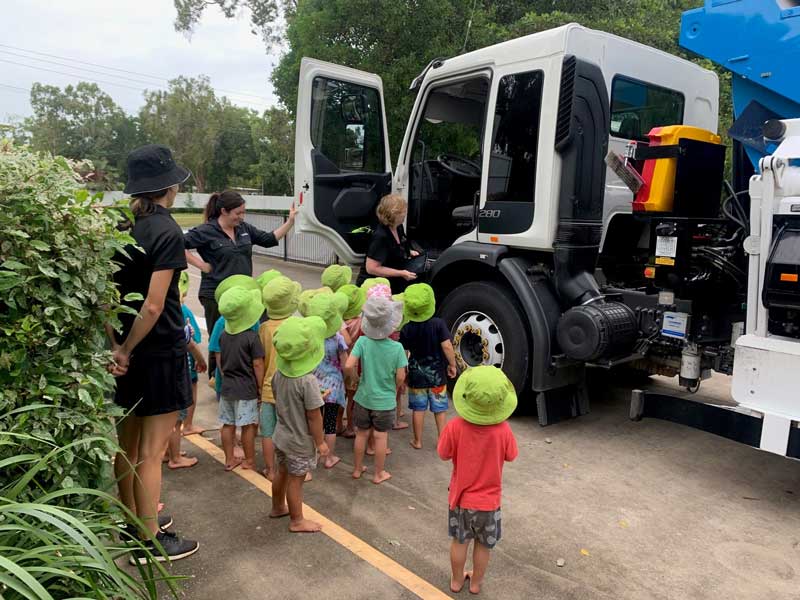 Community collaboration creates important community connections for families in child care
"The council organised for the garbage truck to visit the centre and empty the bins right in front of the Treasure Cove studio children. Then, to outdo the bats, they allowed the children to inspect the garbage truck, including climbing into the cab."
"The children made the garbage truck driver a card which was personally delivered by a parent. Now, the children regularly see the garbage truck and wave to the driver."
"The Treasure Cove studio has established an important link with the community. The children believe all the drivers are 'their driver who came to their kindergarten' and sure enough, all the drivers in the region wave back."
"The children have enjoyed two further incursions from the council. The first taught them what goes into recycling bins versus ordinary bins, and the second showed them how to be water-wise."
"These community experiences were terrific learning opportunities for the children. They proudly took the presenters on a tour of our service, demonstrating all the ways we are careful with our resources. They also listened to suggestions for future improvements."
"The conversations lead to the local council gifting our service, garden beds and dirt for the children to grow plants. They were so thrilled with our children's interest in the environment and sustainability that they also sent a crew of workers to install the beds."
"Our North Queensland children have serious charm."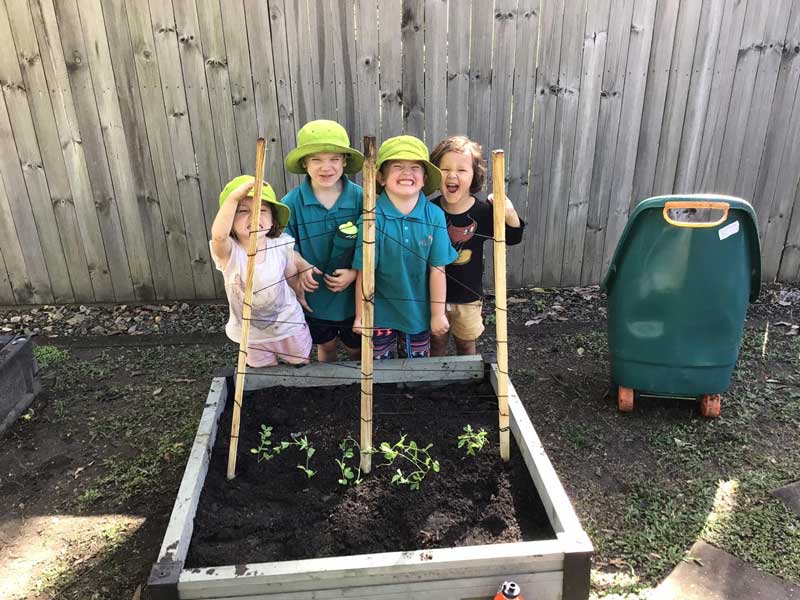 Family and community involvement
"We have plans to work with the council and the local community to do tree planting close-by to our service. The area is heavily populated by cockatoos."
"The children at our Treasure Cove studio have become sustainable warriors! They now separate their rubbish, feeding our worm farm daily. They can see the benefits and, more importantly, explain and spread the important message about caring for our world and being environmentally conscious."
"They have learned a great deal through interactions with the community and active, hands-on learning."
"Many families send vegetable scraps to feed our worm farm. The kindergarten children spoke with our wonderful Centre Director, Astrid Cancrini, about implementing more sustainable practices."
"They discussed the implementation of a compost bin asking all studios to collect their scraps each day. Our Centre Director took it one step further and implemented the same practice in the kitchen."
"The children rake up leaves for the compost. They understand how composts break down and are reaping the rewards of a healthy vegetable patch grown from our very own compost and worm wee."
"The children are also water-wise, turning off taps, and they will tell you showers are only allowed to be three minutes long. These are all lifelong learning opportunities delivered within the community by the community that will benefit the world. "
"Our families report to the teaching team that they are learning new things constantly. The children discuss their learning at kindergarten with their families. In turn, our families support us by sending in seeds, relevant stories, books and reading/reference materials and recyclable items."
The children from Petit ELJ Port Douglas recently built a Brachiosaurus for the Mossman Show where children and families could go see it on display.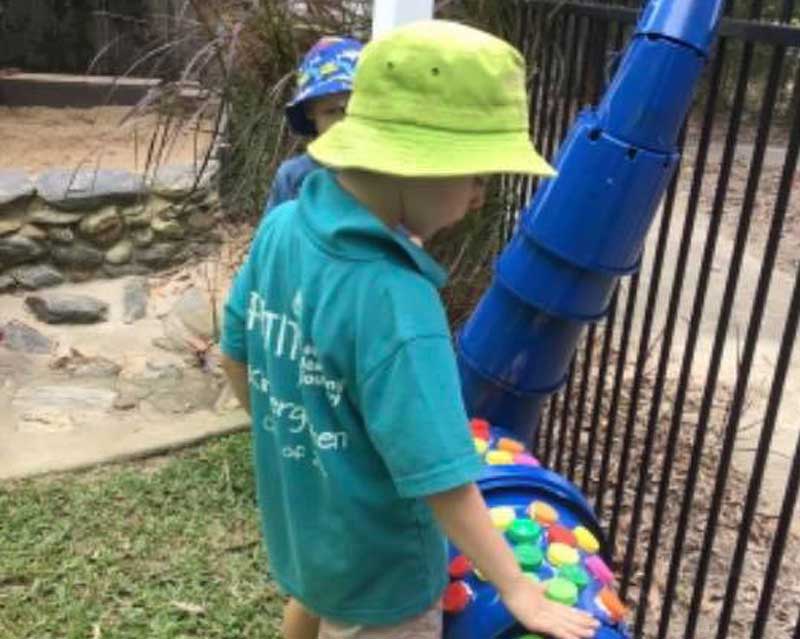 Partners in child care
"We are fortunate to be united with our local community and families sharing a vision with the children. We're all working together to achieve our goals, extend children's interests and grow active and thoughtful citizens of the future."
"We are incredibly grateful to be a part of such a beautiful community dedicated to education. We have found that the more we interact within the community, the more parent involvement we receive."
"Our families view our teaching team as 'Educational Professionals'. We are so proud of building community connections for families with the children, which has led to deep relationships with their families and the professional recognition and support we receive from Petit Early Learning Journey, a progressive child-invested service."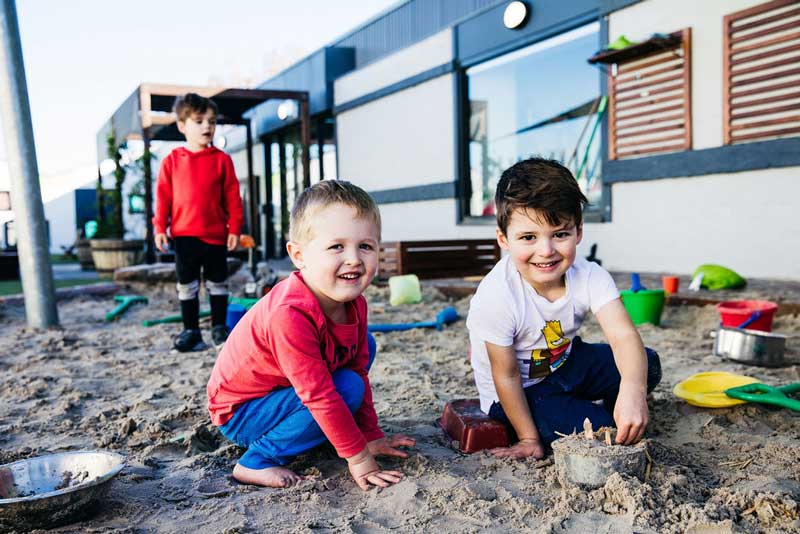 Build community connections with Petit Early Learning Journey
When our centre teams establish authentic relationships with families and communities, children thrive. We foster communities both within and without our services and advocating for local issues provides children with opportunities for rich learning experiences.
Learn more about how our centres draw on local contexts when building community connections for families. Contact your nearest centre and book a tour today.