Chase the gloom away with these 20 things to do on rainy days. Our rainy day activities work best when we build them around our children's interests and invite them to play. Set up multiple play spaces and let them choose which ones they want to play.
Below, we've gathered indoor and outdoor rainy day ideas for young children. Our play-based activities promote children's imagination, development and learning. These rainy day experiences are toddler and preschool-friendly activities.
Read on to discover budget-friendly ideas for things to do on rainy days. They include loose parts and natural things that you may already have at home to inspire creativity and encourage the use of gross and fine motor skills as well as physical literacy.

What to do on rainy days?
Our selection of rainy day ideas includes both outdoor and indoor settings. Who says you have to stay indoors to have all the fun? There's still plenty to do when playing outside on a wet day, and it makes going inside to get warm and dry extra special.
1. Enjoy a sensory experience in the rain.
Sensory play is one of the best activities for a rainy day. So long as it's safe, put on some old clothes and go outside and play. Children will soak up the feel of the rain, wet grass, mud and its earthy scents. Encourage them to also listen for the sounds the rain makes as it falls on different objects.
2. Sail an origami boat.
The first part of this activity starts indoors as your children build a boat using origami folding instructions. Repurposed old bills or newspapers make some of the best rainy day sailing ships. Then, take them outside into the rain, find a puddle or a safe place with running water and set sail.
3. Start a do-it-yourself project.
Do-it-yourself projects are perfect for children when seeking things to do on rainy days. Homemade project ideas can take up lots of playtime, or you and your children can complete them over several days.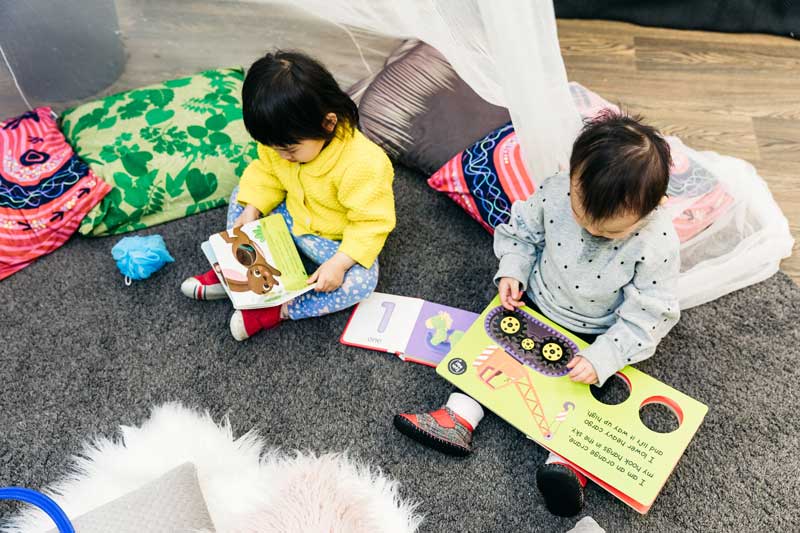 4. Get cosy and read rainy day books.
If it's too cold or stormy, stay rugged up with a warm cup of milk and a good rainy day book to read. We recommend So Cosy by Lerryn Korda for its beautiful story, repetition and messaging about size and sharing.
5. Build a mud fort.
Zone off part of the yard or provide a sensory bin where children can mould the earth into roads and buildings. Add a toy car or a dinosaur or two and let their imaginations run wild while they play in the rain.
6. Make some art.
Art making is always a favourite activity when looking for things to do on rainy days. Your children could paint or use loose parts and glue to make self-portraits or landscape pictures of the rain coming down around the house.
7. Serenade the neighbours.
Put on some rubber boots or a pair of old sneakers, grab an umbrella or raincoat and go for a musical stroll around your local neighbourhood. Besides "Singin' in the Rain", you could also sing nursery rhymes and songs about colours.
8. Play dress-up.
Invite your children to raid your wardrobe. What old clothes can they use for dress-up? Children love to wear their parents' baggy clothes and shoes. If you have a pair of old unused glasses, remove the lenses, to turn them into a fun role play prop.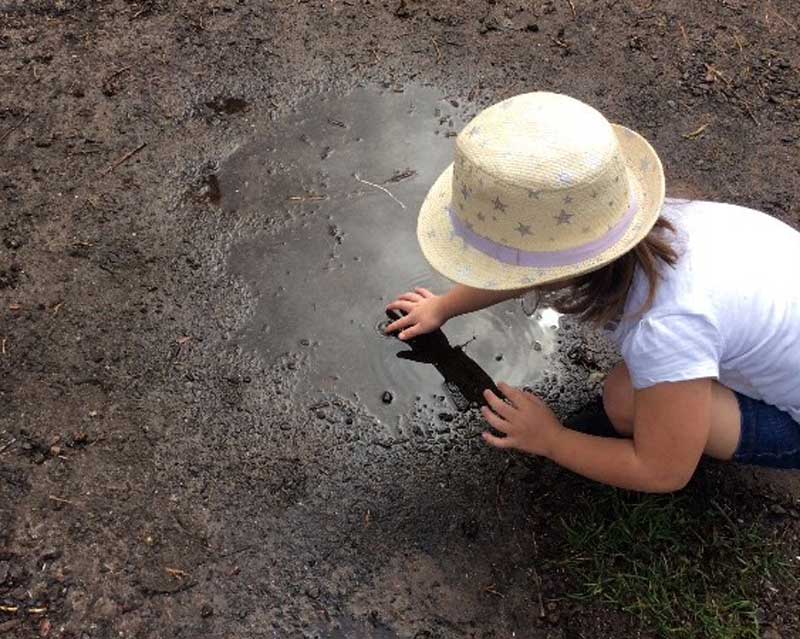 9. Enjoy a botany rainy day activity.
Backyards are magical places where curious children can discover all types of things when it rains. Children love to explore puddles, and it's a suitable time to collect flowers and leaves for an indoor rainy day activity. Do any of your trees foam when it rains?
10. Cook together.
Cooking brings families together helping you to bond with your toddler or preschooler. They can help stir, pour and mash but may need close supervision especially when things are hot. There are lots of nutritious meals that you can make together on a rainy day.
11. Learn new nursery rhymes.
Nursery rhymes are useful poems and songs. They help children with recall and memorisation. It's Raining, It's Pouring.. by Mother Goose is a favourite song for wet and rainy mornings. How many nursery rhymes can you recall?
12. Start a recycling project.
Recycling projects are a DIY project that can involve the whole family.  You can recycle waste from around your home like turning plastic drink bottles in pot plant holders or creating a worm farm for recycling organic waste for your garden.
13. Go frog and bug spotting.
This outdoor rainy day idea is a "seek but don't touch" activity. Encourage your child to find all types of creatures. Can they discover frogs, birds, garden bugs and spiders? Can they hear frogs? And what happens to spider webs in the rain?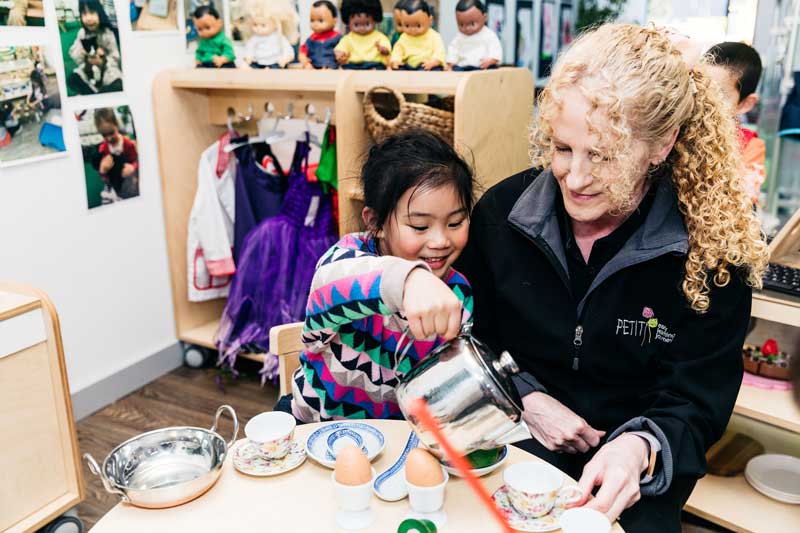 14. Enjoy a fancy tea party for a rainy day idea.
Invite a few treasured stuffed friends over for a stylish tea party. Don't own a child's tea party set? Borrow a clean stainless steel teapot and a few cups and saucers from the kitchen. You can turn this role play experience into a nutritious morning tea with milk or water and banana bread.
15. Build a stick house.
Gather several small sticks, including four forked sticks (Y-shaped) plus several leaves. Can you use them to build a tiny house?
One method is to start with the forked sticks and push them into the wet ground to make the four corners (Y-side up). Then, join each corner with long sticks by balancing them between the forks. These sticks create the frame. Finally, lay long sticks across the frame to create the structure for the roof. Add leaves to complete a canopy.
Now you have a house made of natural materials. An ideal setting for little twig people to shelter from the rain.
16. Jump in a puddle.
Children love to jump in the water and get wet. Put on some old clothes and shoes and head outside to find some puddles ideal for splashing about in the rain.
17. Play a music game.
Music games are an enjoyable rainy day activity. Not only do music games encourage musical appreciation they also help to build skills in literacy, self expression and communication. For another rainy idea, you can make homemade musical instruments.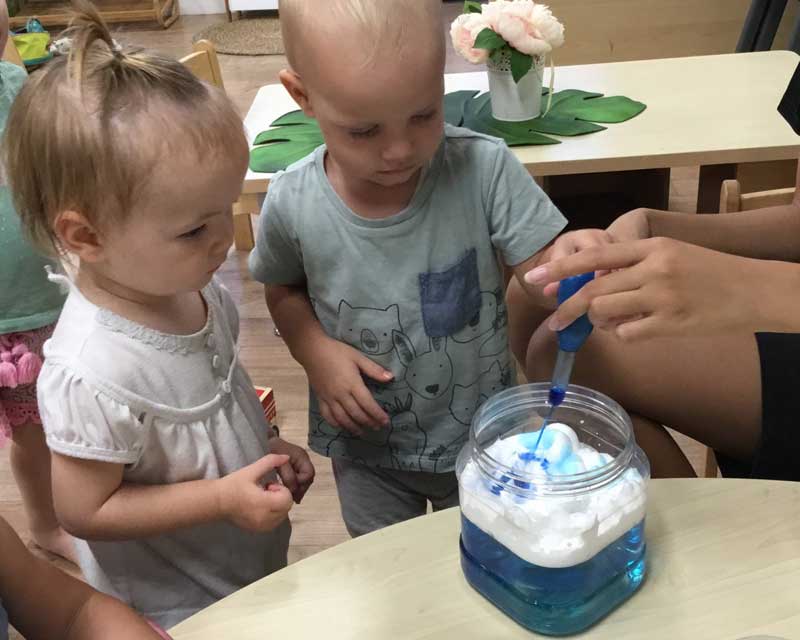 18. Do a rainy day science experiment
A favourite rainy day science experiment at Petit Early Learning Journey encourages children to learn how clouds make rain. All you need is a jar, water, shaving cream and food dye. Fill the jar with water leaving some space at the top. Add shaving foam on top to represent the cloud.
Then slowly add droplets of food dye to the cloud where it will first collect. Blue food colouring helps to represent the rain. When the shaving foam gets full the colour will begin to leak through the cloud like rain.
19. Dive into messy play for babies and toddlers.
Rain is the good excuse to explore messy play outdoors. Young children are naturally curious, and when it is raining, messy play outside means not having to worry about cleaning up the house.
20. Dance in the rain.
For many people, a rain day is a time for celebration after a dry spell. There's nothing more enjoyable then the feel of fresh rain falling on you as you dance or waltz around. This activity allows babies to feel the rain while held safely in a family member's arms.
Rainy day tip: If playing outside, place your towels and spare clothes near the door, so they're on hand for when it's time to go back inside.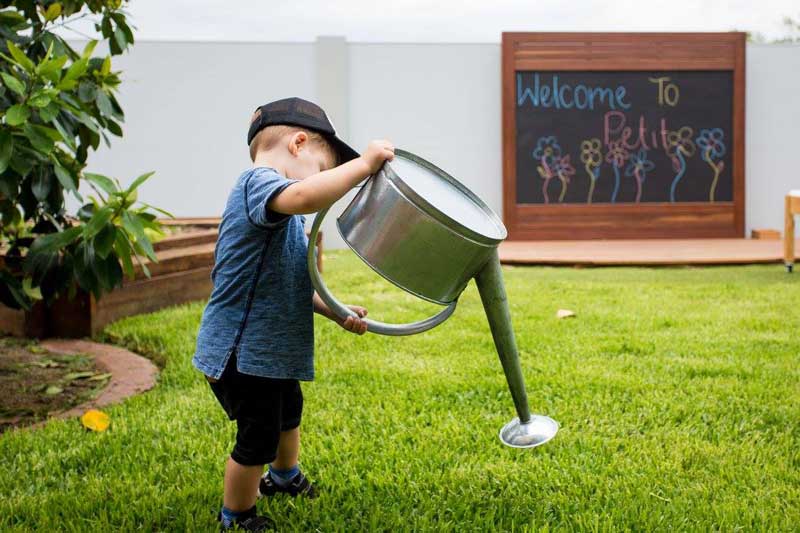 Give your child the joy of learning with Petit Early Learning Journey
Rain doesn't stop the children at Petit ELJ from playing and learning. Our environments motivate and engage with invitations to experience both indoor and outdoor play-based learning activities.
We create activities built around a child's interest. Our environments are designed to inspire and enhance children's imagination, including those rainy day ideas. Book a tour  at your nearest centre to discover how we can nurture your child's love for learning.