Travelling with children can be demanding. With planning, you can reduce the stress that comes with long or even short trips, including flying with a baby or cross country road trips.
When travelling, children want to feel safe, secure and supported. Heading off on a journey (even a short one) is a massive adventure for a young child. It can make them feel overwhelmed and uncertain.
So, while you may be busy packing and preparing for their comforts, let your child know what's happening. If they're a toddler or preschooler, they may be interested in helping.
In this article, we discuss how to  travel with children like a pro, whether it's:
In a car including long road trips.
On a train or bus.
On a plane — even flying with a baby.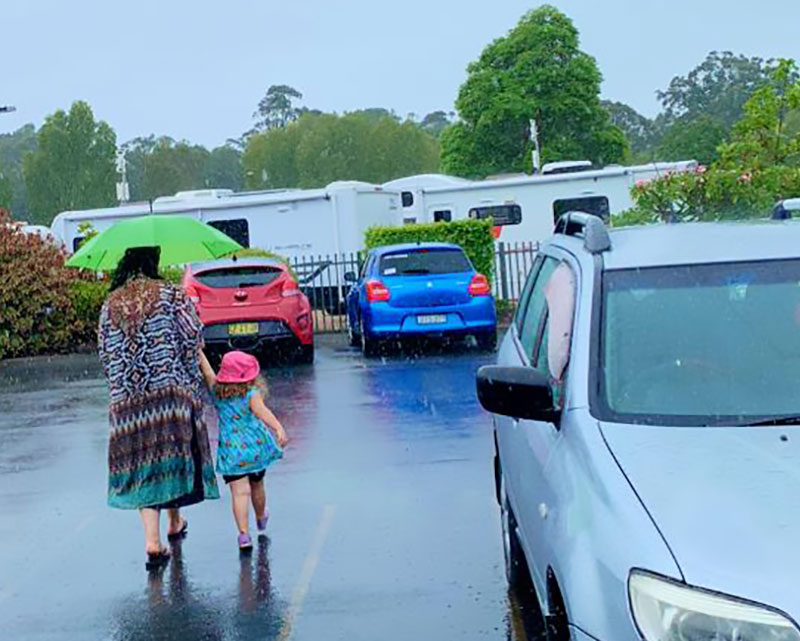 Travelling with children in a car
No matter where, when or how you travel, preparation is key to an enjoyable experience. You need to take with you enough nappies and wipes and a few more for those "unexpected accidents". You will also need a spare change of clothes, not just for your child but for you.
Car travel can be a hazardous with a crying baby in the back, especially when you're the only other person in it and driving. So have some soothing music at hand, check the climate control and keep your eyes on the road. Pull over if you need to check on your baby.
Extended car travel with children
When travelling, even for just a few hours or more, check the traffic alerts before heading out. Be ready for roadblocks and traffic congestion. If there is another capable passenger with you and you're doing the driving, put them in charge of the travel comfort bag.
Your trusted passenger should be able to reach the comfort bag easily. Fill it with things you and your children need for your trip, including nutritional snacks. Plan for regular stops, whether it's to get out and stretch the legs, change a nappy or breast feed.
When it comes to window shades, you can get legally tinted windows, or use the car shade. However, don't use shades or a towel that will obstruct the driver's view of the outside world. And never cover up the baby's capsule. Keep the air around it obstruction-free.
Before going anywhere, make a list of all the things that you need to take with you. If and when something unprepared for happens, keep cool, calm and collected. You child will pick up on your reaction, so show them you're in control.
When you arrive at your destination, take the baby out first and never leave children in a hot closed up car. Ask Siri or Google Assistant to set a reminder for the end of your journey.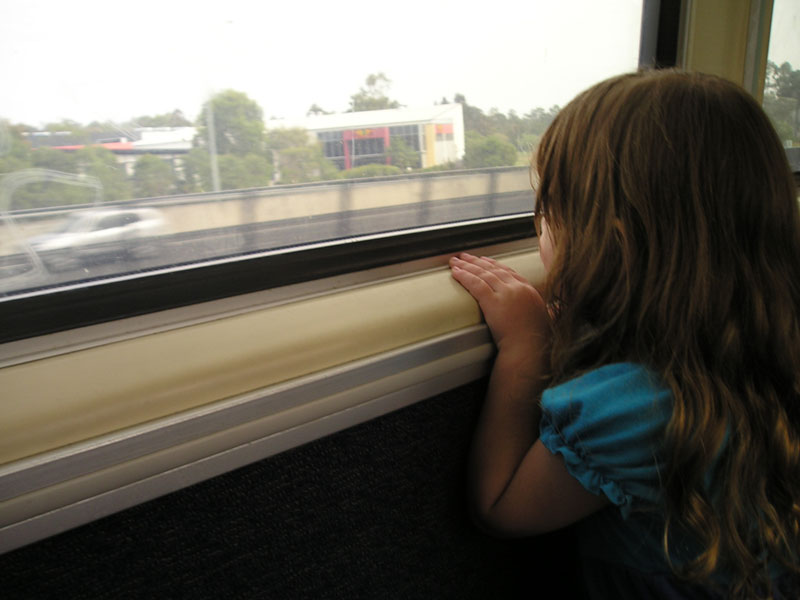 Travelling with children on a train
Travelling with children on a train is similar to travelling on a bus. Check the bus and train timetables before leaving home. Start preparing for your trip ahead of time; give yourself an extra hour to get everything together and out the door.
Follow your family rituals and toilet training routines before heading out (or heading home). Many local buses and trains do not have toilets.
Check with the service you're catching about pram or stroller use. Many trains and buses have priority seating for mums with prams in wheelchair accessible areas, but there are times when you may need to fold and store it. Know your time table and travel conditions.
Frequent public transport travellers may want to consider purchasing a pre-paid travel card. In some places in Australia, young children can travel free, but once they reach school age, they will need to pay a fair.
Always plan your trip to avoid unnecessary disappointments. For some journeys, you may need to book seats in advance. Check what food you can take and consume onboard. If you're travelling alone with children, see if a staff member can help you board safely.
Don't forget to pack a travel comfort back with snacks, emergency resources, books and games to keep older children busy. Some trains have quiet zones, so found out in advance the best place on the platform for you and your family to board.
When you disembark from the train or bus, double-check that you have everything, including your children.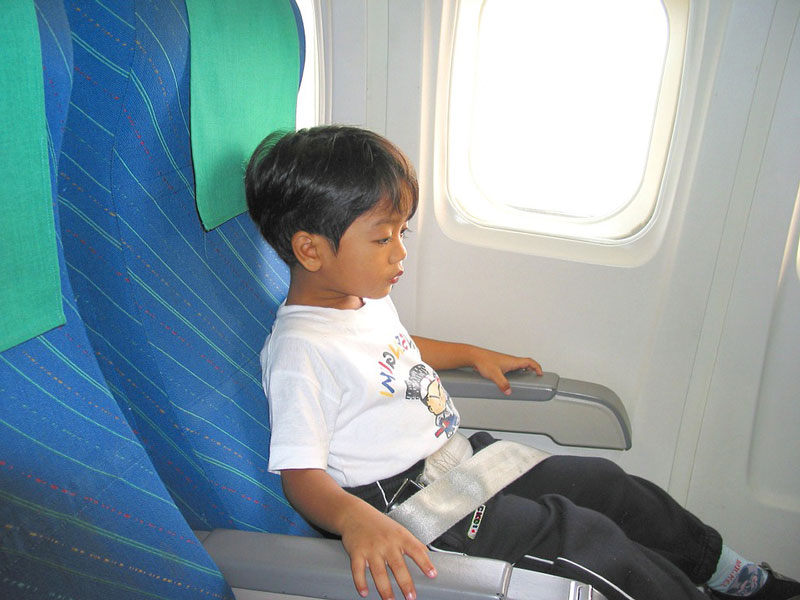 Travelling with children on a plane
Plane travel with children can feel stressful especially when flying with a baby.
Like every other mode of transport, plan your trip and needs well in advance. Make a list of everything that you need to bring to make your family's travel experience enjoyable. Create a comfort pack, but check with your airline about what things you can take on board.
When travelling with a baby or very young children, you may be able to store a troller with your luggage, but it's best to travel light to stay safe. Some destinations hire services for strollers, prams, car seats and capsules but always check their safety regulations.
When booking and confirming your travel with the airlines, let them know the age of your children. You may be able to get seating behind a pulldown bassinet on the plane or near to toilets. Some airlines also provide a child seatbelt for short flights.
Overseas travel can be a bit trickier when it comes to the comfort of children. Find out in advance what your airline and connecting airlines offer. They may expect you to hold your baby or toddler for long periods without a child safety belt.
If you have a baby or toddler, taking off, landing, and turbulent air can upset children. Either breastfeed or give them a bottle to reduce their discomfort. The swallowing action will help to reduce the build-up of pressure in their ears.
Learn about expected the social customs of your destination for breastfeeding and disciplining children to avoid ending up on the wrong side of the law.
Always aim to arrive early at the airport with some time to spare. Some airlines invite people travelling with children to embark first so that they can get settled into their seats.
Travelling with children can be a positive experience. Though it may have its challenges, by planning and remaining cool, calm and collected, your journey no matter how short or long can be safe, enjoyable and fun.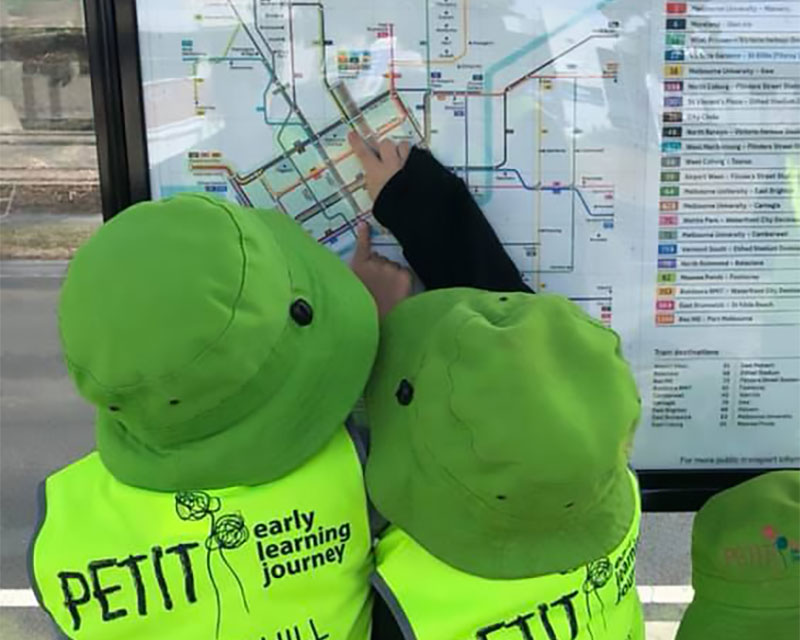 Discover how children travel with Petit Early Learning Journey
At Petit ELJ, our centres learning programs include incursions and excursions. We create experiences  for children to visit exciting places in their local and greater communities. We plan our outings with our families, so the children feel safe, secure and supported.
We believe children's natural curiosity drives them to explore and investigate the world around them.  Discover more about Petit ELJ's curriculum and learning program where children always come first.