Early Childhood Educators are responsible for providing care and education to children from infancy to age 5. They play an incredibly important role in the lives of these children, as they are often their first teachers outside of the home.
The quality of teachers in early childhood education strengthens children's social skills, learning styles, and behaviour. They also inspire, encourage, and promote children's learning while nurturing children's sense of belonging and becoming.
It may seem obvious, but by partnering with families, early childhood Educators help children develop the skills they need to navigate the world including self-awareness, self-help and communication.
To provide us with a deeper understanding of the importance of the role of an Early Childhood Educator, we reached out to Petit Early Learning Journey Forest Hill and our Education & Practice Advisor to discover:
How to become an Early Childhood Educator
The impact of personal beliefs and values about early education and care in practice
Day-to-day experiences as an early childhood professional
Why Educators are so vital in giving children the best start in life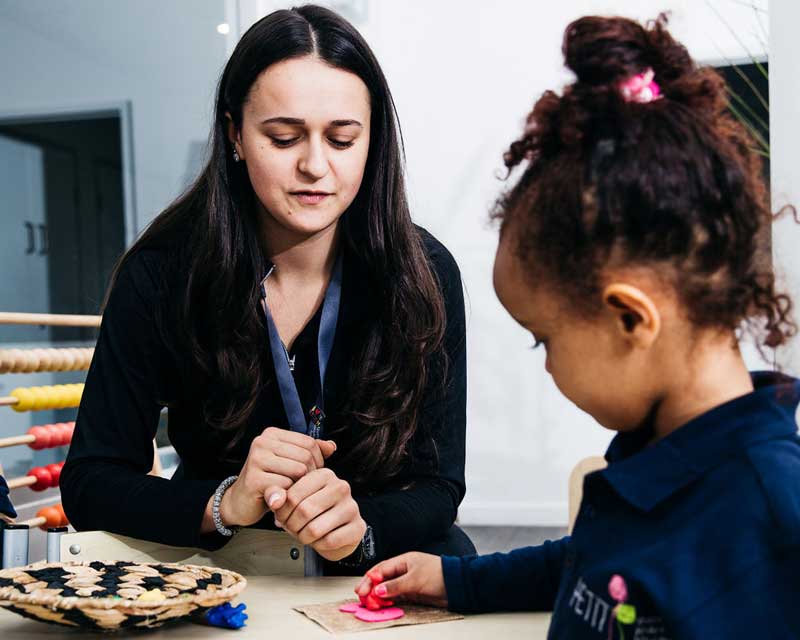 What is an Early Childhood Educator?
Simply put "an Early Childhood Educator is a teacher," says Tanya, Education and Practice Advisor. "We just use different terminology depending on the qualifications and our alignment with national and state regulations".
Early Childhood Educators inspire, encourage and promote children's education, care and rights. They also have a huge responsibility to ensure children feel safe and secure within their environments while creating a space for children to be and make meaning of the world.
"We know through brain research that the first three years of a child's life are the most critical so all of the experiences, environments and interactions that young children have, lay the foundations for later life outcomes," says Tanya.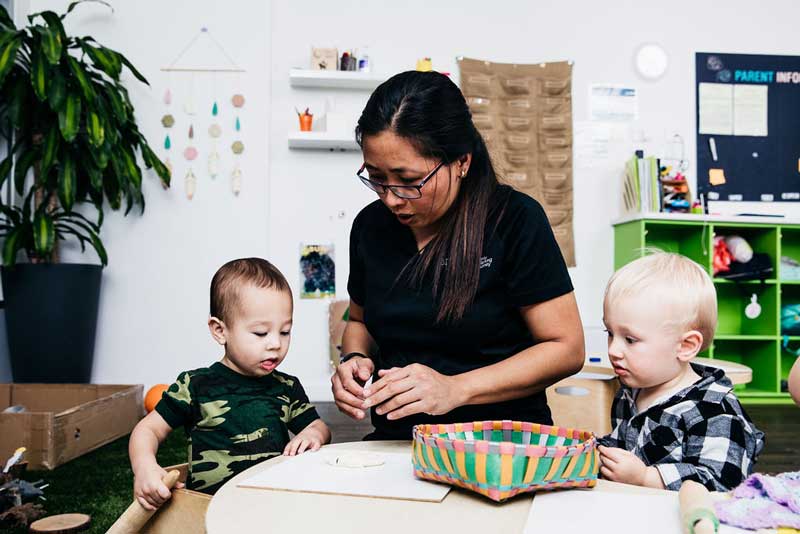 How to become an Early Childhood Educator?
There are many different paths to becoming an Early Childhood Educator. We showcase a few different ways to start a career in early childhood education and care below.
Tanya's journey to becoming an Early Childhood Educator
"Most Early Childhood Educators have worked through a Certificate III and/or Diploma in Early childhood Education and Care," says Tanya. "The Certificate III is the first qualification that our Educators undertake and then they're very much encouraged to continue studying and complete a Diploma. That will qualify them to become a Lead Educator in most of our studio age groups."
"My career path was a little different. I wasn't sure what I wanted to do but I was interested in education and early childhood. I had finished my Bachelor of Psychology and because I was already familiar with university, I went on to study a Bachelor of Early Childhood while working as a float Educator in a small centre."
"I then became a Group Leader (now known as a Lead Educator) and when I graduated I took on a Kindergarten Teacher role. A few years later I progressed to a Centre Director role. About ten years ago I moved into a Curriculum Advisory role, and I've been in that space ever since."
"I have since completed a Master of Education and Research and I am now undertaking my PhD," shares Tanya, who leads and advises pedagogy and practice across all our Petit ELJ centres.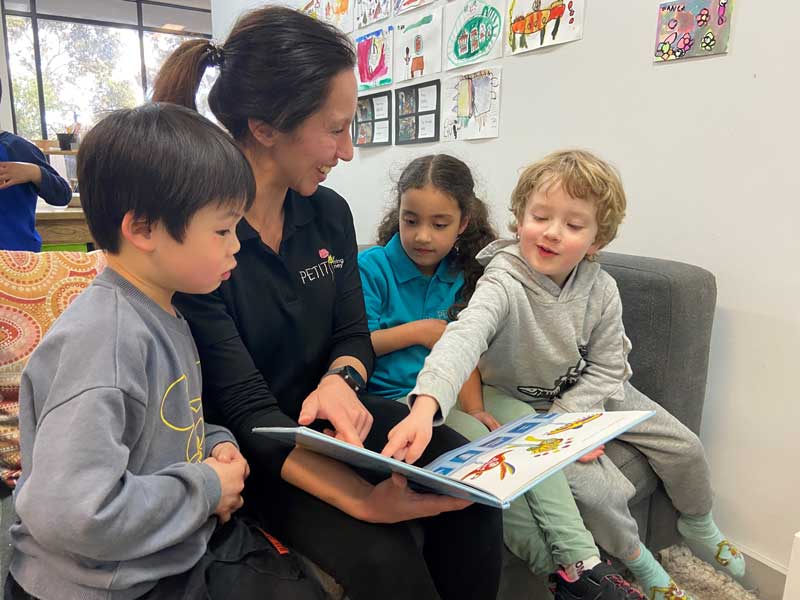 Lisa's career changing story
Lisa works at Petit ELJ Forest Hill sharing the role of Early Childhood Teacher in our Kindergarten studio.
"I'm a career changer. The first part of my career I was working as a research economist which is very different, and I thought I would change into early childhood as I felt it would be a more interesting and rewarding career option."
"So, I went and studied my Bachelor of Early Childhood and I moved into an ECT role here at Petit ELJ Forest Hill about three years ago. I think children are very interesting and fascinating to interact with, I think they are very creative. I enjoy seeing how they grow and develop."
"At the time of my career change my own children were very young and as a parent, I began researching children's development. I found that to be more interesting than what I was doing at the time. So, I thought it might be time for a change. I studied part-time for five years while working at my previous job as a researcher."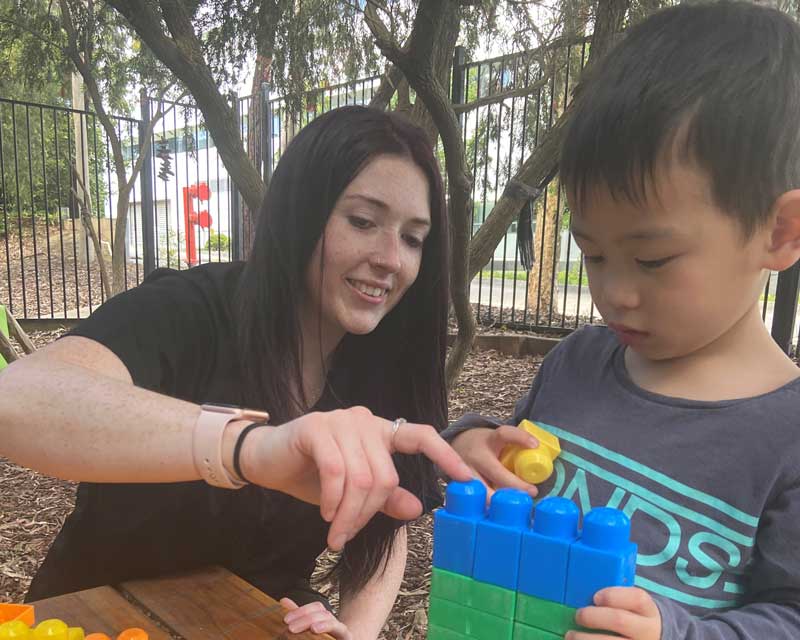 Kirsty's journey into early childhood education
Kirsty works as a Lead Educator at Petit ELJ Forest Hill where she teaches 2- to 3-year-olds.
"I've grown up with such a large family which directed me into this career path. I started when I was about 18 and I went straight into a leading role and now I'm still here with Petit ELJ five years later. I started out by working and studying at the same time."
"I first worked towards my Certificate III in Early Childhood Education and Care and now I've got my Diploma and I'm currently doing my Bachelor in Early Childhood. I balance this by taking it week by week, making sure my work is done and then coming home to complete my studies online."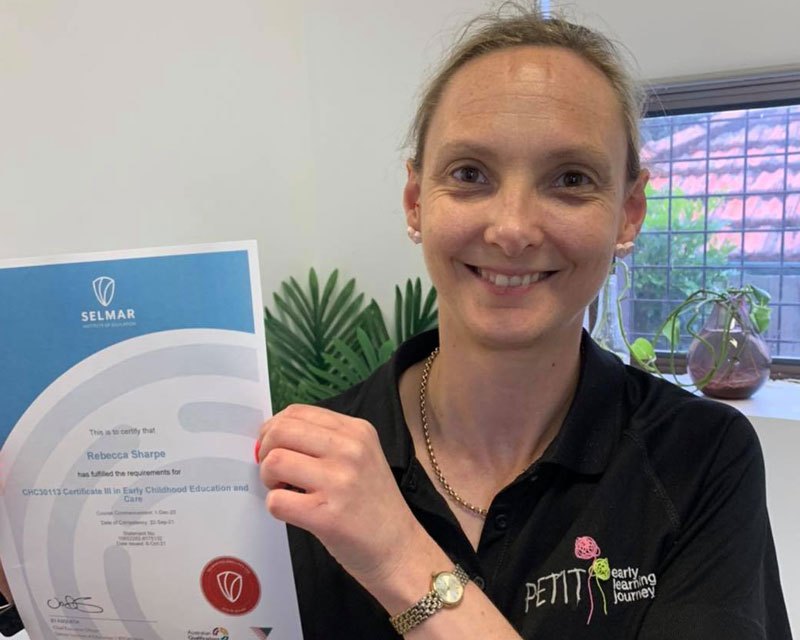 Starting with a Certificate III in Early Childhood Education and Care
"So, there are a few different pathways," says Tanya. "You can study a Certificate III in Early Childhood Education and Care and then go on to do a Diploma or go through university pathways to complete a Bachelor of Early Childhood Education. There are other pathways for those with qualifications in other disciplines so doing a little research is always helpful."
"Educators can commence work while studying any of their qualifications but have to demonstrate that they are actively progressing and studying in order to meet legislative requirements".
Different states have different rules so it is important for Educators or for anyone aspiring to work in the sector to talk to someone within their state. ACECQA – our regulatory body – is always the best place to start.
Petit ELJ is committed to Educators' professional development and offers scholarships for existing employees who want to work towards their Diploma and Bachelor. We also offer traineeships and apprenticeships for those eligible aspiring Educators.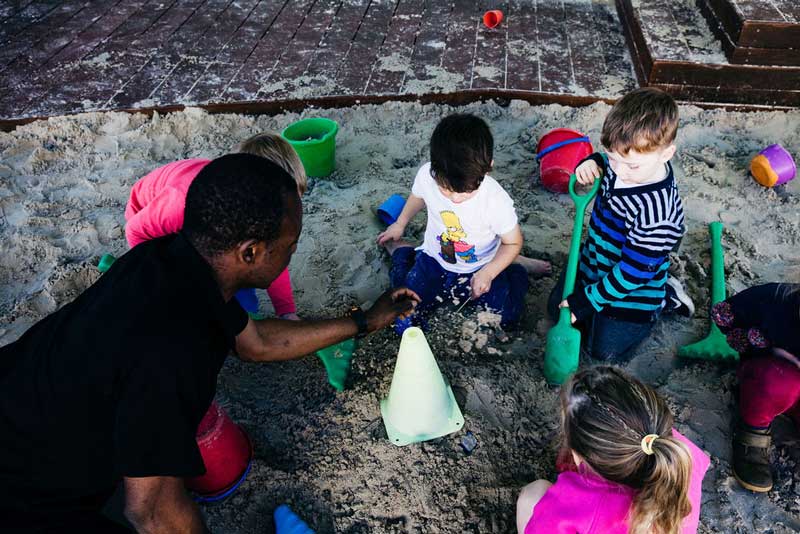 The importance of Early Childhood Educators: their beliefs and values
"While we want our Educators to adopt Petit ELJ's beliefs and values, everyone has their own clear beliefs about why they do their job, how children learn and how Educators teach," says Tanya.  "A core belief that all Early Childhood Educators should have is that the family is the child's first teacher. This belief allows them to develop open, authentic, respectful and supportive connections with families."
"I value listening to children's ideas and the different ways they can be capable, curious and imaginative," says Lisa. "It is different for each child, but they've all got a lot of talent and capabilities to share. It's about finding ways to help them level up in their learning journey by latching on to what's interesting to them and what they want to achieve."
"Children learn a lot from their peers, not just knowledge wise but their social and emotional skills. I work with an age group that's going to school the following year, so I think it is important to emphasise their independence, autonomy and taking responsibility for themselves so they're strong and confident when they go to school."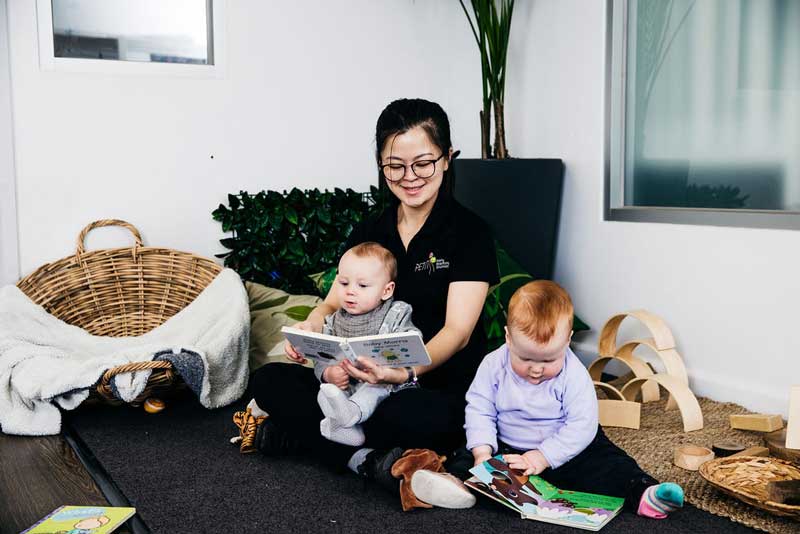 Day-to-day experiences as an early childhood professional
"Our day-to-day experiences are varied from group time sessions, storytelling, songs and having discussions," says Lisa. "I enjoy cooking experiences and sensory play which is a great hands-on experience for children and talking to children about their art and linking that with early literacy."
"What I love most is forming connections with children and families," says Kirsty. "Other things that I love are the documentation and watching their progressive learning over time and expanding on that and supporting them."
"I love making the day energetic and outgoing, so we just finished a dance party with disco lights. I love reading stories to them and having quiet moments throughout the day. I'm really big on mindfulness and meditation."
"Knowing what I do now, my most favourite part of the day was spending time with the children and that's what brought me to Petit ELJ," says Tanya. "After a couple of years as an online consultant with Early Childhood Australia I wanted to see real life children again, I wanted to talk to people face to face and see the learning environments."
"I do miss walking into the room in the morning and having the children come over and be so excited to see me and tell me something that they have been doing or sharing something from home and getting into those conversations. I miss those relationships."
"There has been a lot of research around the reasons that most childhood Educators stay in a service, and it is the relationships they form, not just with the children but with the families as well."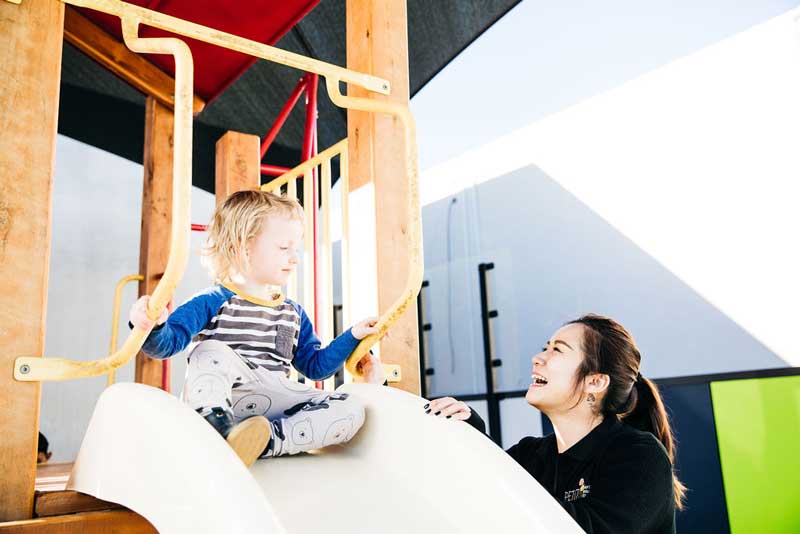 Why Early Childhood Educators are so vital in giving children the best start in life
"There's a lot of research to show that there is a massive amount of brain cell development that goes on in those early years," says Lisa. "This supports the interactive role of an Educator in accelerating and supporting the brain development and neural connections that children are making. Children benefit from having those responsive interactions with Educators at this time in their lives."
"Educators are absolutely vital," says Kirsty. "We support children throughout the day helping them to develop and learn new skills that are crucial for them to take through life and promote and encourage them to expand on the skills they bring from home."
"From my own research the role of care has traditionally been overlooked and downplayed: It is believed that the role doesn't require any skills, or any knowledge as you are just caring for somebody else," says Tanya. "It's very much in alliance with that unseen unpaid parenting role. But we all know that the parenting role is inherently complex."
"Caring for young children requires dynamic skills and high levels of ethics to provide appropriate and respectful care. Educators need to know the different personalities and needs that children have, not necessarily based on their age but knowing them as individuals and knowing what they need in order to feel safe and secure. Yes, there are similarities in what children need, but every person is different."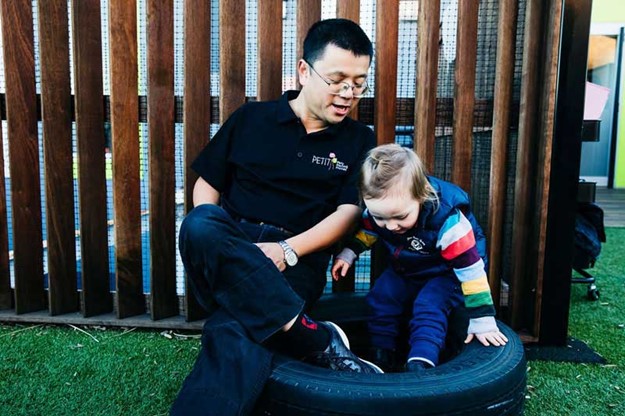 Ignite your career with Petit Early Journey Learning
Do you want to make a difference in the lives of children and their families? Are you seeking a career in early learning? At Petit ELJ we believe in a holistic approach where building relationships is essential to being an Educator.
As an Educator, you build on the knowledge, experience and the partnerships you form with the children and their families. If you have the right qualifications or you're studying towards them and your beliefs and values align with ours, then we want to hear from you.
Make a positive change to a child's life and to yours.