When it comes to encouraging a child's development, parents ask a myriad of questions. How to teach a child to read is one of those hot topics. And no wonder, as reading plays a vital role in education and in life in general. It's an essential skill for doing so many things.
It might surprise you to learn that reading is a natural process that begins to emerge in a child's infancy. It starts the moment your child opens their eyes to watch your lips move and hear you speak. Reading, then, is part of the emerging literacy that a child develops in their early years.
So how can you nurture your child's reading skills? We asked Belinda from Petit Early Learning Journey Coffs Harbour to share with us her thoughts on how to teach a child to read. Read on to discover:
The reading process and emergent literacy.
What age should you teach kids to read?
Reading milestones for early readers.
Developing reading skills with contemporary pedagogy.
Advice on children learning to read.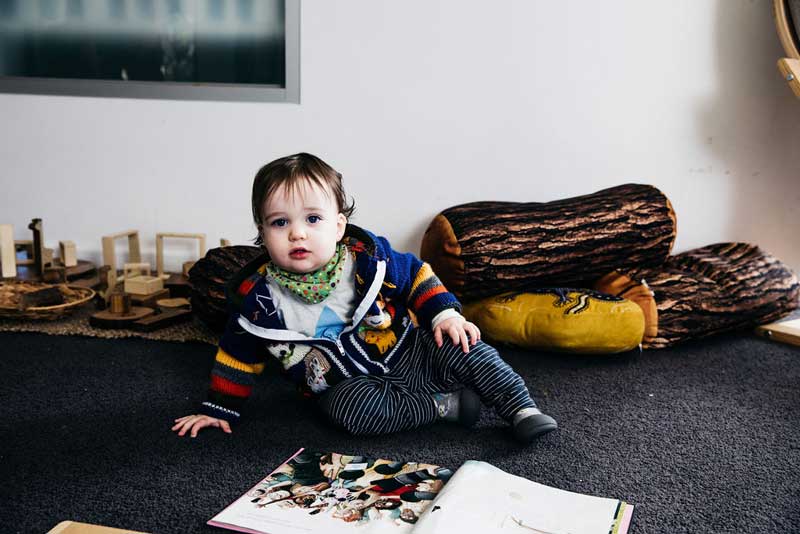 The reading process and emergent literacy
Emergent literacy refers to the development of a child's reading and writing skills, a key outcome of early childhood education.
Belinda, an Early Childhood Teacher and Group Leader, believes reading is part of a natural process if we expand on what our idea of reading is for early learners.
"If we consider communication more broadly to be part of learning to read," says Belinda, "then we view all forms of communication, language development and symbolism as part of this process. Learning to identify symbols and icons, and making meaning of what children see is all part of the learning to read process."
Young children make many language discoveries as they play and explore their world. "We often place high expectations on children knowing how to read. However, in the early stages of the reading process, it's not about knowing how to read but about an almost primal engagement with symbols.
Children learn to identify a stop sign before they read the word stop. They learn X marks the spot for treasure on a pirate map before they learn how to read directions."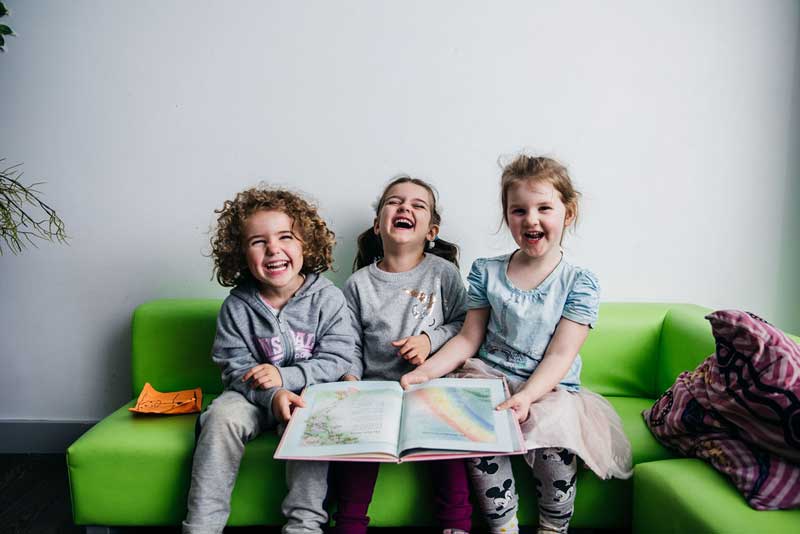 What age should you teach kids to read?
Much of the focus on teaching a child to read falls on preschool and primary school ages. However, there's a massive benefit for encouraging early literacy skills in younger children.
In particular, research published in Victoria in 2012 shows a direct relationship from reading to young children and their future schooling outcomes.
"The most important start for any child is to have an encouraging environment," says Belinda. "Before looking at a reading age, it's important to understand what the foundations are before they are ready to read.
"Engaging with reading can happen from day one. Being actively read to as a baby and as a very young child is one of the most significant boosts and gifts we can give to a child. Storytelling more broadly with or without picture books is essential.
"Speaking and storytelling are the building blocks for cognitive development; it's where literacy starts. A stimulating language-rich environment is the beginning. When there isn't as much engagement in a home environment, an early childhood education service can assist.
"We are in a position where we can provide a stimulating and learning-rich environment for children of all backgrounds and circumstances. While families are a child's first teacher, Educators are here to work collaboratively with families, ­and to bridge the gaps."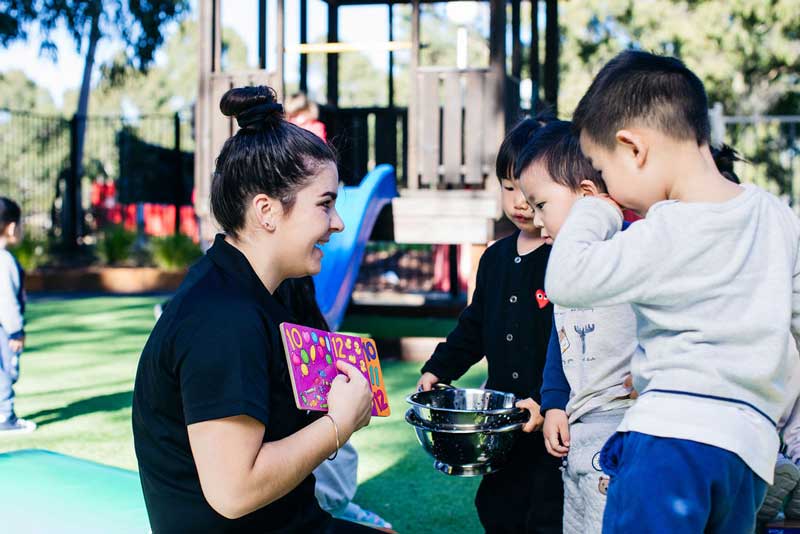 Reading milestones for early learners
Children from as young as newborns begin to develop reading skills that establish the foundation for learning to read. Belinda felt it was important to emphasise that children develop at their own pace, so there's never an exact timetable for developmental milestones when you teach a child to read.
"The reading milestones framework is individual to each child, but pointing to objects is a good starting point. Families and Educators can help by pointing at and tracking words as we're reading to children. So, dragging your finger along the word and pointing to them individually.
"Pointing and tracking are great indicators that a child is engaging with reading. And we can help by modelling this as we read to children.
"Actively listening is also another foundation milestone. Listening means different things to different children. It could mean, do you hear my voice, can you respond by looking at me, or what I'm pointing at (showing that they are listening), or can you understand my meaning."
Learning to listen is a vital skill that develops from birth. In the early years, a significant amount of learning depends on listening.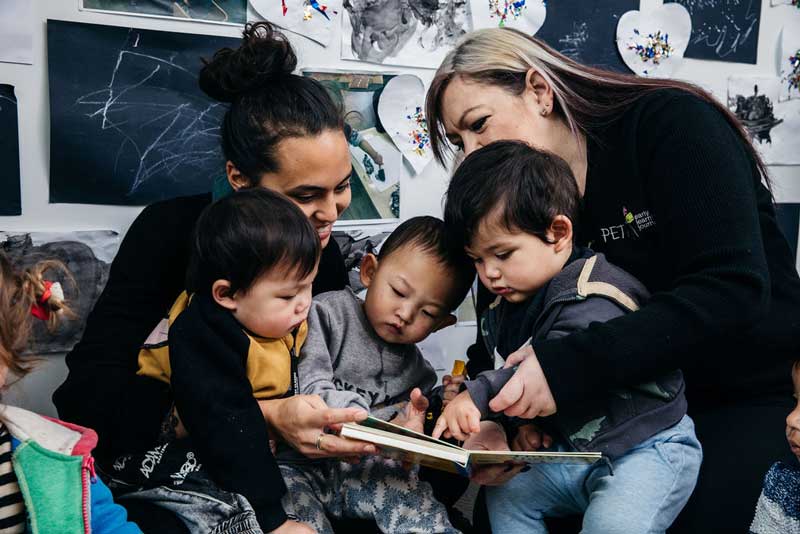 Developing reading skills with contemporary pedagogy
An early education pedagogy for teaching reading skills is the use of scaffolding or modelling. This practice can be adopted too by families to encourage their child's foundational reading skills.
"Emergent literacy and reading engages children in reading and provides opportunities for interaction, "says Belinda." Showing a child how we read and pointing to certain words in a book encourages them to engage with stories."
Belinda's favourite theory-based quote that she has in her classroom is from Lev Vygotsky:
"Joint meaning-making is supported by the languages of interaction between children and adults and takes many forms, including sounds, gestures, body language, movement, graphic images and symbols."
"By scaffolding or modelling to a child, we show them how we read a book and make meaning of a text and what comes next through discussion. Encouraging children to mimic what we do builds their skills. For Early Childhood Teachers, it's all about play. Reading should be play-based. It's a joyful, playful experience.
"Other important steps and building blocks are drawing, mark-making, storytelling. And as we know in early childhood education … play!"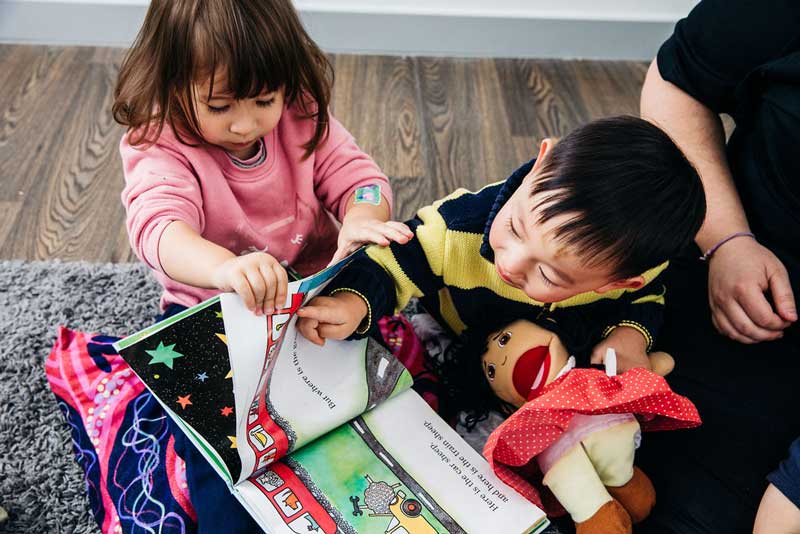 Advice for families on children learning to reading
Belinda's advice is for families is to be readers themselves.
"Have books around, respect them and share them with your children. When families aren't sure if they're doing enough, remember that they are not alone. Every community, almost every community has a library.
"We are lucky to have such great libraries in most communities, and they are a free resource for all. Librarians are there to help, and are happy to. They have a wealth of knowledge. Attend Baby Rhyme Time and Storytime."
If you're looking for reading recommendations for children, Belinda's top picks are:
Any of The Gruffalo franchise or Room on the Broom by Julia Donaldson. "Julia Donaldson's books are enjoyable to read; they flow beautifully with wonderful rhyming stanzas and repeated lines for children to read along with."
Alison Lester's children's books especially Imagine, Magic Beach, and Growl Like a Tiger (perfect for babies and the younger reader). "Alison's stanzas are full of gorgeous descriptive words and are melodic in their use of rhyming lines. Like Julia Donaldson, this means children can begin to develop an expectation of what comes next and prepare to read along."
Lynley Dodd's children books like the Hairy Maclary series. "Lynley for all the same reasons. Lots of repetition, rhyme and alliteration. "
"Children love being able to anticipate what happens next," says Belinda, "and these books are great for those reasons."
Belinda is also a reviewer for Reading Time (Children's Book Council of Australia). "The CBCA website is a great resource for parents wanting to know what the latest books are and what other readers, writers, Educators and librarians think of them."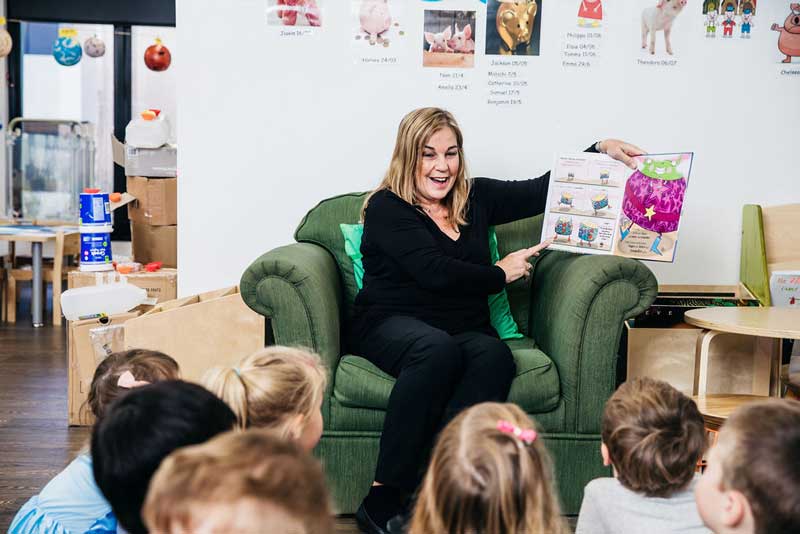 Give your child the love of learning with Petit Early Learning Journey
A young child's view of the world is full of wonder. At Petit ELJ, our centres nurture each child's imagination and wonder to awaken their love of learning. Our environments are safe, respectful and compassionate, supporting each child's individual development.
Contemporary pedagogy, including the Early Years Learning Framework, inspires our teaching and routines. We tailor our programs to each child's unique personality. Book a tour to learn more about our holistic approach and enrich your child's life-long learning.