New baby in residence or on the way? Congratulations! It's difficult to imagine how newborns – those tiny bundles of joy with their natural ability to mesmerise adults—can turn families with older children upside down with sibling jealousy.
Babies are beautiful additions to any family. Whether they're your second, third or seventh child, they have their ways of stealing the limelight. If this is your second child, learning how to avoid sibling jealousy is a new skill to add to your parenting abilities.
Age knows no boundaries when it comes to a sibling adjusting to a newborn. Your first child, who has had all your attention until now, discovers they to share you. Toddlers, particularly between the age of 18 and 36 months, are notorious for their possessiveness.
This sudden change in their relationship with you and what they thought was theirs can stir feelings of rivalry and loneliness. However, there are several ways to encourage sharing and an inclusive feeling preventing sibling jealousy.
Our article on avoiding new baby sibling jealousy looks at:
Preparing your child for the new baby's arrival.
How to notice the signs even if your child doesn't understand them.
What you can do to nurture your children's relationship with each other.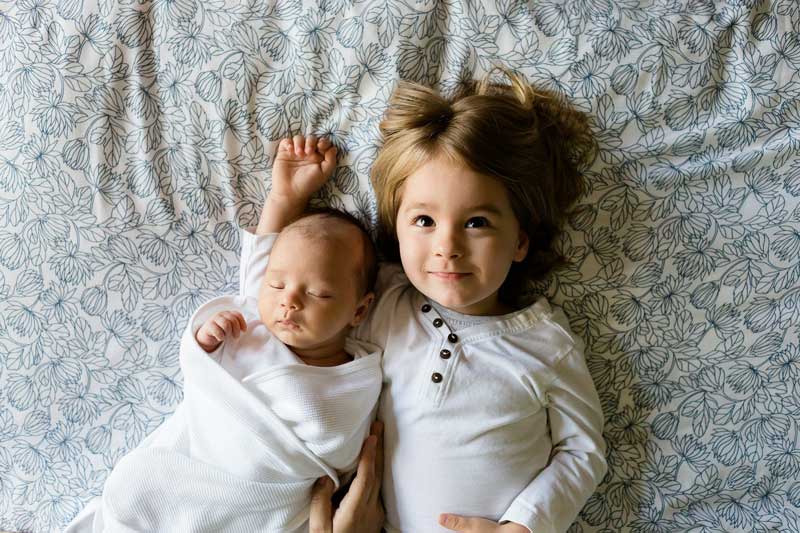 Prevent sibling jealousy by preparing for the newborn's arrival together
A practical method for raising siblings without rivalry begins before the second child is born. You can create a nurturing and inclusive environment and maintain peace at home by encouraging your first child to develop strong bonds with your unborn child.
Invite your children to experience the unborn child's journey to prevent sibling jealousy. Perhaps they can help you document the pregnancy? Invite them to draw what mummy looks like and let them feel the baby kicking and moving.
Introduce the unborn child to your current children before telling family and friends. It will make them feel special to hear it first from Mum and Dad.
You could say, "You know how you've been wanting someone else to play with? Well in several months you're going to be able to look after and play with a new baby. They are so tiny right now in mummy's tummy. Just like you were once."
Some families like to take a more subtle approach to resolving sibling jealousy. Becoming a big brother or sister is a life-changing event. A new picture book about the arrival of a new baby can help make this a smooth transition. Wrap it up as a surprise present!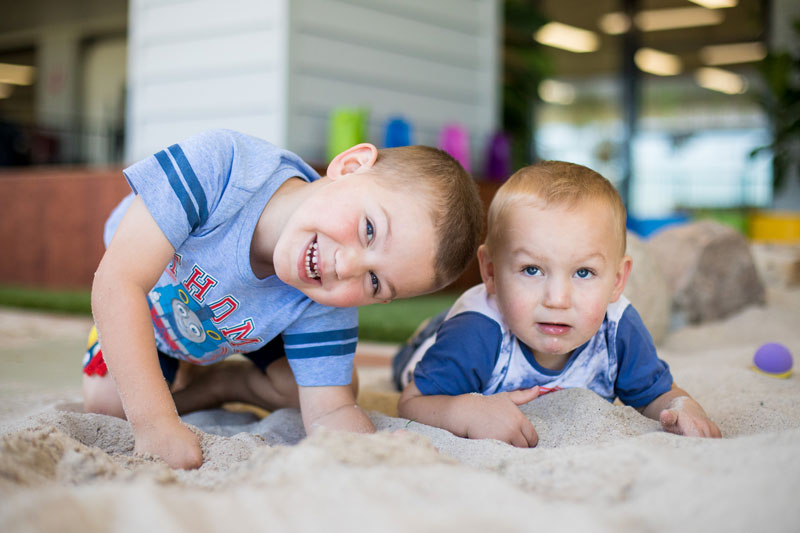 Ask your child for help in making simple decisions to avoid sibling resentment:
Which room will become the nursery?
How are they going to sleep?
Will they need the old unused cot if they have a bed?
Will they sit next to them in the car?
What colour clothes will they wear?
What picture books will they listen to and read together?
When it comes to handing down cots, blankets, clothes and toys, start sooner rather than later. Your first child may be reluctant to part with what they see as theirs. Encourage them to gift their new sibling with items that the unborn child will need.
Choose words and actions that make your older child's sharing a choice rather than something they are told to do. Avoid sibling jealousy by asking questions rather than telling them how it will be.
Do they know of anything around the house that could help their new sibling settle in?
Create a safe, trusting and caring environment
Nurture a safe and secure environment by building positive and understanding relationships. Healthy relationships strengthen children's social and emotional skills which impact their future relationships with others, including sibling jealousy and rivalry.
Explain to your first child what will happen to them during and after their sibling's birth—the more information you can give them, the better they will feel. Let them know how much you love them and how much you'll miss them.
Will they stay with a relative or friend for the birth?
How long will they stay?
Will they visit the hospital to see you and say hello to their new sibling?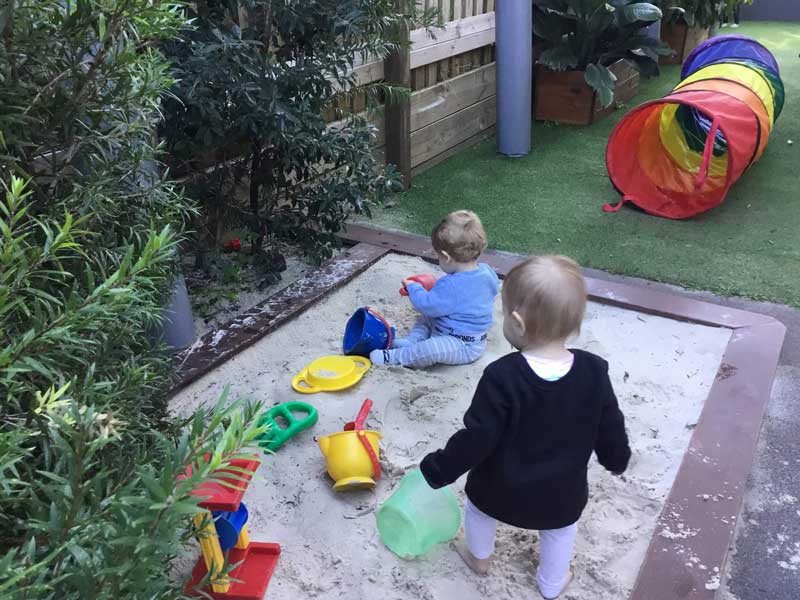 How to notice the early signs of sibling rivalry
Young children, like toddlers, may not understand the feelings they have towards a new sibling. They may also be too young to know that undesirable behaviours like pinching or biting can hurt others. They will, however, notice it gets your immediate attention.
Newborn sibling jealousy can become an exhausting, repetitive event. Sometimes it's because of rivalry, other times your older child may be experiencing separation anxiety. Keep your eyes and ears peeled for changes in behaviour:
Jumping around to get your attention away from the baby.
Climbing onto your lap while you're breastfeeding.
Wanting things the newborn uses, like a bottle when they haven't used one in a while.
Choosing to sit in the newborn's seat in the car or pram.
Pinching, poking and biting.
Not sharing toys and other items they recognise as being theirs.
Acting out, especially if they're having trouble expressing feelings with words.
Telling on the baby.
Displaying regressive behaviours such as baby talk, crawling instead of walking, wanting to wear nappies if they're toilet trained.
Refusing to sleep or rest.
Wanting the newborn to go away.
Ignoring their new sibling completely.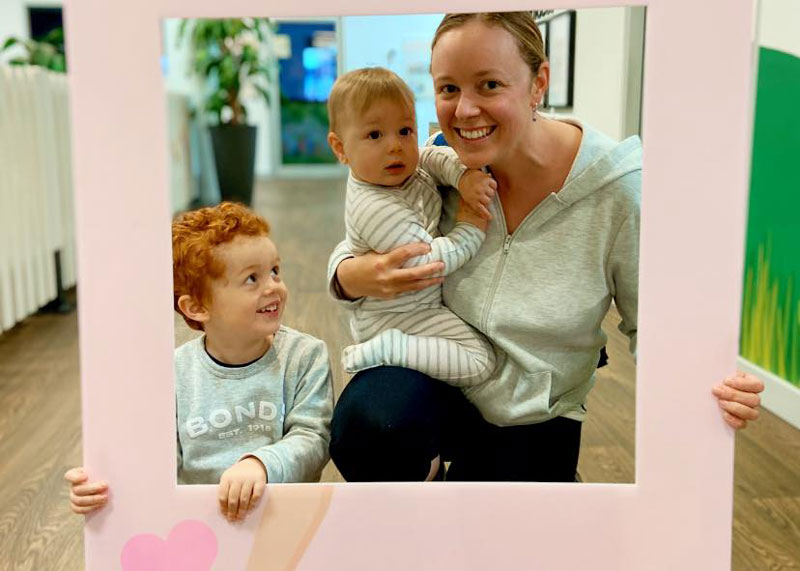 What you can do to raise siblings without rivalry
Start early to reduce undesirable behaviours. A whole-family approach to preparing for the newborn's arrival promotes togetherness and excitement. It can also influence positive sibling behaviours towards your unborn child.
Preschoolers and toddlers may experience sibling jealousy and rivalry. They will notice the baby getting a lot of attention. After the birth of your new child encourage your older child to take care of their new baby sibling.
There are many ways that young children can help care for their sibling. Let them know how tricky it is to look after a newborn and that you could really do with their help. They can:
Retrieve a nappy or baby wrap.
Hold a towel or washcloth during bathtime.
Pat their sibling dry after their bath.
Comfort the baby with nursery rhymes and calming songs.
Choose their sibling's clothing.
Dealing with sibling jealousy is never fun. You can nurture your children's relationship by:
Including both children in playful experiences like reading time, photos and sensory activities.
Praising good behaviour with positive reinforcement.
Help your child resolve conflicts. They're more able than their newborn sibling.
Sharing memories of your older child from when they were a newborn.
Being sympathetic rather than critical of their behaviour.
Helping them bond affectionately with their newborn sibling.
Remembering to spend quality one-on-one time with your other children.
Acknowledging your older child's feelings.
Giving your older child a gift when the newborn is being showered with presents.
Arranging playdates for the older sibling.
Keeping regular routines, rhythms and rituals.
Sibling jealousy isn't exclusive to newborns and younger children. It can also affect older children and twins. While you may want your children to be best friends right from the start, it's never a good idea to force their relationship as it may create resentment.
Instead, create an inclusive environment by inviting your toddler or preschooler to help out with the newborn baby. Spend a lot of time together as a family but let your older child work through their emotions at their own pace.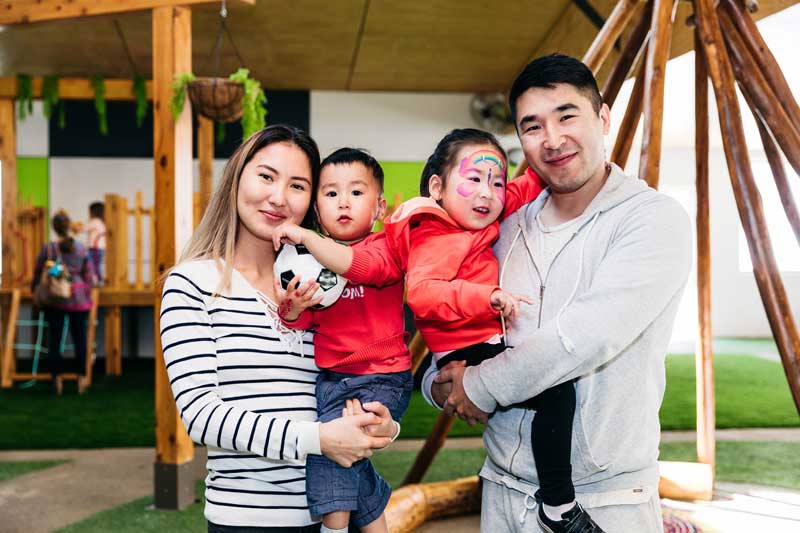 Avoid sibling jealousy with Petit Early Learning Journey
At Petit ELJ, our families partner with us in their children's journey. We genuinely strive to build strong family relationships. We encourage siblings to visit each other regularly, acknowledging and celebrating the difference in age groups with mixed-age supervision.
Siblings at Petit ELJ gain a sense of comfort knowing that each other is close by and it takes the stress off you having to drop them off at different centres. If you're seeking an early childhood education and care centre that truly cares about families, let's have a chat.