The relationships children build at child care are at the centre of all learning. Research shows that Educator-child relationships matter as do those with other children. "Secure, respectful and reciprocal relationships" is one of the five core principles of the Early Years Learning Framework (EYLF).
Educators need to prioritise their relationships with children, as reflected in their service's philosophies and practices. At Petit Early Learning Journey, our philosophy is to build genuine connections with children to encourage meaningful learning.
When children come first, we recognise them as people who contribute valuable opinions and ideas. Our philosophy guides Educators to take the time to "ensure children are noticed, heard, understood and are part of any decision-making process."
Building secure, respectful and reciprocal relationships with children takes time, dedication and resilience. In this article, our Clifton Hill and Wooloowin centres provide us with insight into the National Quality Standard Quality Area 5 — Relationships with children – by examining:
How Educators build positive relationships with children.
How Educators can encourage children to connect with other children.
Examples of how children of different ages connect.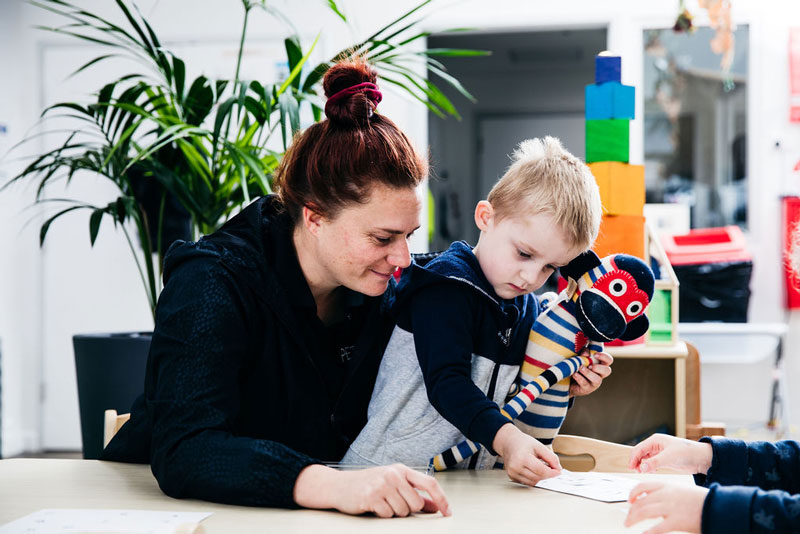 Quality Area 5 — Relationships with children
Quality Area 5 of the NQS addresses how Educators actively develop and nurture trusting, equitable, sensitive and meaningful relationships with children which are warm, caring and responsive. It focuses on two key areas:
The relationships Educators maintain with children.
The support Educators provide to children to develop relationships with others.
When Educators build positive relationships with children, it develops the child's self-esteem, encouraging them to connect with others and make friendships. Secure, respectful and reciprocal relationships also nurture a child's sense of belonging, so they feel free to explore their environment and engage in play and learning.
Building positive relationships empowers children to develop social competence and regulate their behaviour. Relationship building encourages children to develop skills to negotiate and interact effectively with others.
By developing safe and secure relationships with children, it helps them build a strong sense of identity.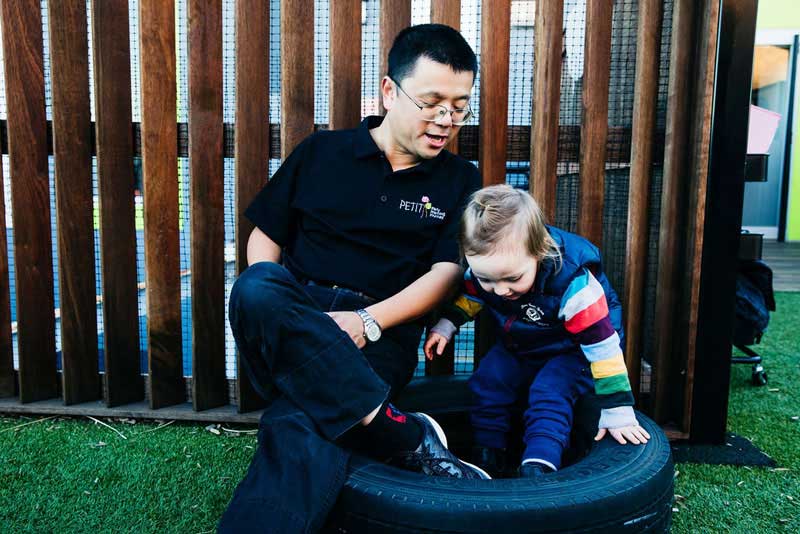 How can Educators develop positive and respectful relationships with children?
By observing children's interactions, Educators can create strategies that assist children in forming healthy attachments, relationships and friendships. The ACECQA recommends Educators actively engage in children's learning, share decision making and use interactions to interest children's thinking and learning.
Roseline Omenoba, Centre Director at Clifton Hill in Victoria believes Educators build secure, respectful and reciprocal relationships between themselves and children by acknowledging and respecting the individuality of each other and every child in the centre.
"At Petit Early Learning Journey Clifton Hill we believe that children are individuals, as such, we collaborate with the child and their families to create a nurturing and relevant environment that promotes a sense of belonging and security for learning and development."
"A sense of belonging is the key to achieving positive and reciprocal relationships between educators and children. We share in the popular saying that 'a person cannot give what he does not have', therefore, our management team consistently and consciously role model positive relationships with the Educators regardless of qualification, work experience, or gender."
"This culture of relationship is then seamlessly transferred and translated from our Educators to the children daily. When we cultivate a culture of respect and reciprocal relationships in an early childhood environment, the result is happy Educators, happy children, happy families, and a happy and safe workplace!"
"The Early Years Learning Framework also talks about 'responsive learning relationships'," says Amanda Hart, Assistant Director at Wooloowin in Queensland.
"When I reflect on how I use responsive relationships every day, I think deeply about being wholeheartedly present and in the moment with children, so that they can see, feel and hear me when we are talking and connecting. Making that moment in time the most important for that child or group of children."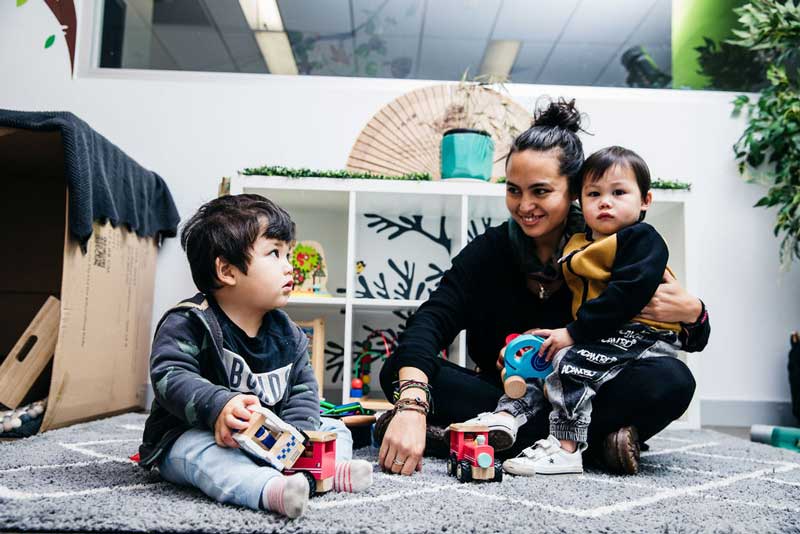 How can Educators support children in building positive relationships with other children?
Children's individual ability to connect with others will vary depending on their personalities, skills and needs. Educators can support children in building positive relationships with other children by providing experiences where they can express their emotions and thoughts.
"We share in the belief that no two children are the same," says Roseline. "To create and maintain ongoing learning connections in the centre, our Educators use the relevant tools to assess, plan, implement and evaluate age-appropriate, and culturally relevant learning experiences for children both indoor and outdoor."
"Age-appropriate and hands-on learning experiences foster a sense of agency, and we achieve this through relationships and play. To connect children with their peers, our Educators plan and implement small and large group learning experiences to engage every child."
Roseline believes that children are significant contributors within their learning environment. "They make choices and decisions about their social groups, while the role of the Educator is to create the enabling environment and interfere in children's choices and decisions where and when required. Their innate ability is released when they are trusted to make choices and decisions in their own best interest."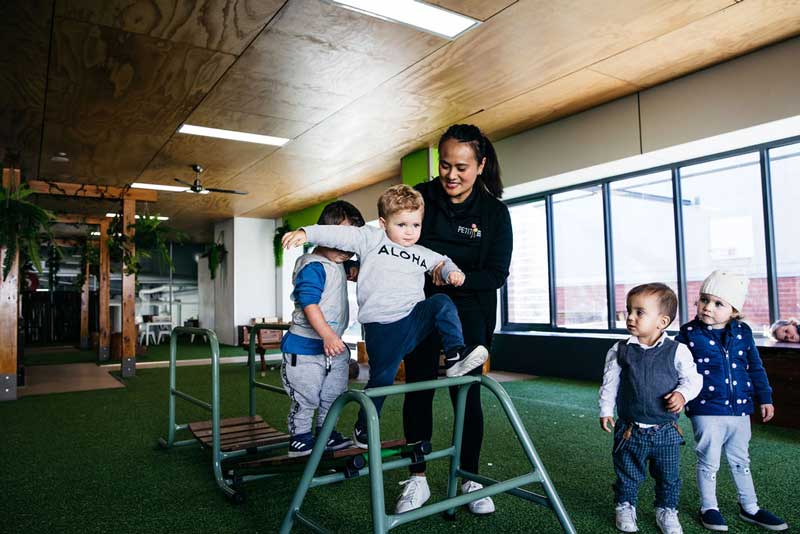 Interactions with children: Capable and competent learners
Children are competent and capable learners, and Educators can support their development as they begin to empathise with others, to respect their reliance as learners on their relationships and connections by valuing group activities.
"When talking, connecting and being with children," says Amanda, "it is important to remember how capable and competent they are. If we model and talk to children as 'active citizens' who have power over their thoughts, feelings and opinions, children will have opportunities to practise these skills. They will feel empowered to practise their language, find strategies and skills in reciprocal relationships, even beyond their years."
"I also understand the power of modelling and recognise that children observe and learn from us through the words and actions we choose. Children also learn about themselves and their place in the world through the relationships that they develop with others."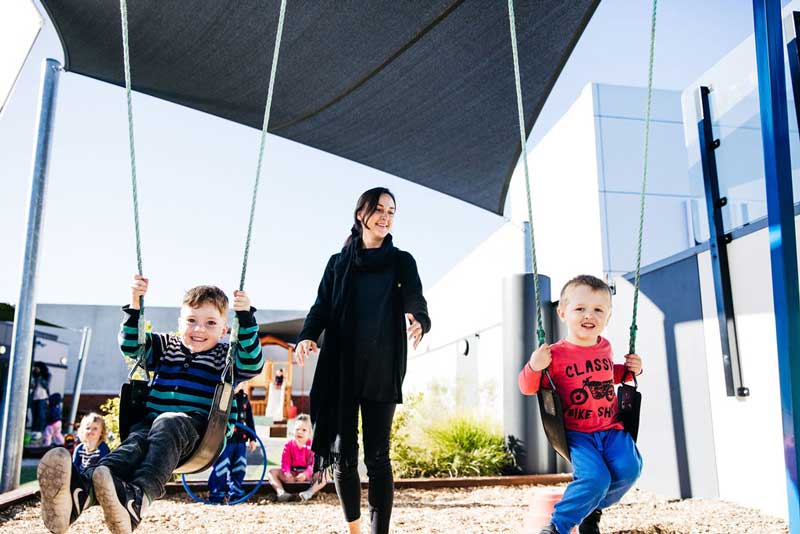 Secure, respectful and reciprocal relationship examples
Making eye contact and engaging in one-to-one interactions with young children strengthen secure, respectful and reciprocal relationships. Examples of practices that promote positive Educator and child relationships include:
Greeting children with warmth, happiness and welcoming smiles when you see them.
Observing each child's strengths and sharing that knowledge with the child and their family.
Learning to communicate with children so you can listen and respond to their feelings and ideas.
Remembering something that a child told you and recalling it later to show you were listening and cared about what they shared.
Introducing children to other children and Educators so they can have the opportunity to form positive and respectful relationships.
Making yourself available by observing, listening and being ready to respond when needed.
Providing an inclusive environment where all children can participate and communicate their thoughts and feelings.
Roseline also shared with us how they encourage children of different ages to interact and form relationships at Clifton Hill.
Sibling visits
"The connection between children of different age groups in our centre is acknowledged and celebrated daily," says Roseline. "We have a good number of siblings in the centre, and they are encouraged to visit each other regularly."
Mixed-age supervision
"Who says a baby cannot explore the Kinder studio? Of course, they can! Active supervision is one of our core early childhood values that is consistent across the centre. Our older children lend helping hands in the younger age group studios, especially at feeding and rest time."
Group projects
"In Term 1, our Kinder studio project was KINDNESS! What kindness is and how children can show kindness to themselves and other people were unpacked in the studio."
"One of the ideas that interested the Kinder studio children was to assist our Baby Boulevard and Angel Avenue studios during meal and rest times. They helped to feed and settle the children to sleep."
"This learning experience not only provided a practical interpretation of the word kindness, but it also created a lasting relationship between the babies and our Kinder studio children."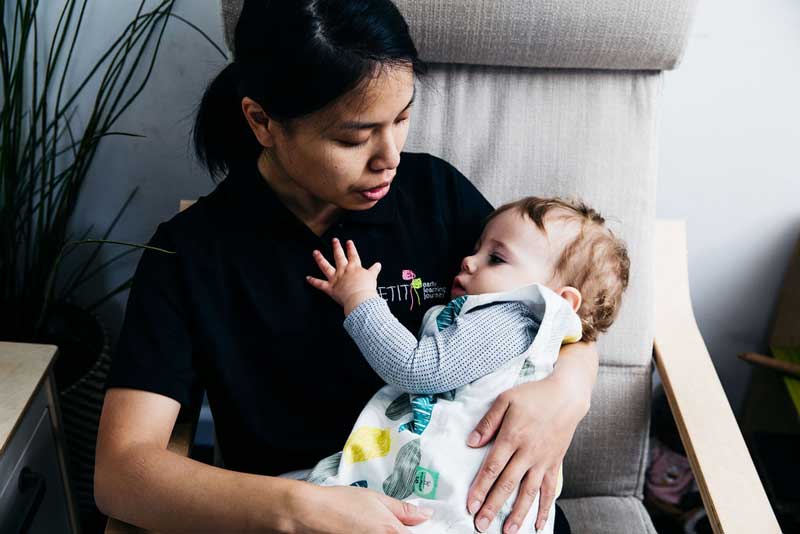 Why work for Petit Early Learning Journey?
At Petit ELJ our Educators are genuinely passionate about their involvement in early childhood learning and contemporary pedagogy. We value and celebrate their dedication to providing professional support to their teams, children and families.
If you value secure, respectful and reciprocal relationships with children and the practices that build and strengthen positive Educator-child relationships, then perhaps it's time you joined a company that values you and where you can make a real difference.