Pretend play is an essential part of every childhood. In the past, you may have viewed imaginary games as merely a fun activity. But are you aware that playing make-believe and imaginative role play benefits children's development and learning?
There is now a growing body of evidence that shows engaging in make-believe benefits early childhood learning. Pretend play including dressing up and creating imaginary worlds and friends can help develop your child emotionally, physically, socially and cognitively
Imaginative play can be spontaneous. It may involve a group of children or a single child who interacts with their environment and begins to act out events they have previously experienced, observed or have a special interest.
In this article, we're going to look at:
The benefits of dramatic play.
How to nurture your kid's imagination.
Joining in dramatic play ideas.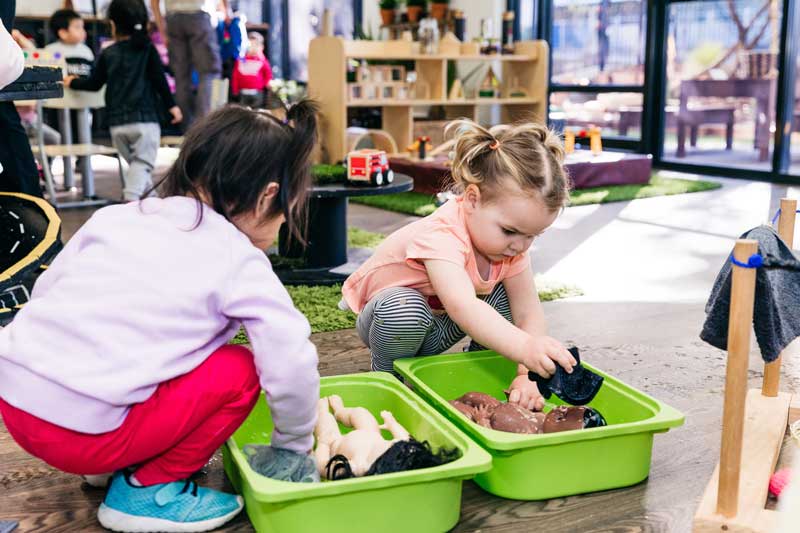 How dramatic play benefits children's learning
Making tea in the pretend kitchen, playing school time, and preparing for a one-child show with every toy and teddy in the house has practical benefits for children. While dramatic play can be messy, it's a spontaneous, fun activity that we've all enjoyed.
Sometimes though as parents, we forget the benefit of pretend play as our busy lives take over. Did you know that playing child-led make-believe has several cognitive benefits?
When children participate in pretend play, they:
Practice language skills: Have you ever noticed your child chatting quietly to an imaginary person while playing? Pretend play often involves imaginary friends, especially if children have no siblings to play with. Solo conversations help them to practise phrases and words they've heard you say.
Boost their self-confidence: Pretend play helps children develop new skills. The more they practise these skills, your child will grow more confident. It gives children the space in which to grow, learn and test their limits.
Develop social skills: When children play make-believe, they often mimic real-life roles, like being a mother, teacher or train driver. These roles help them to work through different social skills. Group imaginary play teaches toddlers and preschoolers how to cooperate, communicate and compromise.
Expand their knowledge: Pretend play encourages children's curiosity. Using their imagination, they act out different scenarios that require them to think about how to use the materials they have available. This might include planning and organisation of toys as they work through how to solve a problem.
Work through fears:  Pretend play gives children the space in which to work through both positive and negative feelings. It can help them work through anxiety as they role play how to visit the dentist.
Inspire their creativity: Early imaginative play has been associated with increased creative performance and divergent thinking. It allows children to generate ideas, create stories, and symbolise and transform objects into other things such as turning a wooden block into a mobile phone.
Move about more: Children who participate in pretend play are known for moving around and being more physical as they run, jump and fly through the house like a bird, or prowl about following the pet cat.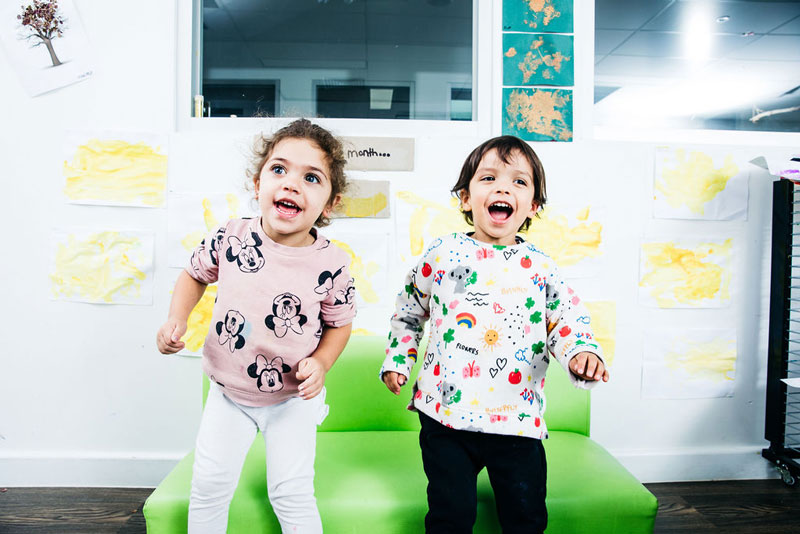 How you can nurture your kid's imagination
Allowing children to choose how and what they play gives them a sense of agency. It recognises their right to make choices that initiate their own learning. Pretend play also enables them to simply enjoy being.
Here are several tips to encourage child-led pretend play at home:
Create a space in your home where your child can feel safe exploring pretend play. You might create two different areas, one inside and one outdoors.
Organise one or more special boxes of props that encourage imaginative play. It could include fancy dresses, safe items from the kitchen cupboards or natural loose parts which they can combine to make into whatever their ideas inspire. It doesn't need to be expensive toys.
Encourage your child to invent scenarios like going to the zoo, space adventures and cooking their next meal in their toy kitchen. Playing different scenarios inspires children to take on different roles and solve various problems.
Include arts and crafts in your child's play-time. Creating things with paper, glue, and paints can lead to hours of imaginative play like postcards for the postman to deliver or artwork to go on display in the "pretend" art gallery.
Read to your child. Reading can open up a child's imagination to many possibilities. Listening to stories can provide children with inspiring ideas or reenactments of tales.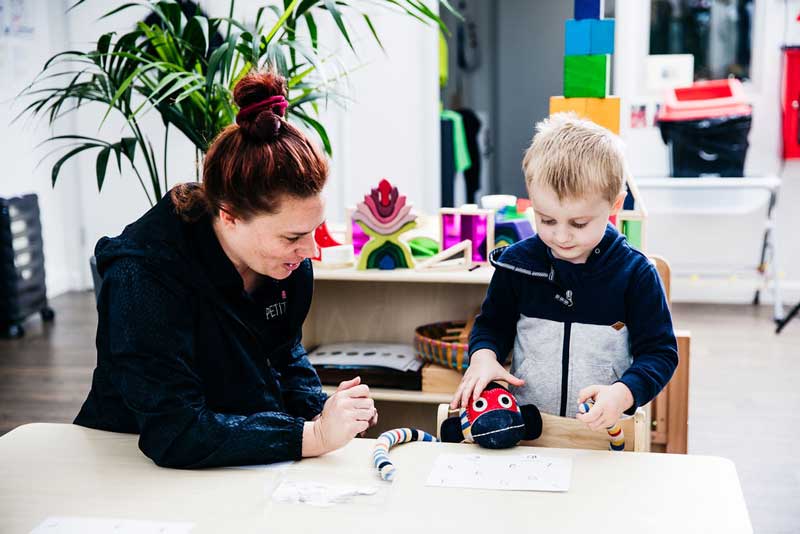 Don't hold back⁠—join in your child's dramatic play ideas
Play with your child to nurture and encourage their imagination. When your child brings you a ticket to their theatre or arrives with an assortment of toys for hire, play along and show an interest in what they're doing.
Observe and watch their pretend play and look for ways that you can support them. You could call them on their pretend phone to order one of their cafe's delicious meals or write a letter to take to their impromptu post office.
When they seek your attention, be sure to give them 100% of your focus. Perhaps, your child needs an attentive audience member to watch their talent show or someone to play a bus driver to drop them off at school.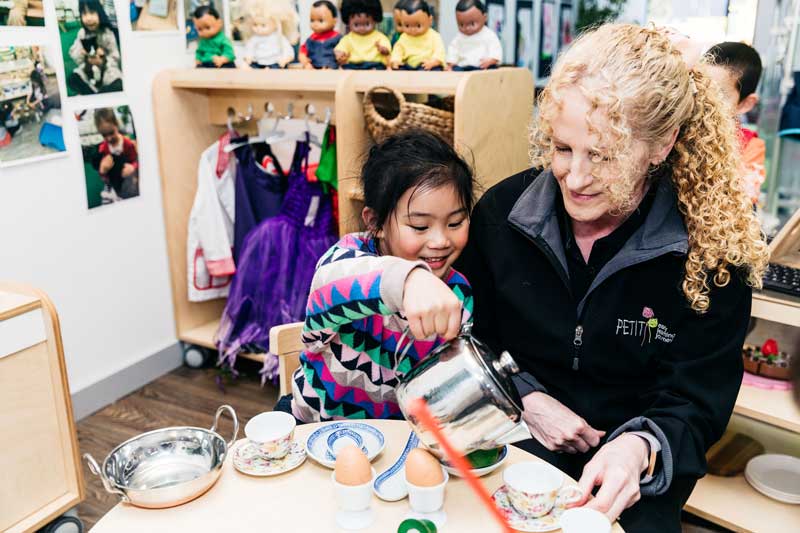 Children love pretend play at Petit Early Learning Journey
At Petit ELJ, our Educators are engaged and responsive to children while reading stories, playing and listening to music. We encourage and support our centre teams to embrace the playful enactments of a child's imagination.
Get in touch with your inner child and discover new ways to connect with your child at Petit ELJ. We love to encourage children and families to join in the fun of pretend play. Book a tour now at your nearest centre to discover more about play-based learning.