Encouraging a positive workplace culture is critical in early childhood education and care services (ECEC). It not only boosts employee morale, but it also helps to promote a collaborative, safe and healthy working environment. At Petit Early Learning Journey, we care about creating a supportive work culture.
Collaboration is necessary for educational leadership. We view it as an essential requirement for our teaching teams to engage in contemporary teaching approaches and share pedagogy. Regular, clear and consistent communication thrives in a positive work culture with engaged and valued teams.
At Petit ELJ, our leaders nurture and promote a positive workplace culture. We also engage external mentors and coaches to guide our teams in healthy and constructive conversations about contemporary teaching methods. But it's also essential for our teams to spend quality time together and create a sense of belonging.
By focusing on our workplace culture and boosting our teams' morale, we also create happier, smarter and healthier learning environments for our children and their families. Our positive workplace culture centres on creating a safe and valued space for our teams to reflect, affirm, and challenge each other to deliver high-quality education programs.
In this article, we discuss positive workplace culture with our Hamilton and Pimpama Centre Directors. In particular, we cover:
What changes have they made to improve their workplace culture?
How do you create a sense of belonging for casual team members?
What do you do to boost team morale?
Improving workplace culture in child care
Critical reflection, strong communication and collaboration are essential elements of ECEC services that shape positive interactions and outcomes. These aspects are characteristics of three necessary skills for promoting workplace culture identified by Daniel Coyle in The Culture Code (2018):
Building safety by creating a sense of belonging and identity.
Sharing vulnerability with habits of mutual risk to drive trust and cooperation.
Establishing purpose through shared goals and values.
Kate Young, Centre Director for Petit ELJ Hamilton builds and sustains a positive culture by fostering positive attitudes and actions. "It's critical to foster collaboration and communication among our team members as it builds a sense of trust, belonging and purpose."
"I use a leadership and management style that encourages teamwork, and open and honest communication vital to creating a positive workplace environment. I hold myself accountable and do not break promises. I regularly discuss with the team what matters most to them," says Kate.
"One of the biggest things at Petit ELJ Pimpama," says Mellisa Foster, Centre Director "is to ensure that you are available to your team and that no matter what their concerns are your door is always open, that you're there to support them."
"It's essential that I'm visible in my team's environment and sharing the workload. When I first started at Petit ELJ Pimpama, I was unpacking boxes of nappies, and the Educators were quite taken back and asked why I was doing that. I think it's important to show that nothing is above us and that our door is always open."
How to create a sense of belonging for casual Educators in early childhood education and care
Creating a sense of belonging for our teams at Petit ELJ is just as crucial as creating it for our children and families. A sense of belonging promotes safety, helps our teams feel valued, needed and accepted by others, validates beliefs, and provides comfort and support.
"I ask myself, 'Am I making others feel they belong where we are?'" says Kate. "Being mindful of our actions can influence how others perceive their sense of belonging."
"Actively including people goes beyond just inviting them to be part of the team. During our induction, we give all our team members, including casual Educators a tour of the centre, their own lockers, and a complete introduction to the team and the facilities."
"You create a sense of belonging by always being mindful to ensure everyone feels that they can contribute to the team, and that contribution is valued."
"With my roster, my casuals have set days", says Melissa. "We create consistency and a sense of belonging within the studios by allocating casuals to a set studio where they can contribute to the program and develop strong connections with their team members, children and families."
"By having our casual Educators be a part of a set studio, it improves communication and shows that we are all working together. There's often a stigma around casual positions that they're just a float or are required to do just cleaning. By allocating them to a studio where they participate in the curriculum and learning program, we're endeavouring to change that mindset."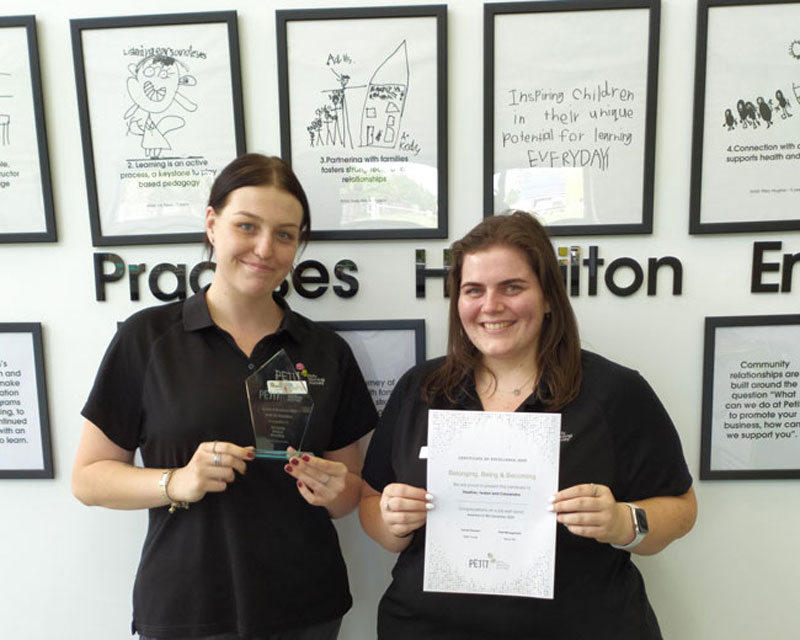 Boosting team morale in early childhood education
There is a strong emphasis on boosting team morale at Petit ELJ both locally and from a corporate perspective. We regularly celebrate centre teams and individual successes through awards and special recognitions. We also place a strong emphasis on our centre teams' health and wellbeing.
"At Petit ELJ Hamilton, we encourage a healthy work-life balance for the Educators," says Kate. "It's important to invest in them and build a trusting relationship and not to ignore the impact of small gestures like Employee of the Month."
"As a leader and mentor, I go beyond the 'my door is always open' approach. We promote social gatherings where the team can be themselves and nurture the value of a safe space when things need to be discussed."
"Supporting our teams and having a genuine interest in their wellbeing is important," says Melissa. "We provide a lot of positive and constructive feedback. I encourage my Educators at Petit ELJ Pimpama to talk to each other about an issue they've identified by taking a step back, reflecting on it and approaching each other to find a solution."
"We can find positive solutions about anything by the way we approach each other, the words we choose, how they're delivered and the body language we use. This approach encourages critical reflection, strong communication and collaboration, which in turn boosts team morale."
"Team appreciation is very important. We provide small treats to boost morale and celebrate success, like putting on a morning tea, or buying freshly-made barista coffees. These niceties make people feel special, warm and welcome, and it creates that sense of belonging."
"Recently, the Educators came to me about items they need for the studios. In my role, I also support my team by going out of my way to get them the tools and resources they need. It makes them feel appreciated."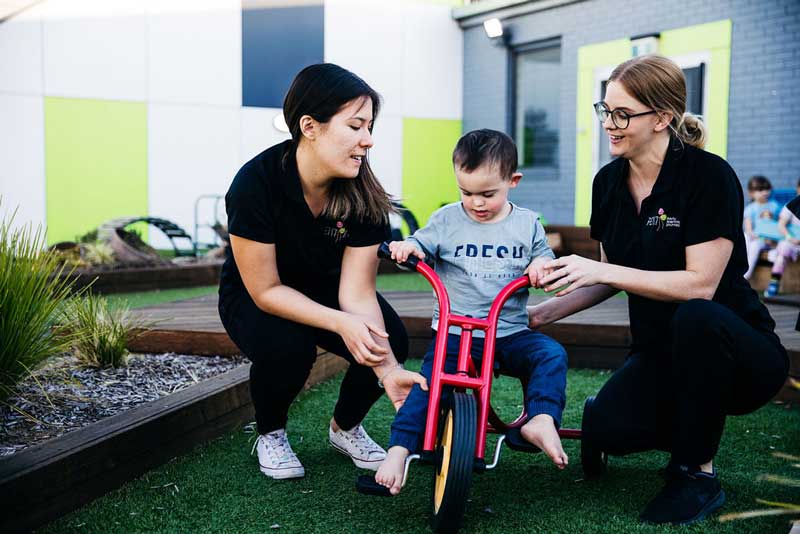 Thrive in a positive workplace culture with Petit Early Learning Journey
At Petit ELJ, we believe a positive workplace culture is one of the most powerful ways to build an engaging learning environment for our children and families. By boosting our team's morale, we create smarter, healthier and happier child care centres for everyone.
Be part of an environment where you can grow as an individual and as part of a team. We value and appreciate our team members, both full-time and casual. Take the next step in your early childhood education career and join the Petit ELJ family.
Learn more about a career with Petit ELJ.