Petit Early Learning Journey's list of DIY 20 Homemade Toys is bound to bring some joy into your toddler's life. Are you searching for homemade toys that will hold your toddler's attention and encourage imaginative play? Then this list of DIY toy projects is perfect for you!
From simple wooden blocks to no-sew cloth dolls, these homemade toys are sure to delight your little one. Plus, they're easy enough to make with supplies you may already have on hand around your home.
When making handmade toys, it's important to design and plan your DIY project. For help making your homemade toys safe, we recommend checking out the ACCC website, especially their information on product safety, useful for store-bought and handmade DIY toys.
Check out our list of 20 fun and creative DIY toddler toys to learn how to make toys that are both homemade and adorable! Our list includes:
DIY wooden toys for those who love to tinker.
Fabric toys for toddlers by using remnants, yarn and old clothes.
Cardboard toys from repurposed materials.
Other cost-friendly homemade toys.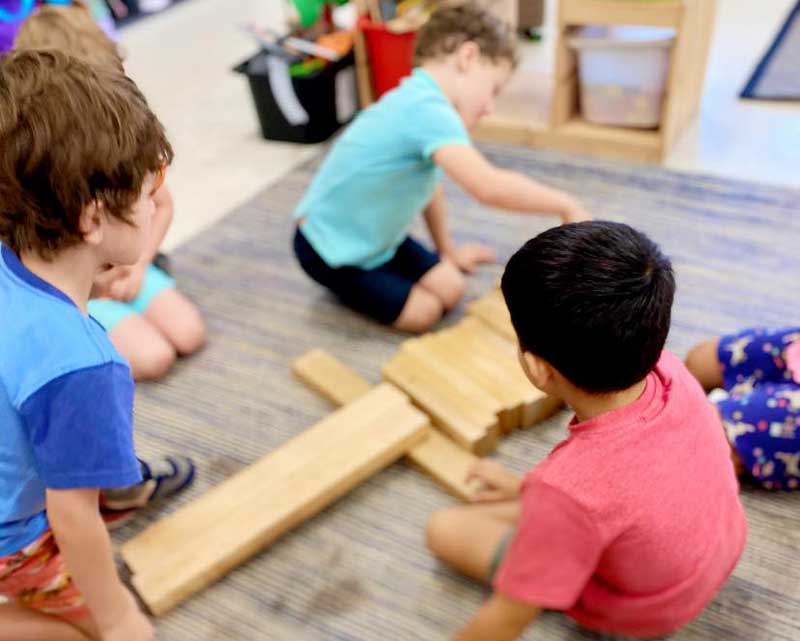 DIY wooden toys
Pick up a piece of wood, such as plywood, birch, oak or maple from your local hardware store, and you've got everything you need to make DIY wooden toys.
You may even save yourself a trip by finding some wooden pieces left over from another DIY project or Gramps cutoffs in his shed. That means no trips to IKEA, no money spent on assembly, and endless hours of fun for your toddler.
Simple homemade toys, like wooden blocks of differing sizes, can keep your toddler busy for hours. Once you've finished cutting and smoothing edges, leave them natural or embellish them with paint and stickers to make them personalised. With child-friendly decorations, you can invite your toddler into this woodworking experience.
Using plywood, you can draw and cut out some familiar animal shapes to make handmade toys. Think fish, ducks, rabbits, giraffes, turtles, bears, starfish and donkeys. There are many free animal stencils that you can download from the internet to use.
Wooden puzzles are great puzzle-solving DIY toys for toddlers. Your child will have hours of fun placing picture puzzle pieces together. All you need to do is:
Cover a large wooden square or rectangle with a background colour, like white, black or blue.
When the background paint is dry, paint your picture. It could be a simple house, car or animal.
After the top painting has dried, cut the puzzle into four or more pieces. How many parts you divide the puzzle into will depend on your child's development and how challenging you want the puzzle toy to be.
Cut sides a slight buff, paint and polish, and the wooden puzzle is ready for play.
To make DIY Peg dolls, you can purchase pegs from a craft store or use clean household wooden pegs from your laundry. Dressing the pegs into different people is an enjoyable experience for children. Adult supervision is required to dress up the pegs. Stick on cutout shapes from repurposed old clothes with child-friendly craft glue.
Children love doing woodworking projects with their families. Encourage your toddler or preschooler to join in homemade activities to create handmade toys like aeroplanes, cars or trains.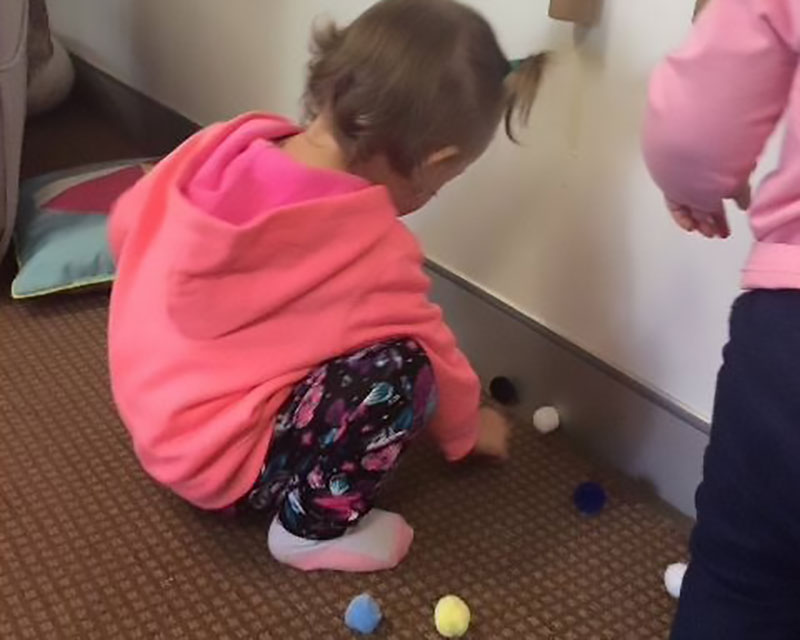 Fabric toys for toddlers
If you have toddlers, you probably know how important it is to have a few but not too many toys. But what if you don't have a lot of money to buy things? You can solve both problems with fabric toys, using remnants, repurposing old clothes and adding a little Velcro to create a new toy.
We've already mentioned DIY Peg dolls above. They are perfect for combining DIY wooden toys with fabric. Below we have some more ideas to keep children entertained, creative and involved in sustainable practices by repurposing unwanted clothes.
There are many easy ways to make a pompom ball. Toddlers will love playing with large sized pompoms as they're soft. You can make them from different fabrics, including wool, scrap material and tule for sensory play.
Besides being perfect for indoor play, you can turn pompoms into:
Pompom critters by adding googly eyes, felt feet and pipe cleaners for arms and legs.
Pompom chicks and rabbits — they make ideal gifts at Easter.
Turn socks into puppets without having to sew. You'll need a hot glue gun to add eyes and hair from different types of materials. Use your imagination to create out-of-this-world hand and finger puppets.
You can use old socks for no-sew creatures and sock pets like bunnies, puppies and mice. You may need a little hot glue, rubber bands, felt and a filling such as rice, polyfill or grit. Check out this Youtube video on how to make a no-sew bunny by Handmania.
Create dolls from baby clothes. Your toddler probably has some old baby clothes that they've outgrown. Instead of sending them to a thrift store, turn them into a new rag doll. You can dress it up with buttons or other artful details.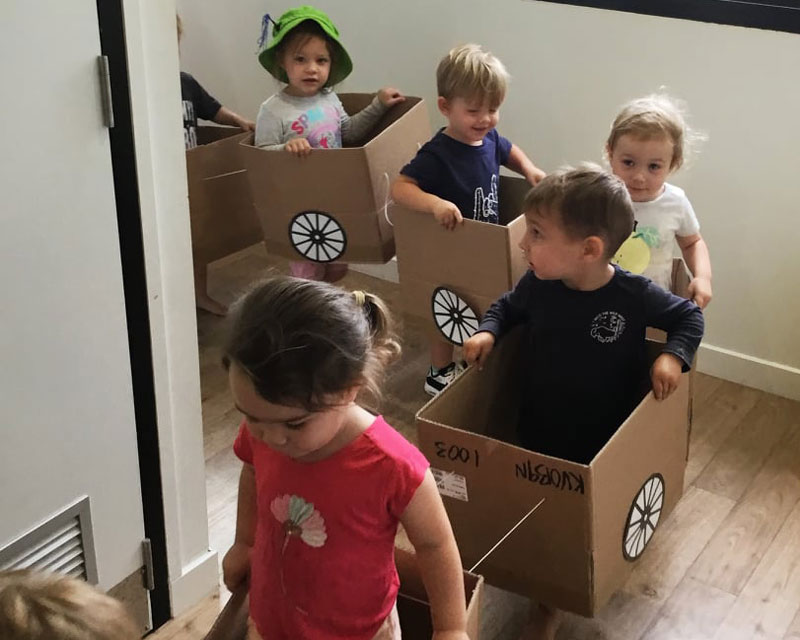 Cardboard toys
Ready-made toys are expensive, so making some yourself will not only save you money but also give your toddler more opportunities to learn. Cardboard boxes are an easy DIY toy that can keep toddlers busy on a rainy day.
All you need is paint, packing tape, string and colourful paper to decorate! Then, when they're done playing with them, put them in your home's recycling bin.
You can turn large cardboard boxes into television sets, fridges, dishwashers, washing machines and driers. These are also useful for educating children about the dangers of white goods when playing "house".
A box can turn into anything in the eyes of children. It could be a plane, a train, a bus, or a car. You can read stories to your child to ignite their imagination. But, they might just need some paint, wheels or wings to turn boxes into many things.
Smaller boxes, like cereal, toothpaste and shoeboxes, and other boxes often found in the pantry can be repurposed into miniature urban, or country landscapes called dioramas. You and your child could also fashion boxes into a fancy dolls house.
Children spend hours playing with cardboard people and animals. They may want to help make and decorate their new cardboard toys. All you need is children's paint and other accessories added with a touch of glue.
An assortment of cardboard boxes can also turn your lounge room into an urban landscape with cardboard roads, houses, trees, shops, parks and schools. Creating cardboard toys in this way is an exciting play-based learning experience.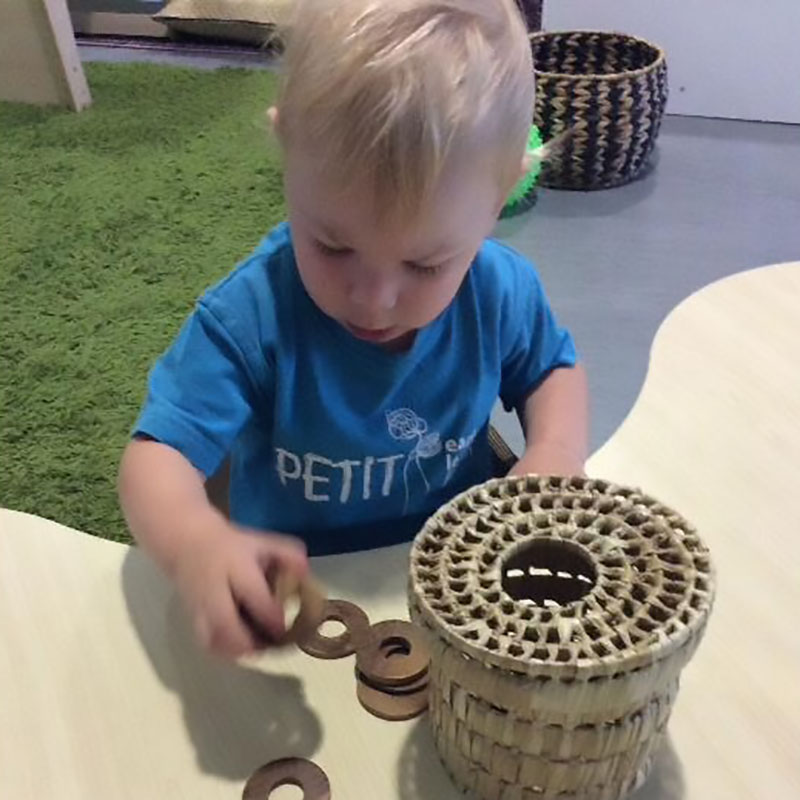 Cost friendly homemade toys
You don't need oodles of time or a cupboard filled with craft items to make fun and educational DIY toys. Repurposing things you already own is good for the Earth. Here are some quick and easy homemade toys that you can quickly put together with just a few everyday household items.
The added benefit of these DIY toys is that they help toddlers develop their fine motor skills, hand-eye coordination and dexterity. These homemade toys are modelled after Montessori methods and will keep your kids busy as they post, push and thread.
Repurpose empty tissue boxes for posting objects such as round tokens. Turn the tissue box over and cut out slots big enough to push through different sized things. This simple toy is ideal for a young toddler around the age of 12 months. Start with large tokens and slots. Dad or Pops may have some large-sized metal O-rings or washers in his tool kit that are perfect for tokens.
Have a kitchen colander handy? Children can thread brightly coloured pipe cleaners through the holes to make various creations. If you don't have pipe cleaners on hand, you could use long blades of grass or flower stems.
You may think old purses and wallets are helpful props for dress-up play. However, they are also ideal toys for strengthening fine motor skills with zips, buttons, and velcro fasteners. In addition, an empty velcro wallet can keep a young toddler entertained for hours.
Repurpose a simple upright wooden paper towel holder into a toy with several old CD's. The paper towel holder needs to be slender enough for a CD to push down over it. Next, add one or more CDs. Then, your child pulls them up and pushes them down again.
Stop! Don't throw out that empty box just yet. Instead, open it up and flatten it down so you can make full use of every side. Glue different things, including natural sensory materials, onto each panel of your cardboard sensory mat. For example, glue on sensory items such as:
Felt pieces.
Tinsel.
Sand
Corrugated flute cardboard.
Carpet.
Foam material.
Cotton balls.
Leaves
Sticks
Want to get more than one use out of your cardboard sensory mat? Protect the homemade toy by sticking kitchen foil on the cardboard when adding wet or slimy materials. Then, fold the edges of the foil under to protect those little fingers. Finally, place a bowl or a used ice cream tub holding the wet sensory experiences over the foil.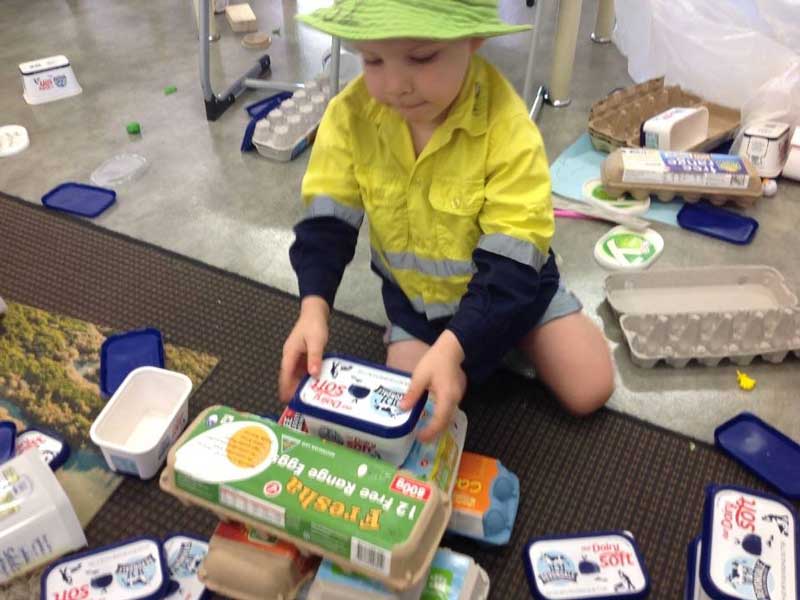 Inspire playtime with DIY toys for toddlers
Provide children with choices when they play by supporting their agency. For example, you can set up a few different experiences in their play area and let them choose which homemade toys they play with. Too many options and toys can be overwhelming.
They may decide to play with something different or combine various homemade toys and activities in ways you may have never expected.
If your child is hesitating to use a homemade toy, you can show them how and then wait to see if they join you. Suppose they're struggling with a new homemade toy or activity. In that case, begin with a simpler version of the experience to boost their confidence and skills.
At Petit ELJ, our beliefs encourage children to express their ideas. Always supervise your child's playtime but also join in the fun. Ask them questions to inspire their curiosity and independence.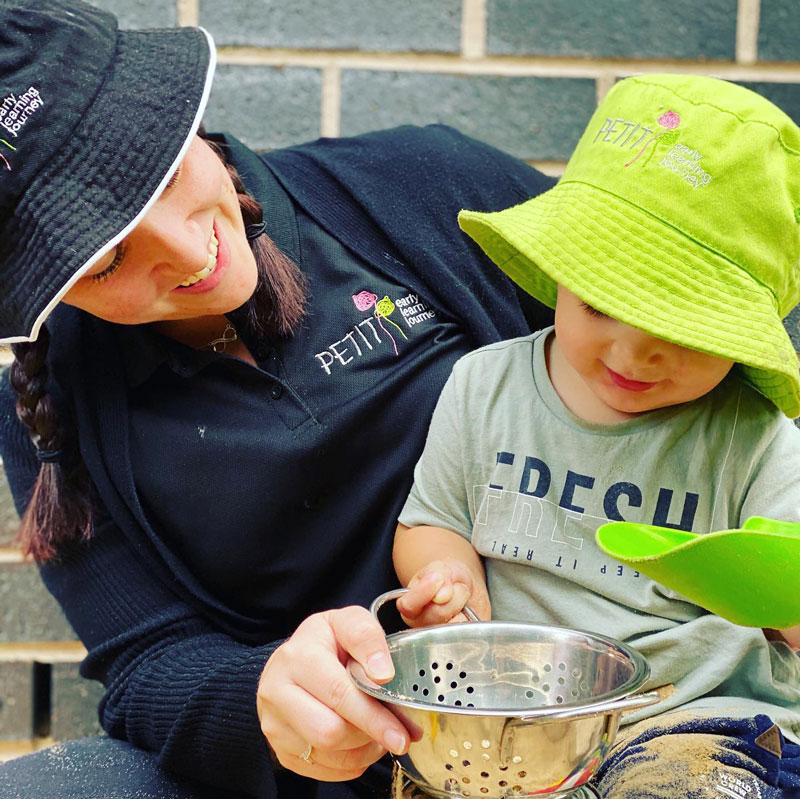 Give your child the gift of learning with Petit Early Learning Journey
Sustainability is a topic that we care deeply about at Petit ELJ. It's embedded into our everyday practices for children and Educators and it influences how we choose and source materials for children's toys and experiences.
Our Educators also place a strong emphasis on natural materials and open-ended loose parts offering children a wide variety of choices. If you'd like to learn more about our philosophy and beliefs contact your nearest centre for a tour.