Every week thousands of families entrust the care of their children to early childhood Educators. They trust us to care for and develop meaningful relationships with their little ones. Every child deserves the best start in life with teachers who are exceptional role models for children.
At Petit Early Learning Journey, we recognise families as a child's first teacher. So we focus on developing partnerships that empower parents. When children observe these partnerships, they learn from our behaviours.
Effective early childhood Educators understand their role in influencing a young child's life. That's why we place great significance on how and what we communicate and our relationships within our services.
We celebrate and recognise the achievements of our teams for being positive role models for children throughout the year. This article showcases the recent winners of our annual Awards of Excellence from Petit ELJ Pimpama and Petit ELJ Kew and what being a role model means to them.
We also discuss the importance of childhood role models in early childhood education and care with our Educational Leaders. Read on to discover:
●     What a role model is.
●     Why children need good role models.
●     Why we appreciate and celebrate our teachers as role models.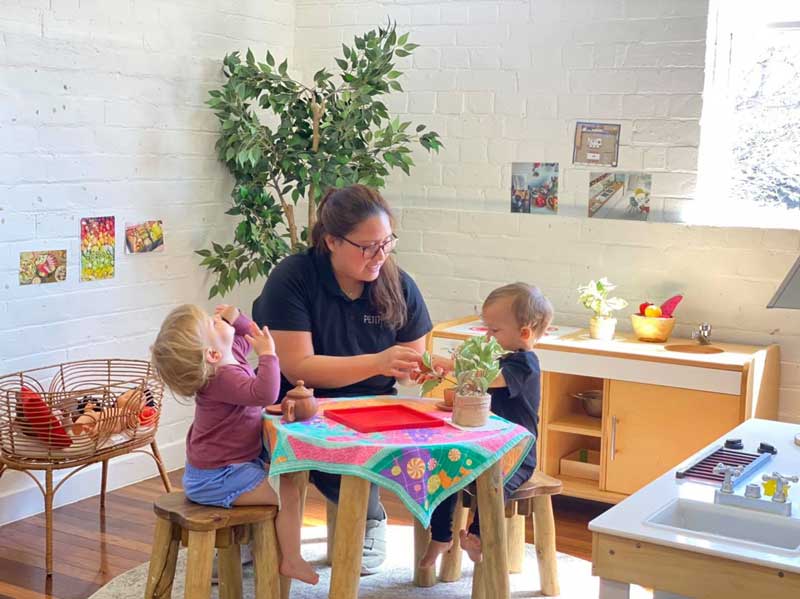 What does being a role model mean?
"A role model is someone who can inspire or influence another," says Tanya, Petit ELJ's Education & Practice Advisor.
Children observe and learn from people around them all the time. While you might think it is the teachers who do the observing in early childhood education, it is a two-way street.
"Children are natural scientists, always observing, analysing and taking in new information," says Tanya.
A role model then acts by example and their positive behaviour influences others. Young children learn through imitation. They watch the people around them and then repeat what they say and do.
"We are always role models," says Angeles, Petit ELJ's Regional Operations & Education Manager. "We role model for everyone around us day in and day out, which is why it is so important to behave in a way we are worthy of imitating and inspiring others."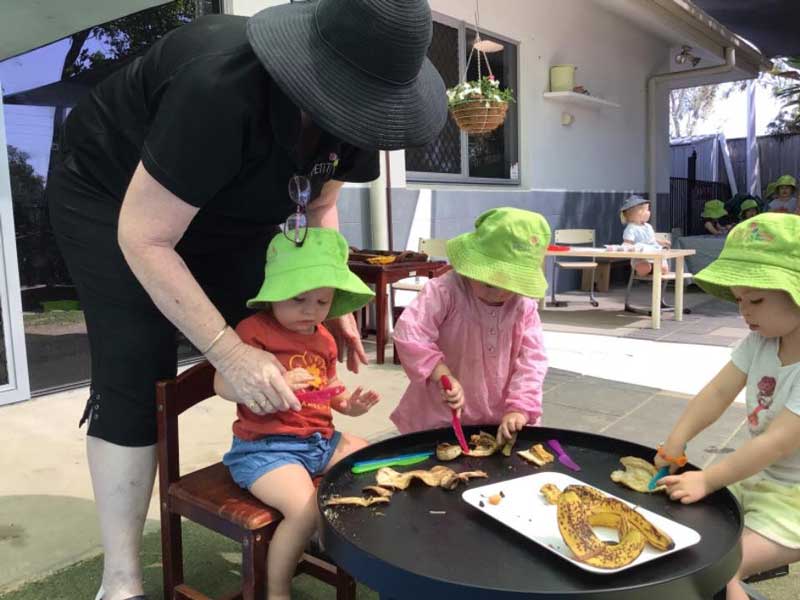 Why do we need childhood role models?
"Children need good role models because their learning never stops," says Angeles. "Children are constantly observing and taking in what they see and hear."
"Good role models show children positive attitudes and inspire them to be the best version of themselves. Good role models inspire positive relationships with everyone around them and model the same behaviours we expect children to replicate."
"Children are influenced by everything in the world around them," says Tanya, "and in today's world there is much more to be influenced by."
"We need to ensure that children are provided positive examples within all of these influencing factors – positive examples are created through strong relationships with responsive and caring adults around them."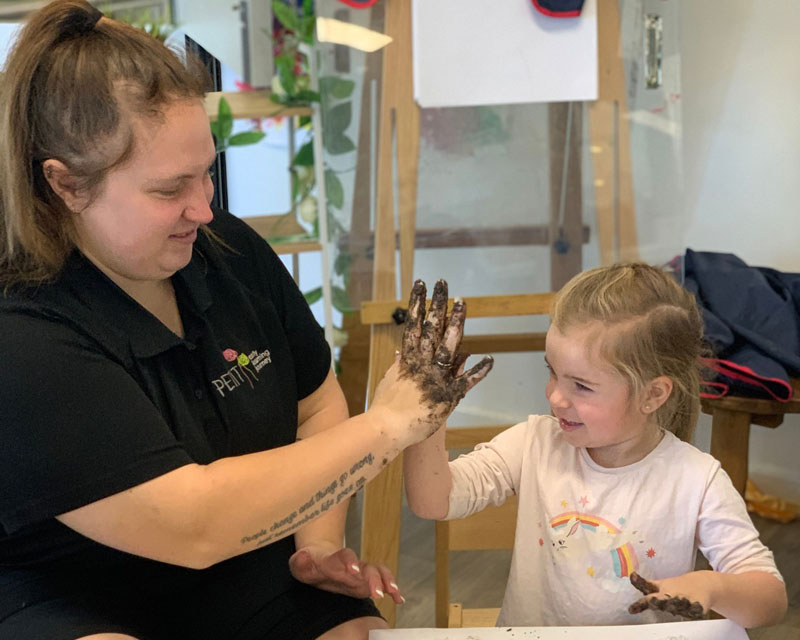 How can Educators become positive role models for children?
"My advice is to find joy in your work," says Tanya. "It may be different for everyone."
"Some Educators love all the creative aspects of their teaching role, while others love the social part and their connections with children and families. Then, others (like me) love the complexities of theory and practice within teaching."
"Find your joy and share it intentionally with others around you every day – being your authentic self is contagious and inspiring!"
"Be you! Make sure that children observe your kindness, compassion and authenticity all the time," says Angeles.
"Let them see your respectful and strong relationships not only with them but also with your peers, families and others around you. These are often the relationships children are most inspired by."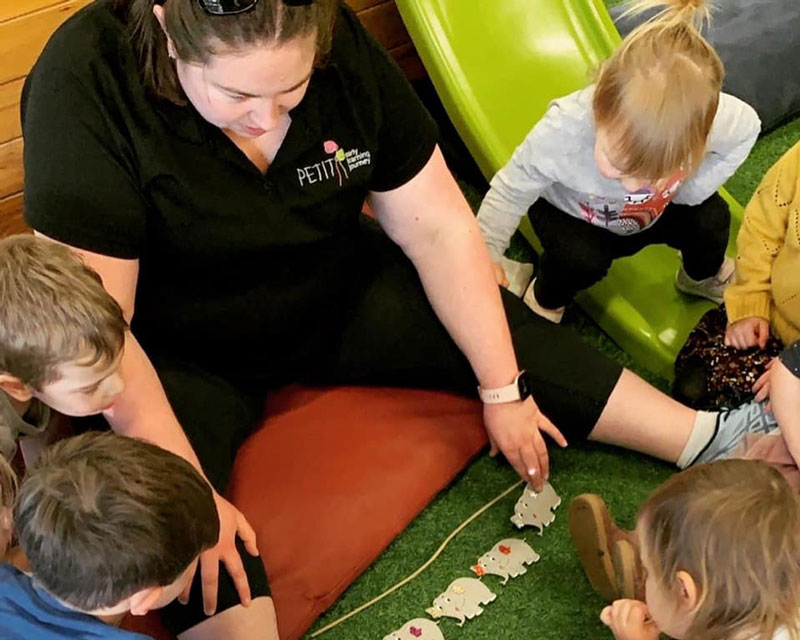 Showcase: Celebrating and recognising positive role models for children
"I am a big believer in acknowledging and celebrating people's work and achievements," says Tanya. "I feel this is most powerfully done through authentic everyday interactions and relationships with colleagues, team leaders and families. This is where intrinsic motivation is born."
"We strive to recognise our role models by always letting them know the amazing work they do and making them feel valued in everyday interactions," says Angeles. "Petit ELJ also celebrates Educators annually and strives to promote positive attitudes and behaviours through our social channels and yearly awards."
At the end of every year, Petit ELJ holds its national Awards of Excellence which recognises team members for outstanding performance. Families vote for the Belonging, Being and Becoming awards, while our services' teams vote for the Most Outstanding Educator, and Centre Directors choose the Most Improved Educator award.
"Alone we can do so little; together we can do so much."
– Helen Keller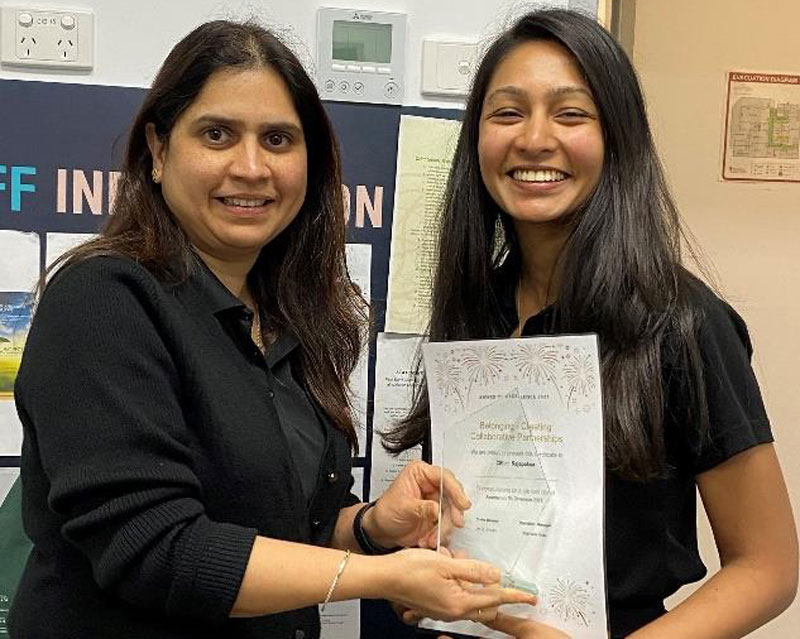 Our teachers as role models at Petit ELJ Kew in Victoria
"The continuous effort, hard work and high morals of the Petit ELJ Kew team helped us to make it a successful year," says Bharti Gautam, Centre Director. "Thank you for always striving to learn more, being empowered to take on more in your role, always going that extra mile and for bringing your best to work every single day. These are qualities we admire and appreciate!"
"Thank you all for staying together, smiling in difficult times and for always bringing your best for our children and families. Petit ELJ Kew Team Rocks!!"
Wing Wu — Most Outstanding Educator
"Being a positive role model means being kind, being compassionate, and always listening with the heart. There is nothing more important, and more needed in the education sector and the world, other than kindness."
Vittoria Gundisch— Most Improved Educator
"Being a positive role model is very important to me," says Vittoria. "I hope to inspire children and others to be compassionate, optimistic, hopeful in my everyday practice and interactions. I believe a good role model plays a very big part in children's development."
Sithmi Rajapaksa — Belonging
"Being a positive role model means understanding that we each have a responsibility to set a good example for those who look up to us," says Sithmi. "Advocating for morals, ethics and rights, demonstrating kindness and gratitude, while being an empowering Educator and leader is what being a positive role model means to me. It guides my decision—making and actions."
Jacqueline Millar — Being
"A positive role model means behaving in a way I would want to see reflected back at me," says Jacqueline.
"In our infants' room, we see a lot of reflected behaviours as the children learn about themselves and begin to form their own identities. When I see a child comforting another child in the same manner as I would and repeating caring words to their peers it brings me so much joy! I'll be honest sometimes it brings me close to tears."
Forum Shah — Becoming
"To be a positive role model is to set and model positive examples to our children and others, to learn to understand others and work patiently with them," says Forum. "Respecting children and others in our everyday practice and interactions play a big part in being a positive role model."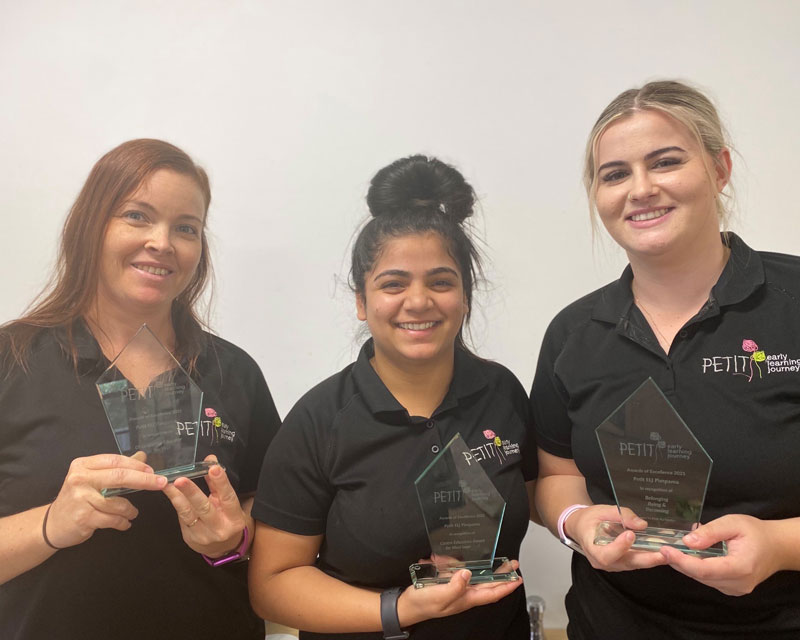 Our teachers as role models at Petit ELJ Pimpama in Queensland
"Over the past 12 months, Petit ELJ Pimpama has seen many changes as we strive for excellence in all that we do," says Melanie Foster, Centre Director. "The team have supported me and embraced change to ensure the very best of care and learning for our children."
"Without their professionalism,  dedication and support we would not be where we are today.  I would like to thank all my team members for their support and dedication throughout the past 12 months."
Jessica Hines — Most Outstanding Educator
"I believe that being a mentor involves making sure I'm available to support children, families, and coworkers," says Jessica. "I support children and others in a way that would make sense to them, always being there to offer my help with their best interests in mind."
"Jessica is an outstanding role model for children and Educators," says Melanie. "Jess has a very warm, nurturing, and caring nature. She always goes above and beyond to support children in reaching their learning potential and to also assist team members."
Jasleen Kaur — Most Improved Educator
"Children are the most amazing observers, they watch, learn and apply whatever they see in their environment to their routine," says Jasleen. "By guiding and mentoring others, we can show children that we all are here for each other and present ourselves as their role models."
"Jasleen has grown enormously in the past 12 months and she has built amazing relationships with children and families," says Melanie. "She is a very supportive team member always willing to give a hand."
Jaymee Jackson — Belonging, Being and Becoming
"Building strong partnerships with families, children and the team at Petit ELJ Pimpama has been one of my top priorities since starting here last year," says Jaymee. Building strong relationships with the children has helped them to feel safe, secure and respected and supported meaningful connections with their families."
"Jaymee was nominated by the families within the service who identified her as always being available to support them and their child. Jaymee has built strong relationships built on respect and honesty with the children and families across the centre."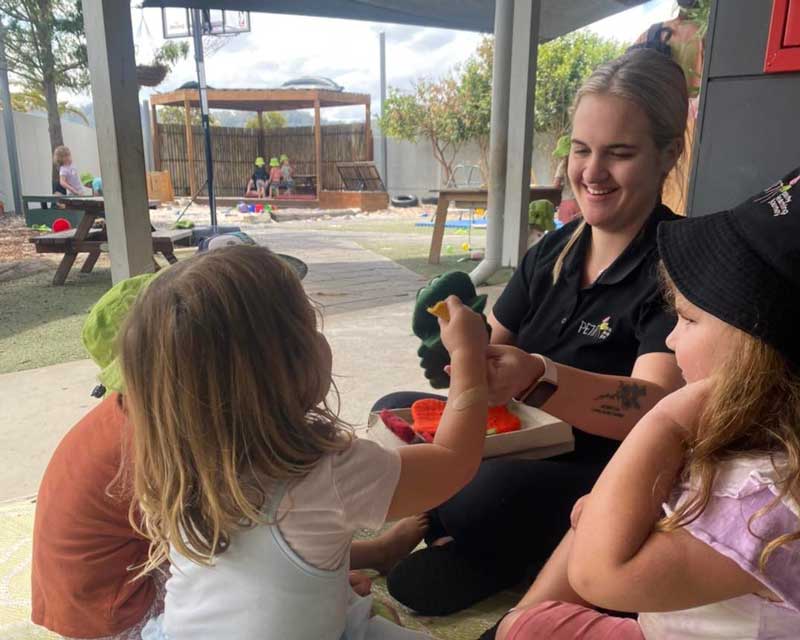 Appreciating our teams for modelling positive behaviour
"I have witnessed so many moments in my visits to centres this year, where I am in awe of our Educators' commitment to children and families in their care," says Tanya. "Early childhood is such deep relationship-based work and it often requires our Educator teams to give so much of themselves."
"I want to acknowledge this and share my gratitude, not just from Petit ELJ but from a personal perspective. Thank you for the incredible, invaluable work you do every day to strengthen our communities."
"To all our teams, thank you!" says Angeles. "Thank you for showing up every day and providing children with unconditional love. Thank you for giving so much of yourself and for the invaluable work you do, caring for and educating our youngest citizens."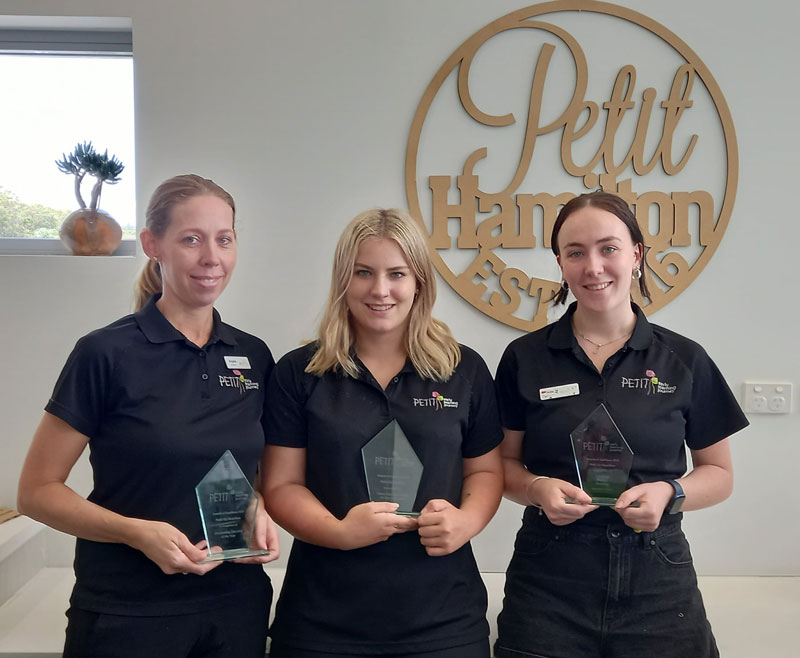 Be our next exceptional role model at Petit Early Learning Journey
Do you aspire to be the best that you can, to inspire and mentor children and others' positive behaviours? At Petit ELJ we believe Educators lead by example building strong meaningful relationships with our children, families and teams.
We seek Educators with passion, kindness and authenticity, who can find joy in what they do. If this sounds like you, then what are you waiting for? Take the next step in making a positive difference in the lives of children and families.